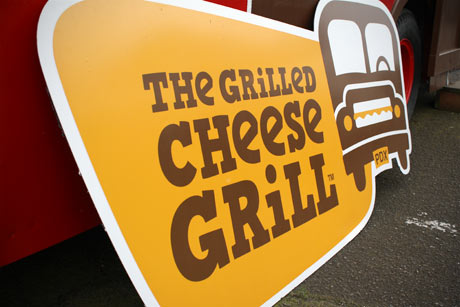 As I mentioned in a recent post about our first visit to Portland, one of my favorite parts about the city was the food carts. There are tons of these things, clustered in various locations, featuring cheap and yummy cuisine of all types. (Check out www.foodcartsportland.com for a better feel.)
My biggest problem was deciding where to eat.
In my family, stories about my early childhood fits of indecision are legendary. My mom is fond of telling them. She'd warn people against giving me choices, for if faced with but a "simple" decision between vanilla ice cream or chocolate, tears would eventually follow.
I like to think I've gotten better, but when it came to these food carts, it took me a long, long time to make up my mind.
However, there was one place, after having read about it in a travel guide, I knew I wanted to try: The Grilled Cheese Grill. This is an un adulterated Adultitis Hospital, people!
As you might have guessed, they specialize in grilled cheese sandwiches. Here's a blurb from their menu about what makes them special:
So other than it being amazingly delicious, why come to us? Why not stay home and make a Grilled Cheese? We all know how to make it; just cheese, bread, and butter. It's probably the first thing any of us learned to cook when we were kids. Well here are 4 reasons why you want to come to us:

1. With a full menu of cheeses, breads, and other good stuff, we make sandwiches that range from Saturday morning cartoon worthy, all the way up to Jeopardy-level sophisticated. We're just that versatile.

2. It's an anecdotally-proven fact that food always tastes better when somebody else makes it, and usually even better if Mom made it. Well if you can't get your mom to make you a grilled cheese right now, we'll be your mom. A couple of bearded dudes in a food cart will be your mom.

3. You know you don't feel like cooking anyway.

4. You probably don't have a converted school bus or double decker bus at your house as a dining room. Conveniently, we do.

So come by for a taste of your childhood. Unless your childhood sucked, and then we'll let ya have a taste of ours.
Sign me up.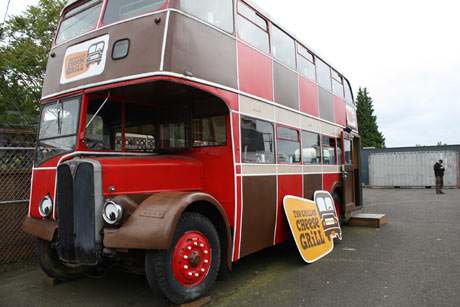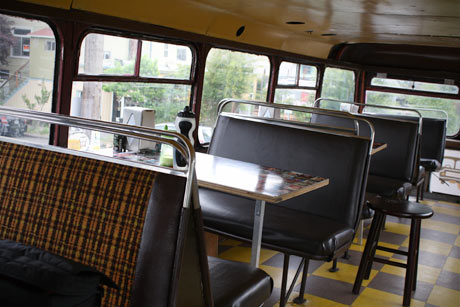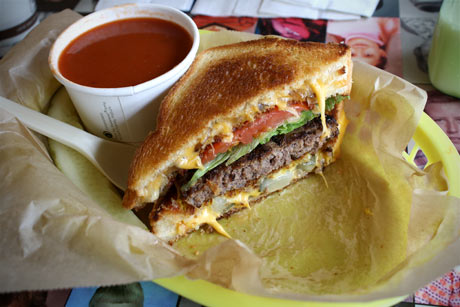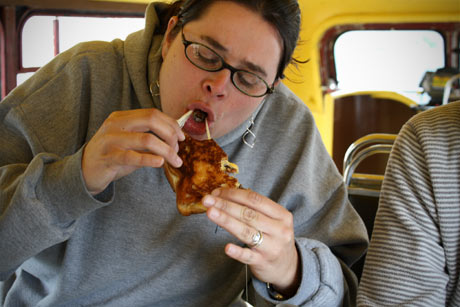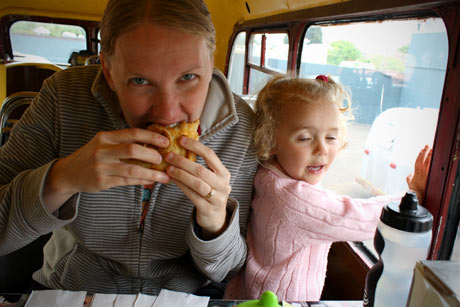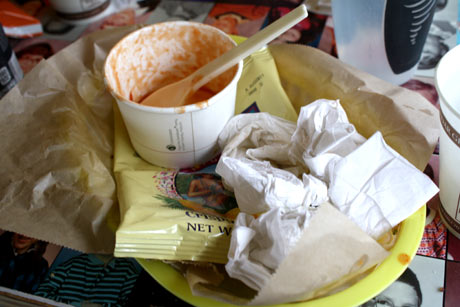 While all the food carts we had a chance to sample — too many carts, too little time! — we're great, The Grilled Cheese Grill stood out in taste, ambiance, and Adultitis-fighting power.