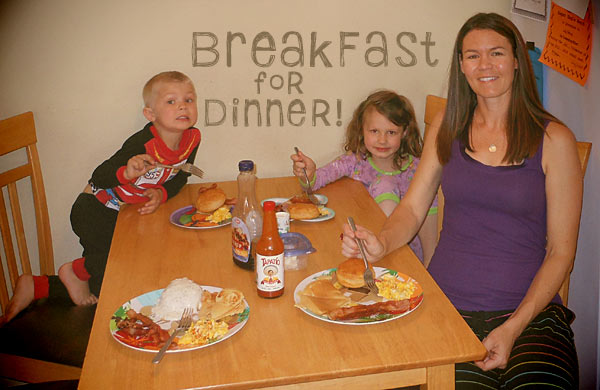 Somewhere along the line, certain foods got regulated to certain meal times. In many countries, it's become widely accepted that some foods are for breakfast only.
Eggs. Pancakes. Orange juice. Waffles. Froot Loops.
Eat them at other times of day and you're either a college student, a truck driver, or weird.
Now perhaps this was a clever public relation stunt by the handlers of Eggs, Pancakes and their friends. By being tied to a specific meal, they could DOMINATE that meal. And dominate they have. So if that was the case, my hat is off to the PR managers of Eggs, Pancakes and friends. Well played. Grand slam.
But I'm pretty sure it's still legal to eat these foods for lunch or dinner as well, if you're so inclined. Here's an email I received from a woman in California whose family boldly broke this so-called rule and enjoyed some surprising results:
Ever since I attended a conference in Palm Springs in which you spoke of the troubling life threatening disease of Adultitis, I have been reading your weekly emails and attempting to incorporate your ideas and the ideas shared by those who have joined your fight to rid the world of Adultitis.

My family has successfully pulled off a spaghetti dinner with no plates — my daughter talked about it for days — and I staged a mini peep rebellion at work.

When a parent of one of my 2nd grade students offered me fresh eggs from one of her chickens, my husband and I decided to use them and serve breakfast for dinner. I realize the idea of having breakfast for dinner is not a novelty or even all that creative. However, when I told my 5-year-old we would be having breakfast for dinner she insisted everyone in the family put on their pajamas. As a result we had a fun filled dinner/breakfast in our jammies at 5:30 at night. Everyone not only enjoyed themselves (who doesn't love breakfast?), but also ate everything on their plate (this is rare in our house).

Thanks for continuing to improve the quality of our lives by sharing your ideas for curing Adultitis,

Melissa Patrick
Simi Valley, California
Melissa's right. Having breakfast for dinner isn't completely unheard of, but it is pretty rare. It's also a simple first step to break out of the rut Adultitis may have you in.
And if you really want to get Adultitis' panties in a bunch, go ahead and do it in your pajamas.
Photo provided by Melissa Patrick