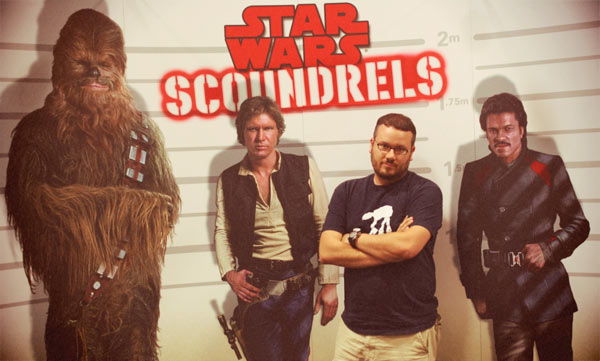 Although it was my first time at Comic-Con, I'd been to San Diego several times. Apparently, my reputation preceded me.
I just returned from The Nerdpocolypse, aka Comic-Con, the world's largest convention celebrating the popular arts. It is massive: 125,000 people completely take over San Diego, where it often takes you ten minutes to walk ten feet.
I had many highlights. I got to meet and talk to some pretty cool artists. I geeked out over various Star Wars props and collectibles. I marveled over the elaborate homemade costumes created by many attendees. And I was able to make it into fabled "Hall H" where I saw celebrities like Robert Downey Jr. and Will Ferrell. (More pictures to follow.)
As much as I enjoyed the experience, part of me felt like I didn't belong. At first I thought maybe I just wasn't nerdy enough. I can't count the number of times people were in super long lines to buy an exclusive toy, meet an actor, or get into a panel for a TV show I've never even heard of. Ever. But my nerdery was unleashed in other ways (see photo above.) I suspected there was something else causing my disconnect.
One night I had dinner with my friend Ryan. We both had attended the World Domination Summit (WDS) days before, and he was able to put his finger on it.
"WDS is all about people creating things," he said. "Comic-Con is all about consumption."
He was right. I was astounded by the sheer number of people who were willing to stand in ridiculously long lines to get a "must-have" item, and blown away by the amount of time that is required to keep up on all these shows, movies, and comic books. Meanwhile, I noticed that the rock stars of the event — whether they be artists, actors, writers, or directors — were all creators.
Interestingly, on the eve of my flight home, I read this quote by Julien Smith: "Those who win are producers, not consumers."
My experience highlighted the stark difference between the two and reminded me just how important it is for us to be conscious of how we're spending our lives. We all need to be creators.
There's writing, drawing, sculpting, cooking, playing music, of course. But you don't need to be an "artistic type" to be a creator. Your focus might be in creating a more comfortable environment for your patients, a more effective lesson for your students, a richer childhood for your kids, or more opportunities for those in need.
Make no mistake, Comic-Con was awesome. Everyone I met was friendly. There was nary a shred of Adultitis in the place, and it was cool to see so many people having fun enjoying shared passions. But it definitely reminded me of a crucial truth: It's a better use of time to actively create your own story than to passively watch someone else's.
Although you and I will probably never star in a blockbuster Hollywood movie, we are all called to use our lives to make something great. Avengers assemble!