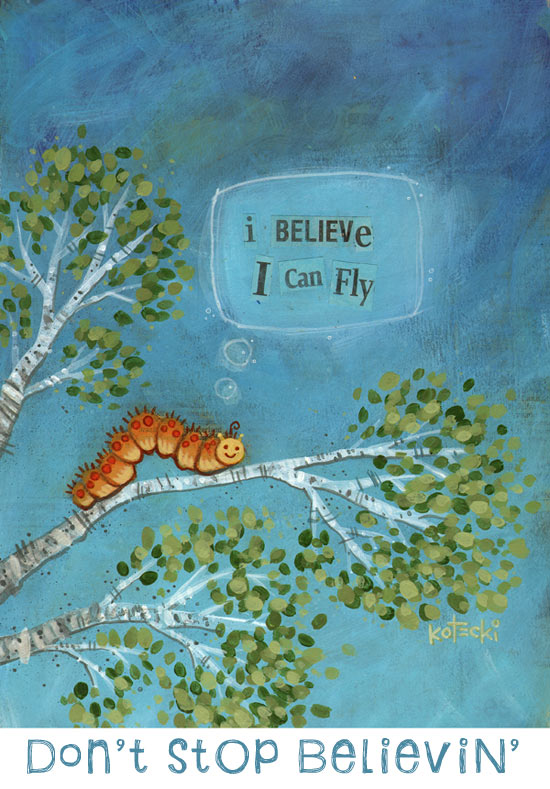 Kim and I recently attended the World Domination Summit in Portland for the second year in a row. The brainchild of Chris Guillebeau (Remember him? We did a fun interview with him a short while back), WDS is a conference inspired by the question: How do you live a remarkable life in a conventional world? One thousand real-life answers to that question were in attendance.
Last year's version was epic, and I wondered if the experience could be matched this time around. By the end of the talk by the first speaker, in which the entire audience joined together to belt out Don't Stop Believin' by Journey, I knew that it would.
Although my notebook is filled with gems, here are seven unconventional lessons I took away from the Summit:
Birthdays Are for Giving, Not Getting.
After listening to Scott Harrison share the story of his life and the origins of Charity: Water, I became convinced of two things. The first is this: God is a master storyteller and a freaking genius. I couldn't conceive of a better person to start such a remarkable, paradigm-shifting charity than Scott. I see what you did there, God, and it is sublime. Secondly, getting birthday presents is so… yesterday. I have enough stuff cluttering my home, and I'll bet you do, too. This year, I'll be giving up my birthday so that some brothers and sisters on the other side of the world can have access to clean water, while not having to walk eight hours a day to get it. Join me?
If a Book Sucks, Stop Reading It.
I'm not sure why I needed this permission from Chris Brogan, but thanks, man. A stack of half-read books by my nightstand that have lost my interest had become a pile of guilt. No longer. Life is too short to waste it reading books that suck. Of course, this thinking also applies to soul-sucking jobs and dead-end relationships. Finishing is important, but it's also important to know what's worth finishing.
Introverts are Awesome. And Cool. And Powerful.
Ok, so I already knew this. I'm just happy Susan Cain wrote a book to let the world know.
Only Accept Criticism from Certain People.
Conventional wisdom would have us believe that we should accept criticism from everyone who feels the need to dole it out. After all, there is a nugget of gold in all bits of criticism, no matter how cutting, right? Wrong. Criticism can be valuable when it comes from other people who are also bruised and battered from the effort of putting good stuff into the world. The rest of 'em can, as Brené Brown lovingly suggested, "Suck it." Haters gonna hate, but you can let those slackers to go hate somewhere else.
Steeping into Fear Could Be the Opportunity of your Life.
Fear sucks. It's scary and vomit-inducing and sounds very convincing. It's also a big fat bully that slinks away the second you step towards it. Our instinct is to flee, but Ishita Gupta boldly reminded me that stepping into the thing that scares you the most could very well be the opportunity of a lifetime.
J.D. Roth's Secret to World Domination.
Contrary to popular belief, it does not involve a stockpile of nuclear weapons, control of the world's banking system, or the powers of Superman. Nope, it evokes the power of the small rebellion. J.D.'s secret is simple, but not always easy: Change your life. Change the world.
A Small Army of Remarkable Really Can Change the World.
At some point during the conference, Chris mentioned that there would be a surprise at the very end of the conference. Someone asked him in the lobby what the secret was, to which he replied, "I'm not sure you know what a secret is."
My curiosity was piqued, but I questioned his judgement. After all, it's hard to deliver on a surprise when we know it's coming. So when he talked about how they had made a modest profit on the conference, followed that with a story about an anonymous donor that had approached him about investing in his idea, then revealed his decision to give it back to us, I tried guessing the surprise. Did he hire a world famous band to play at the after party? Was he picking up the tab on an open bar?
Nope.
He was literally giving it back to us. I kid you not, every single one of us walked out of the theater with an envelope containing a $100 bill with basic instructions to use it on a project, give it away, or find some other good use for it.
One. Hundred. Thousand. Dollars.
Amazing. They'll be collecting stories of how people use the money. Kim and I haven't decided how to invest ours yet. But I can't wait to see how the world changes.
Art by Jason. Available in print form at the Lemonade Stand.