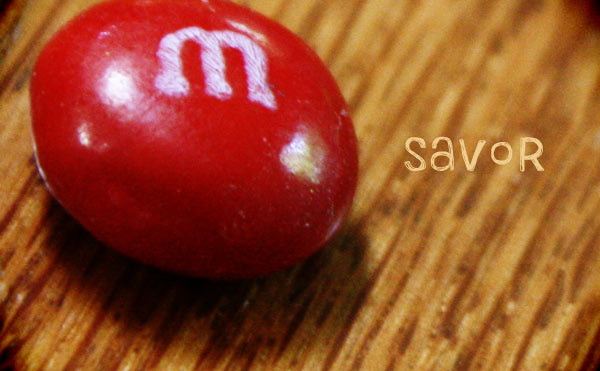 One of Kim's favorite words is "savor." The dictionary defines the verb this way: "to have experience of, to taste or smell with pleasure, or to delight in."
For Kim, it's a reminder, a goal, and an aspiration for living.
A reader named Kelli wrote this on our Facebook page:
"I used to eat M&Ms and look at each one individually enjoying their color, counting them, sorting them, seeing if any had a n instead of an m, or no letter at all, etc. Now I just grab a handful and put them in my mouth. Savoring details is something I need to work on."
The tragedy of modern life is that we are being conditioned to talk, eat, learn, move, and live faster than ever. Meanwhile, the magic of little things goes completely unnoticed.
Faster is killing us. Slow is the way to go.
I think savoring details is something we ALL need to work on.
Because as Ferris Bueller reminded us, "Life moves pretty fast. If you don't stop to look around once in a while, you could miss it."