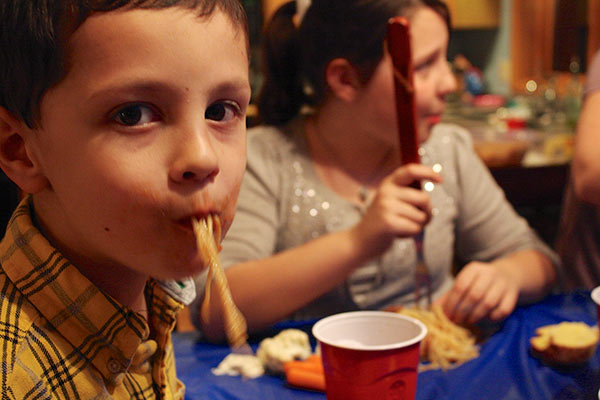 Our nephew Caden was a big fan of going "Barbarian."
A few months ago, as our son Ben's first birthday was approaching, Kim and I wondered how we could make his party special. We were well aware of the fact that he would remember precisely none of it, so our focus was actually about making it memorable for the guests.
I joked to Kim that it would be fun to have everyone eat like Ben. Thoughts of adults eating with their hands and ending up with food in their hair was a fun mental picture, but also a pretty easy way to make sure our family and friends never talked to us again.
So we settled on a mashup of Barbarian Spaghetti and Spatula City, two ideas that we've shared with thousands of people over the years. In short, Barbarian Spaghetti is a spaghetti dinner, sans plates. And with Spatula City, everybody selects an unusual kitchen utensil (think spatulas, salad tongs, soup ladles, etc.) and then has to eat their entire dinner with that single utensil. (For best results, make sure no one knows what's on the menu when they make their selection.)
As guests arrived at our home on the day of the party, we had them choose a utensil and place it at their assigned spot. When it was time for dinner, we announced that our guests would not be getting plates or silverware, aside from the utensils they had pre-selected. I revealed the menu of spaghetti, meatballs, fresh veggies, and garlic cheese bread.
Then I waited for an outright revolt.
Instead, everyone dove in with gusto. Well, not as much gusto as my six-year-old nephew displayed, but everyone played along.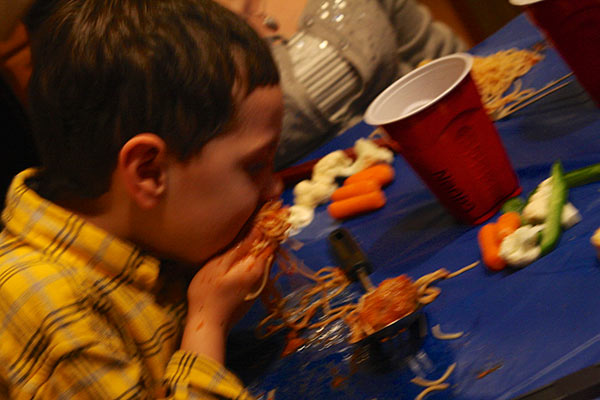 There weren't any complaints of protest (I think they were in shock) but there were plenty of smiles and laughs as everyone clumsily tried to cut meatballs and shovel spaghetti into their mouth. In fact, Ben may have been most suspicious participant of all involved.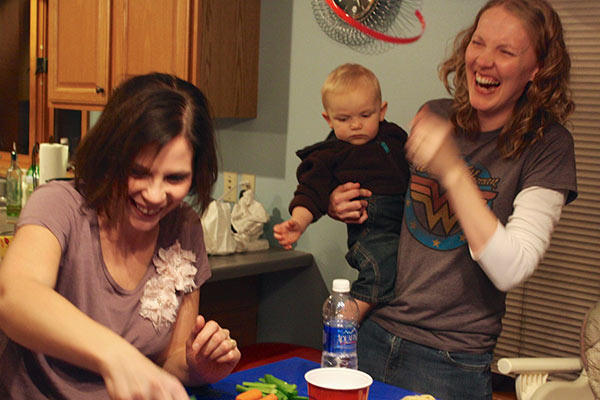 Here are a few more pics of our fun party, which definitely qualified as memorable. I'd highly recommend you think about going Barbarian for the next party you host!