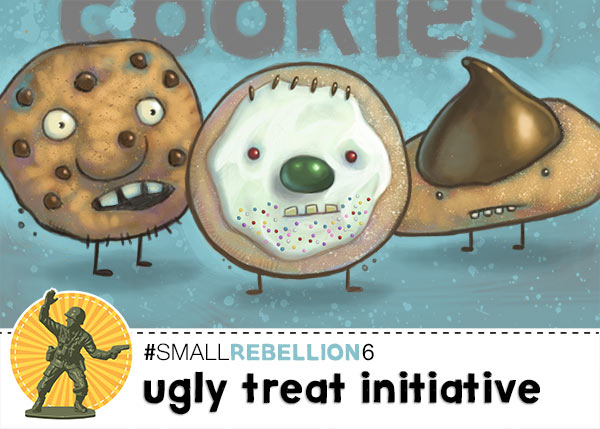 According to the Interwebs, the first week of April is Laugh at Work Week. If there's one thing work could use more of, it's laughter.
Inspired by our most recent Champion of Childhood award winners who made an epic ugly cake for a co-worker, we are introducing a new Small Rebellion and we'd love to have you join us! It's called The Ugly Treat Initiative, and the instructions are very simple:
The MISSION:
Step 1) Make a delicious dessert that also happens to be really, really UGLY.
Step 2) Bring it to work to share.
Step 3) Enjoy laughter and improved morale with your colleagues. (And possibly be awarded a primo parking spot for a month.)
Step 4) Share your stories and pictures online with the hashtag #smallrebellion6
You can tackle the mission when it's most convenient, any time during the week. You can make cookies, cakes, cupcakes, pies, strudels…anything, really. Just make sure it's sweet and tasty. And butt ugly.
The only other requirement is the sharing part, even if it's not an official place of employment. Eating an ugly cake alone does not generate much laughter. And please, share this Small Rebellion with friends, families, and mortal enemies. The more the merrier!