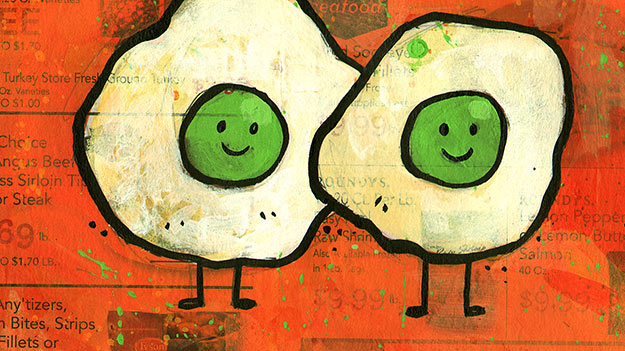 With summer saying sayonara, my speaking schedule is back into full swing. One of my favorite parts is talking to people afterwards, and hearing the neat things they do for fun with friends and family. In fact, many of the ideas I share in my presentations, including Sticky Cup, Pajama Run, and Spatula City are from audience members.
One of my fatal flaws is forgetting to write them down. I always think I'll remember them, but do I? Nope. Well I'm happy to report that I've been a bit more consistent of late, and wanted to share some recent gems:
Green Eggs & Ham Dinner. I have always loved the idea of using food coloring to turn dinnertime on its ear, and making green eggs and ham is a popular favorite. A woman shared a twist they include on their regular Suess-themed meals: everyone has to speak in rhyme. Brilliant! "You asked me to pass the salt, so spilling the milk was not my fault…"
Sweet 60 Birthday Party. They say that youth is wasted on the young. Why should they have all the fun? You've heard of a "Sweet Sixteen" party, right? If you know someone who is turning the big six-oh, why not do what one woman from Green Bay did: throw a "Sweet 60" party. From what I heard, it featured a lot of personalized treats, a fancy princess dress and even a tiara.
$5 Formal Day. The same woman, I'm pretty sure her name was Sue, also told me about a regular tradition she has with friends. Everyone goes to a thrift store with a budget of five clams and picks out a formal outfit to wear for the whole day. (Sue has three old wedding dresses in her collection.) The day concludes with a nice dinner out, where everyone comes dressed to the nines. (Or at least the fives.)
Silly Soap Opera. We've already shared the idea of flipping to a soap opera, hitting mute, and doing your own silly voice over. (A game that may be even more fun with a group of adults and a bottle of wine than it is with kids.) But an often overlooked wrinkle is how the type of show you choose can greatly alter the direction (and hilarity!) of the game. A lady suggested tuning in to Duck Dynasty to get her husband to join in, and also surmised that a home renovation show on HGTV would also offer up some silly scenarios to play with. Indeed!
Taco Tuesday. Barbarian Spaghetti was a big hit at this year's Escape Adulthood Summit. This is a meal where spaghetti is served sans plates. (Silverware is optional :) But you can expand your horizons beyond marinara-soaked pasta. Amy recently instituted Taco Tuesdays, which was such a hit the kids have requested it a weekly standard. There are all sorts of foods that, when served without plates, lend themselves to a special brand of fun (mashed potato Mondays, anyone?).
The memories you will treasure most from this year will be the things that happened outside the normal routine of everyday life. Try one of these simple ideas and make a scene with the people you care about!
What are some of the favorite things YOU like to do with your friends and family? Share them in the comments!