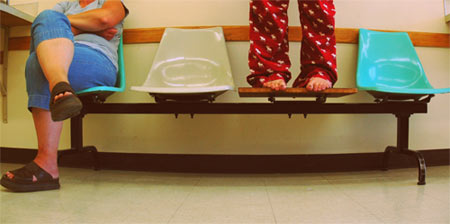 I've never met anyone who didn't want more memorable experiences with their family. No one ever said, "Nope, we bond so often and laugh so much and do so many fun things together as it is, I don't think we need any more, thank you very much."
Actually, it's quite the opposite.
In fact, this is what one woman said after one of my speaking programs: "My kids are growing up so fast. We're busy, but we're not doing anything fun. We're just existing."
The truth is, most people WANT to have more fun with their families. They want to create a treasure chest of memories before their kids grow up and leave the nest. But these good intentions often go unfulfilled, leading to a boatload of regret when it's too late to do anything about it.
I think the reason people miss out is for one of two reasons (and in some cases, both.)
For one, it's a lot easier to create memories when you have money to burn. Now I didn't say it's mandatory, just that it's easier. A trip to a baseball game or a water park is easy. With very little effort or thought, you can be assured that your family will have fun and create memories. But regular jaunts like these are not within most people's budgets.
Other people might struggle more with the aspect of time. Even if they have the budget for baseball games and water park weekends, it's a challenge to find the time to enjoy them amidst the madness that has taken over their lives. For them, it might be nice to have some ideas for having fun amidst the daily busyness, without having to set aside big chunks of time.
I suspect that most people can relate to aspects of both scenarios. To top it all off, if you are interested — for whatever reason — in an alternative to the ballgame or water park, chances are that you are too tired or don't consider yourself creative enough to dream up what those alternatives could be.
Over the years, we've had the wonderful opportunity to collect a vast number of these sorts of free and easy alternatives. And as I mentioned in a previous post, we've been working on compiling the best ones into a product called The Kim & Jason Guide to Cheap Family Fun. With it, you get an email a week for whole year that includes a link to a short and entertaining video in which we share a fun, completely free (or dirt cheap), easy-to-implement activity that will involve the WHOLE family. Every idea is not only a recipe for easy fun, it features items you probably already have around the house.
A World Premiere Video Debut…
We are pumped to be able to share a sneak peek of what we've been working on over the past year-and-a-half. Here is the world premiere debut of one of the videos, featuring one of our beloved, most-shared ideas:

Pajama Runs are great, because they fit into busy schedules, allow you to break a few "rules," and for the price of a few simple ice cream cones, you get to create a memory your kids will never forget.
One of my favorite stories of someone taking this idea and "running" with it comes from Rita Dahl, who was an audience member at a PTA conference I spoke at:
No Adultitis in our neck of the woods!!  We had a blast on the eve of the last day of school!

At our weekly PTA Coffee and Conversation, a group of us were talking about getting together for a "mass" pajama run (a great idea that came from our newly elected VP Tyler Edwards).  It was an impromptu idea that spread through our group, was posted on our PTA Facebook page, and by 9 p.m. that same day, we had almost 40 pajama-clad moms, dads, teens and kids swarming McDonald's!  One of our moms even brought the book, "T'was the Night Before Summer Vacation" and read it to all of us before we went home.  What a great night and the perfect way to end the school year. Thanks for some fun ideas!!
And happily, she even sent along a photo…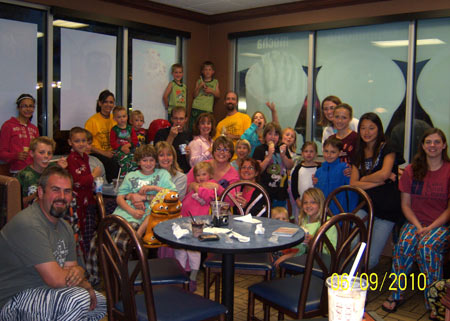 If you're in the camp that would like to create more fun experiences with your family but find yourself too cash-strapped, time deficient, or creativity-depleted to turn those good intentions into family memories, maybe Cheap Family Fun will be right for you. We're letting it out into the world at the end of April, and if you want to make sure you're the first to know about it, make sure you are a Kim & Jason Insider. (Those just happen to be the folks who'll also get a special deal.)
Have you ever been on a Pajama Run? We'd love to hear about it. (Here's a link to one we did when Lucy was tiny.) If not, maybe this week would be the perfect time to plan your own Pajama Run!