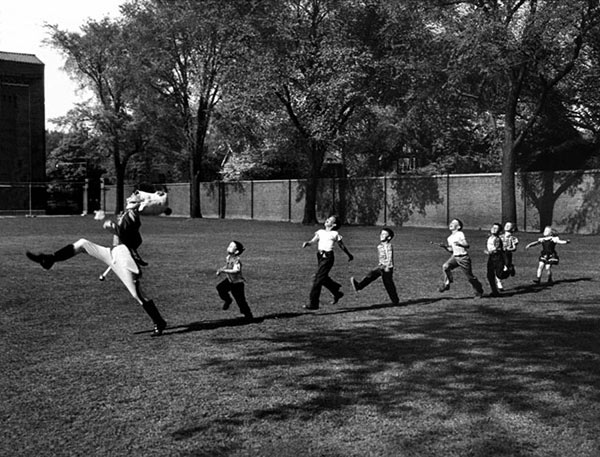 • Time magazine wants to know if the photo above by Alfred Eisenstaedt is the happiest photo ever made. I'm not sure, but I know I love it. Here's the backstory:
"It was early in the morning," Eisenstaedt himself recalled of the fall day in 1950 when he took the photo. On assignment for LIFE, covering the University of Michigan's nationally famous marching band, he spotted the school's drum major practicing his craft. Then, Eisenstaedt said, "I saw a little boy running after him, and all the faculty children on the playing field ran after the boy. And I ran after them. This is a completely spontaneous, unstaged picture."
• The National Adoption Center is one of the "Big 6" charities that we support. LOVE the work they do finding homes for kids who are tough to find homes for. This week, I came across another valuable adoption resource with lots of great information.
• Love this artist who turns corrective helmets for babies into gorgeous masterpieces. You rock, Paula! (via FashionablyGeek)
• Neat breakfast mold that will put a smile on your face, or at least your pancake. (via SwissMiss)
• Last year, Kim and I both ran a fake marathon. This year, it's time to step up our game with a full-fledged (yet still fake) Adventure Race. There's still time to join us!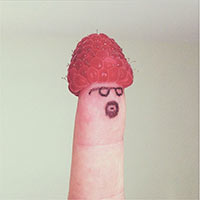 • Brock Davis is my favorite new find on Instagram. His stuff is a tall, refreshing glass of whimsy.
• How To Achieve Work-Life Balance in 5 Steps by Eric Barker. Some great takeaways here, folks. Like this one: You can do anything once you stop trying to do everything.
• A website solely devoted to awesome treehouses around the world? Yes, please.
Finally, some posts from around here you may have missed:
• Life is Bandwidth
• Adultitis Antidote #2: Spatula City
• Behind the Scenes: Studio Tour