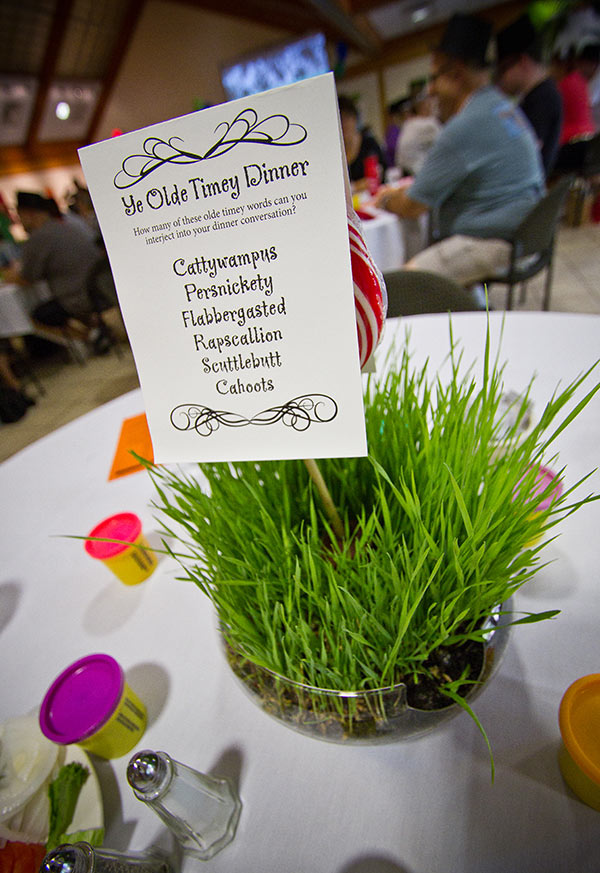 When you're a kid, dressing up all fancy for dinner is exciting. Although it can be fun for grown-ups too, it doesn't take long for Adultitis to creep in when one begins to worry about which fork to use or whether or not you have spinach in your teeth. The premise of an Olde Timey Dinner — one of the highlights from the 2014 Escape Adulthood Summit — is to keep the fun and ditch the pretense.
You don't need to attend an Escape Adulthood Summit to experience the fun of Ye Olde Timey Dinner. Here are some tips for hosting your own:
WHAT to EAT
You can serve whatever you want, but the most important thing is to use the good china. If you need some convincing, read this. Even Kraft Macaroni & Cheese takes on gourmet status when served on fancy plates. (If you don't have any fancy plates, just put the lights down low and light a few candles — instant fancy!)
If you need some inspiration, we had fun putting a childlike spin on the traditional seven-course format with the following menu:
Appetizer: PB&J Sushi Rolls
Soup: ABC Vegetable Soup
Salad: Fruit Shish-kabob with Drizzled Yogurt Sauce
Sorbet: Dreamsicle
Fish Entree: Fruity Pebbles Encrusted Tilapia with Strawberry-Mango-Jalapeño Salsa and green beans
Meat Entree: Bacon Cheeseburger Slider with house made Potato Chips
Dessert: Key Lime Tart
WHAT to WEAR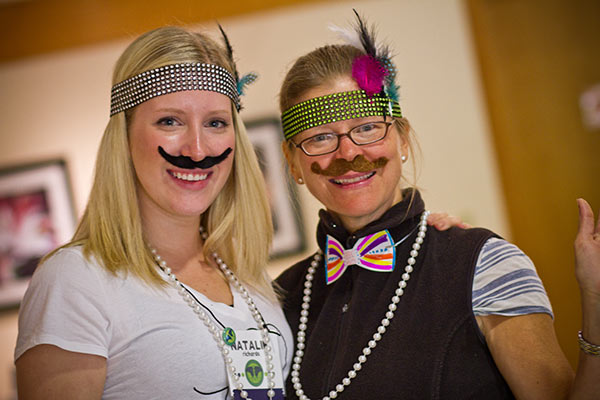 Get gussied up! We provided pearl necklaces, top hats, DIY bow ties, feather-adorned flapper girl headbands and fake mustaches for attendees to complement their jeans and t-shirts. Feather boas and long gloves are naturals as well. Nothing wrong with requiring guests to wear real dress-up clothes, if that floats your boat. Of you could challenge people to come outfitted with the fanciest clothes they can find at a second hand store, with the requirement of bringing the receipt as proof.
WHAT to LISTEN TO
Music is an important element of Ye Olde Timey Dinner. We found a collection of hits from the 1920s, which was a perfect soundtrack. You could also dig out some jazz or classical music, depending on what kind of mood you're looking for.
WHAT to TALK ABOUT
We put tent cards at each table that encouraged diners to pepper their conversations with old fashioned words and phrases. (See top photo.) Frankly, it was one of the best parts of the whole affair. Keep in mind that a thorough understanding of each word is not required. Bonus laughter came when someone blurted out the word nonsensically. You can download the tent cards we used right here. (Just print them on card stock, cut them down the middle, fold 'em in half and you're good to go.)
So that's the gist of an Olde Timey Dinner. The goal of this article is to get you started, but we also hope that you put your own spin on the concept and share your ideas in the comments below!
Don't dilly dally on this opportunity to starve Adultitis. May your shenanigans raise a ruckus to remember!