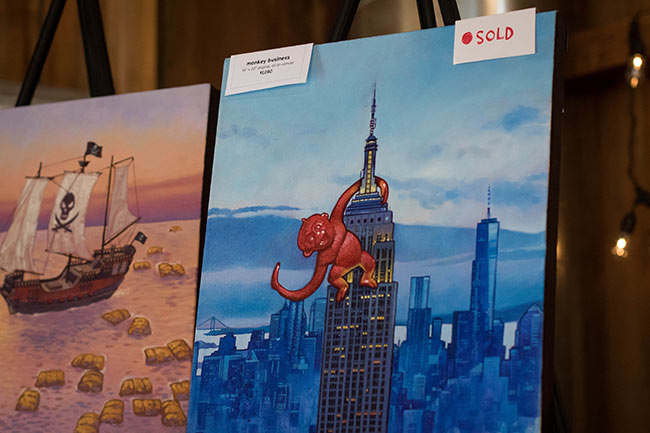 It was the best of times, it was the worst of times.
The scene was the Escape Adulthood Summit and I had just sold one of my new oil paintings. I was elated. It had been only a year since I first offered originals for sale, and this was the first of three I'd sell in one day!
I proudly added a "sold" sign to the canvas, a badge of honor that would be on display for the rest of the event.
Later that day, I heard a disturbance in the Force. Someone had inadvertently knocked over a few of the paintings. I calmly walked over to the scene, planning to reset them on their easels. No biggie. But my gut turned upside down when I grabbed the sold painting and discovered a huge gash in the canvas. It had fallen onto — and was impaled by — a smaller easel below. The hole it created made it look like it had come face-to-face with an angry art critic named Freddy Krueger.
I was sick. Mostly for my friend Jessica, who bought the painting and was excited to have it. I groped for something to say. "Ha ha, this makes it more unique now?" I said weakly. "This comes with a great story, right?" I tried to think of a solution to save the day, but I just couldn't. Only days earlier I'd read about how when artists want to be rid of a piece that they don't like or hasn't sold, the surest way to do the job is to slash the canvas with a knife. Yep. This felt unfixable. I didn't see any good solution, short of refunding her money and mourning the loss of my short-lived sale.
But a little later, Jessica turned the tide with a suggestion. She noted how many of my other pieces incorporated words in a collage style, while this one didn't. "Could you maybe add some words to it that would cover up the hole?"
Suddenly, the synapses in my brain jumped to life. A small glimmer of possibility emerged. I formed a plan.
Late that night, after a long first day of the Summit, I brought the wounded painting home and set up shop in my studio. First I removed the varnish. Then I carefully patched up the back of the canvas with duct tape and cut out words to glue on the front. After that dried, I painted over some of the paper to blend it into the piece.
Then the moment of truth.
The gash was fixed and completely unnoticeable, but the words looked weird just floating in space. I had the idea of adding a line that traversed the sky and encircled the words to tie the painting together. But it was risky. I'd have to use an oil paint stick, with no real good way to erase it without potentially ruining the entire painting. I had one shot to get it right. After discussing it with Kim, I went for it.
A few minutes later, a little after midnight, I emerged from my laboratory with the resurrected painting. I had nailed it.
I was excited to arrive early for day two of the Summit, so I could replace the fixed painting before everyone else arrived and surprise Jess. It was fun to see her do a double take when she realized the change. She told me she had been an art major for a brief time and suggested that the composition of the "new" painting was even better than the first. And she was right. It was a better painting in every way.
One that did come with a great story.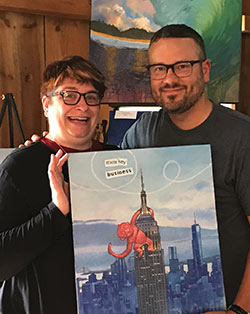 I've written before about the habit of looking at potential disasters as possibilities. I'll admit that I was in too much shock at first to figure out any way to turn the gashed painting into a positive. I preach about "happy accidents," but there didn't seem to be anything happy about this one.
It would have been easy to dismiss any ideas out of hand: "That'll never work! It's ruined, and that's that!" Fortunately, as hopeless as I felt, I really was open to the possibility of a happy ending. Jessica's suggestion was the nudge I needed to find it.
Silver linings are easier to spot when you're looking for them.
Bad things happen all the time. Unexpected, unwelcome, unfortunate, unsettling things that make us sad, frustrated and angry. (Sometimes all of the above.) And as humans, it's hard to bounce back immediately from these setbacks with a bulletproof positive attitude. That's ok. It's healthy to sulk, vent, and grieve for a spell. But it's also healthy to be open to the idea that something good can come out of this terrible turn of events.
Sometimes that terrible turn of events delivers something that leaves us better off than we were before.