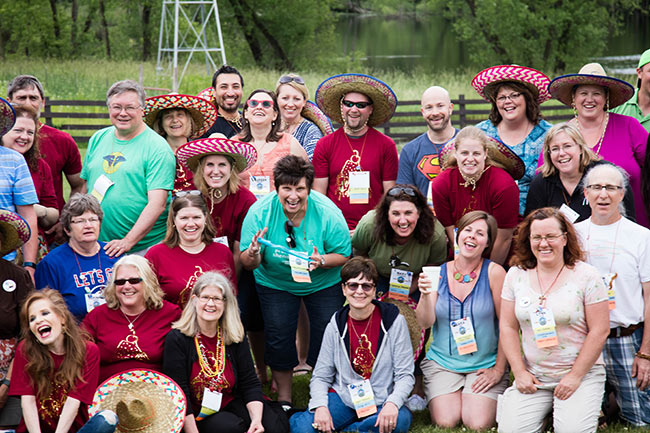 Adventure. That's what the fifth Escape Adulthood Summit was all about. But not the kind of adventure you encounter when you google the word "adventure." You know, like scenes of people hanging precipitously from a cliff's edge with one hand.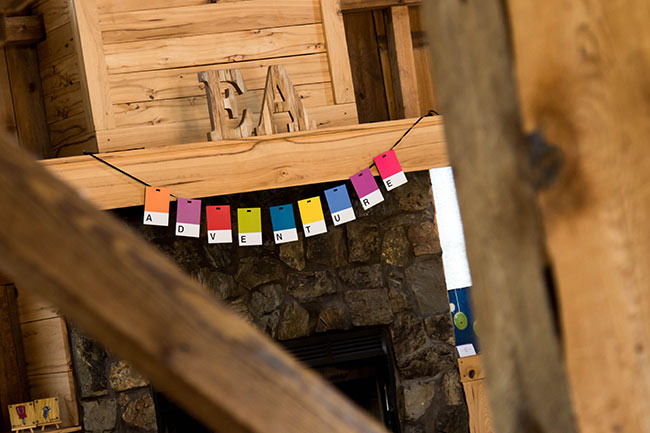 We talked more about everyday adventures; the opportunities to try something for the first time and see the magic in seemingly ordinary moments. Nothing against mountain climbing or sky diving, but we wanted to challenge attendees to embrace adventure on an even wider scale.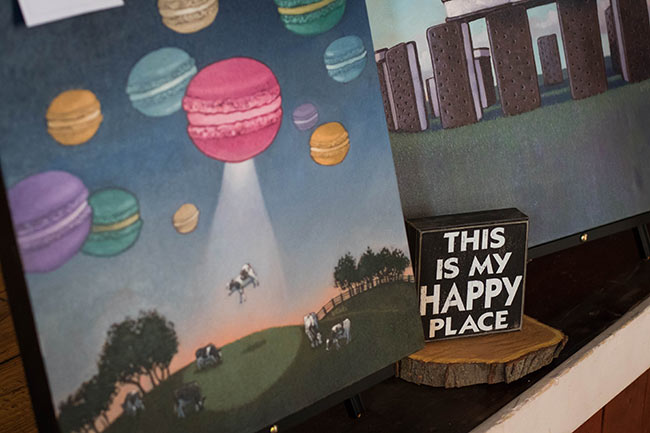 Once again, this year's shindig was held at the beautiful Barn at Harvest Moon Pond, nestled within the rolling Wisconsin countryside.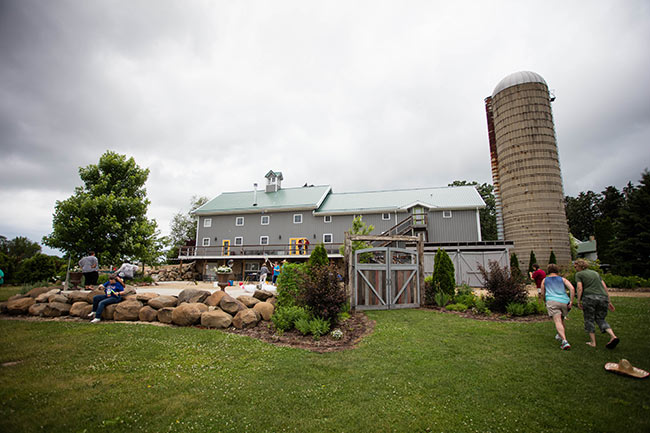 Kim and I welcomed another sold-out crowd with hugs and high fives. It was exciting to see new faces and old friends — some of whom have been to all five Summits!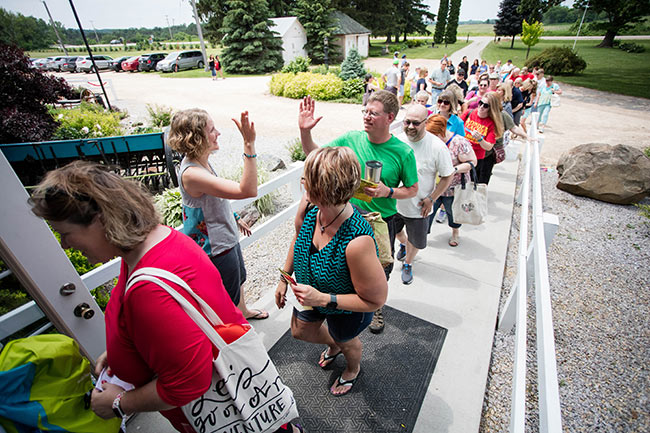 Of course, Golden Tickets are required for admittance.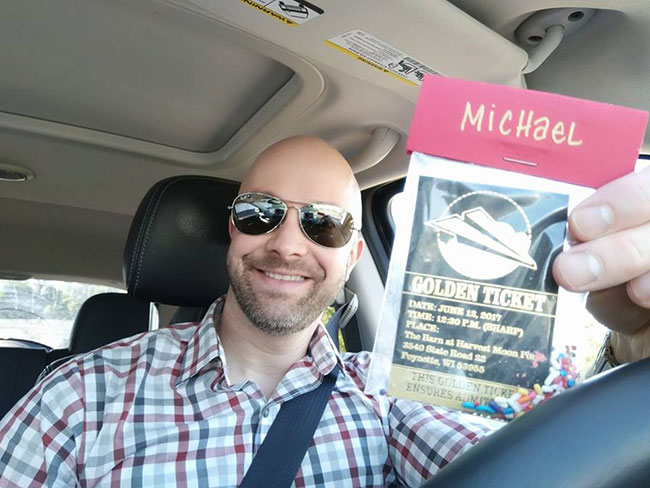 Goodie bags and personalized name tags awaited each guest.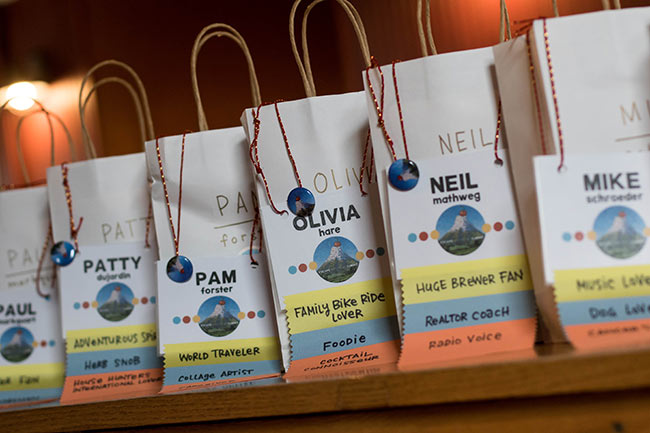 I think those name tags are one of our best inventions, as the personal factoids about each person are great tools for breaking the ice and starting conversations.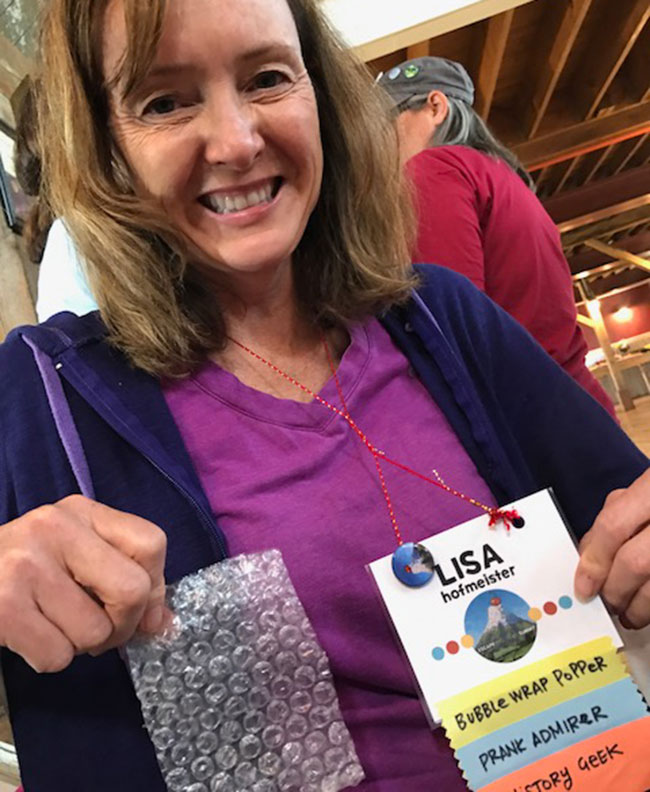 Special notebooks for recording ah-has!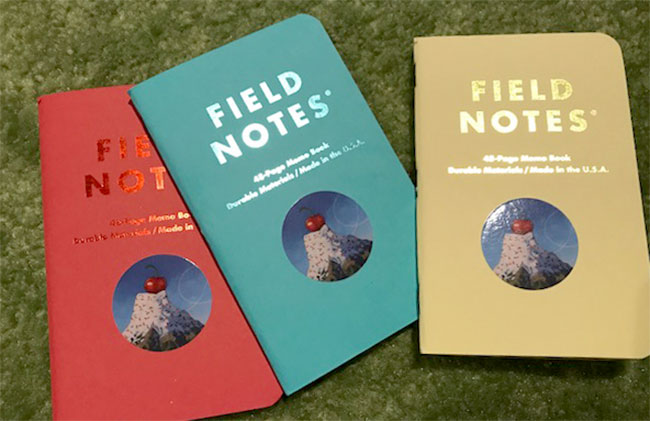 We had Lego bricks at each table, and everyone received their own minifigure.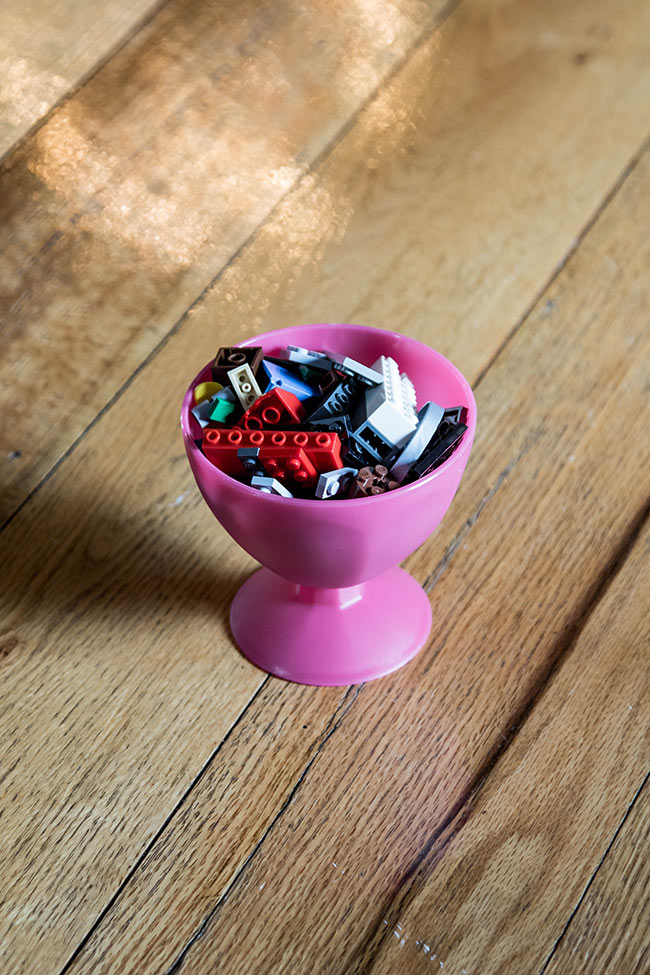 We understand that some minds work better at absorbing information when their hands are busy, so why not make it fun?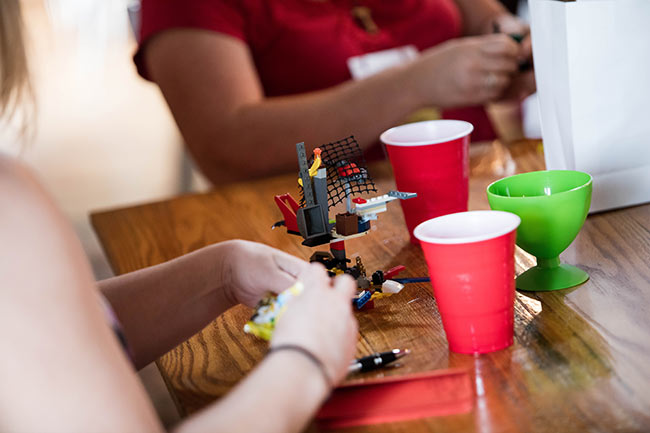 As usual, guests came from all over, including 13 different states and Canada. Some people come alone, ready to connect with other like-minded Adultitis Fighters. Some arrive with Partners In Crime, such as spouses, siblings, best friends and co-workers.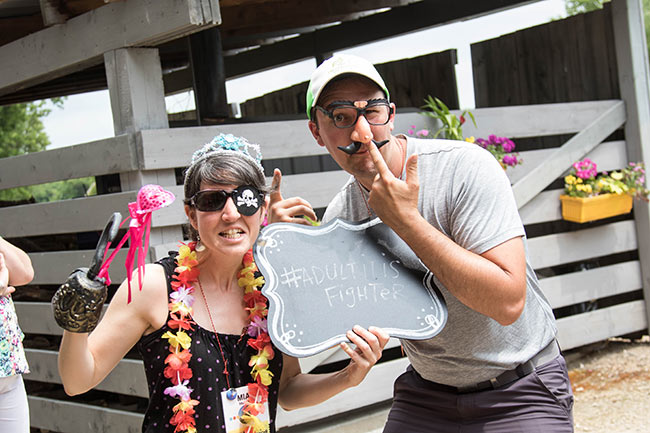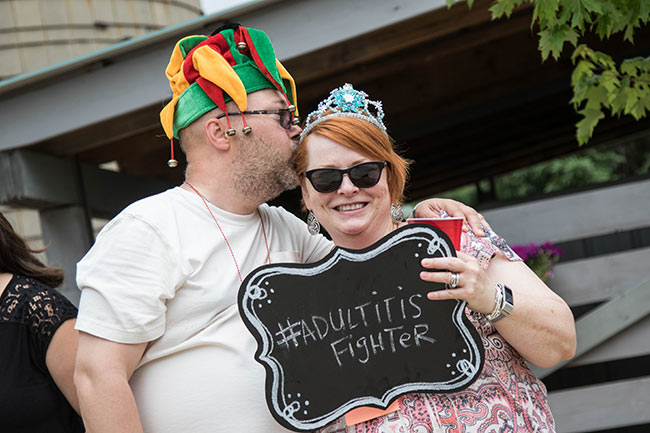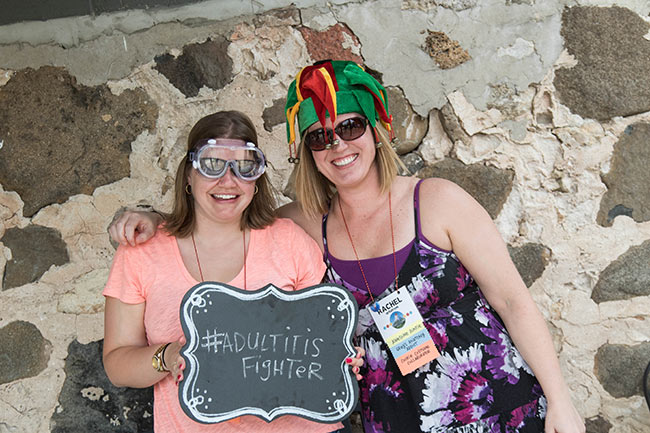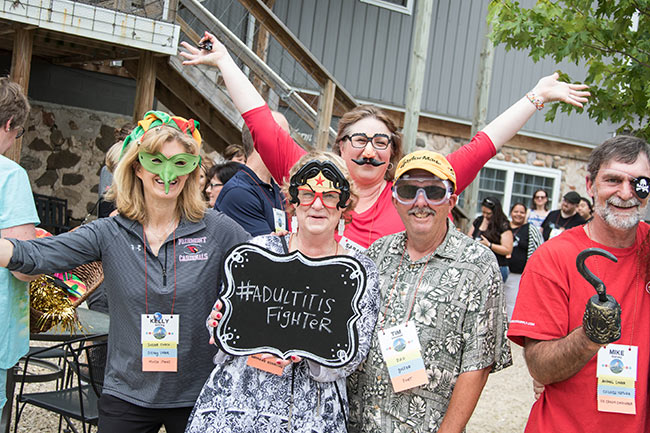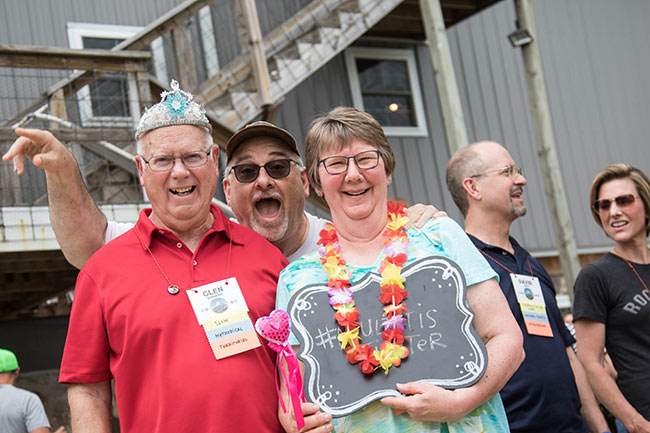 Past attendee Krista Sobieski surprised us with a superhero-themed cake and cupcakes, which did not last long!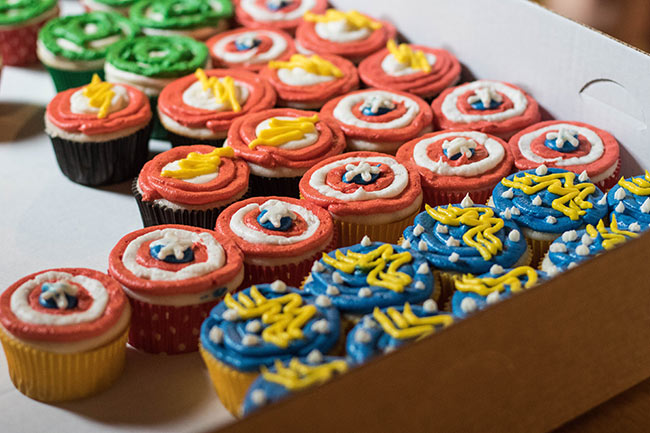 After settling in, we enjoyed lunch outside, provided by two rad food carts. Buzzy's Lake House served up tasty cuisine, highlighted by their famous jerk-seasoned Bobber Chicken…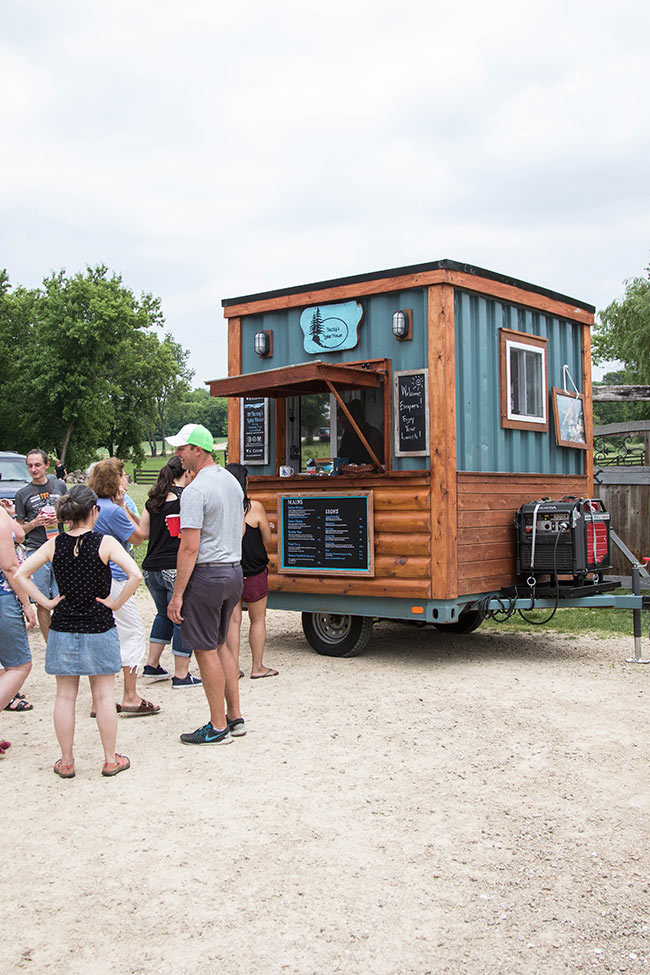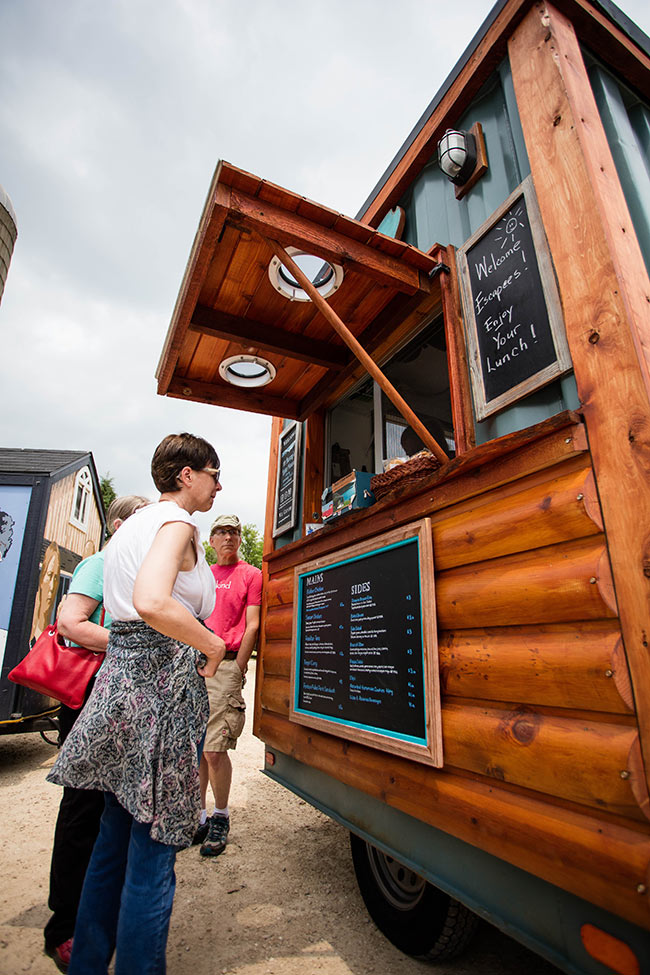 …and the variety of tater tot combos offered by Pots-n-Tots would make Napoleon Dynamite himself jealous.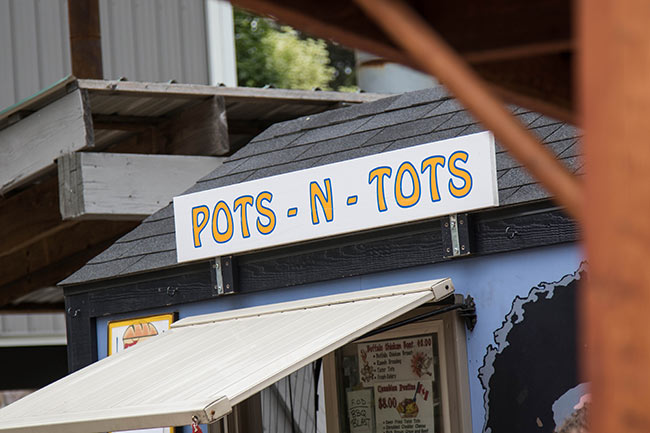 "Luh-key!"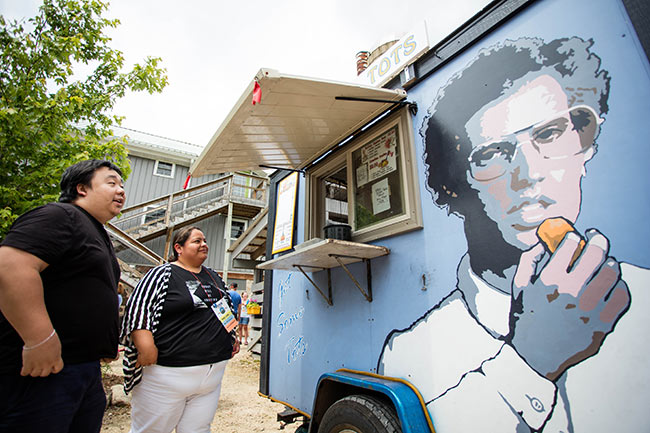 Meanwhile, a talented marimba player named Eric De Los Santos provided a wonderful ambiance with his skilled performance.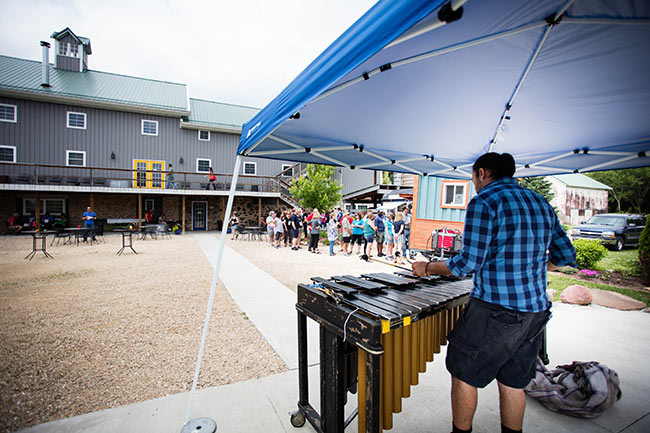 The story of how we discovered him is in itself an example of everyday adventure. One day, our family was heading downtown for a fun excursion. As we pulled into the parking garage, Ben called out, "Can we go to the top?"
"Of course!" I replied.
After winding our way up the ramp — passing hundreds of empty parking spots — we made it to the very top, where the kids climbed out to take in the breathtaking view of Madison from five stories up. As we surveyed the scene below us, we spotted a dude taking pieces of what ended up being a pretty huge instrument out of an impossibly tiny car. He began assembling it right there on the sidewalk, and the kids thought it looked like a huge xylophone. We decided to get a closer look and ask him about it.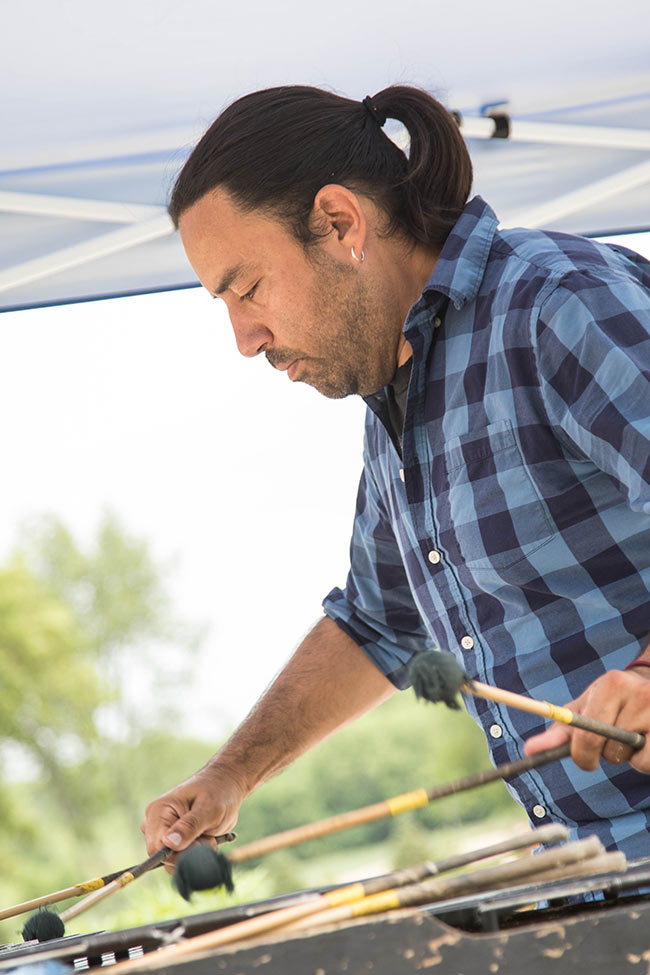 The kids learned that it was a marimba, and Eric told us he was going to play down the street in front of the Overture Center. We were smitten, and Kim had the bright idea of inviting him to play during lunch at the Summit.
All because my son Ben wanted to partake in an everyday adventure.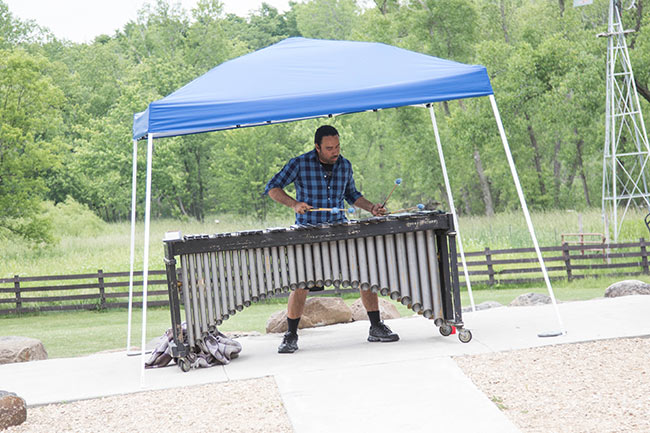 After lunch, it was time for a group project, and each table was tasked with decorating a cake. The catch: it had to be ugly! Jenna reprised her role as the Lunch Lady to explain the challenge.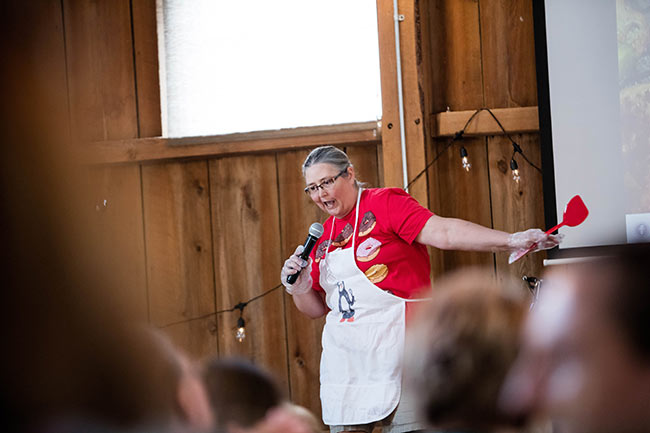 Everybody dove right in, and it was quite a sight to behold.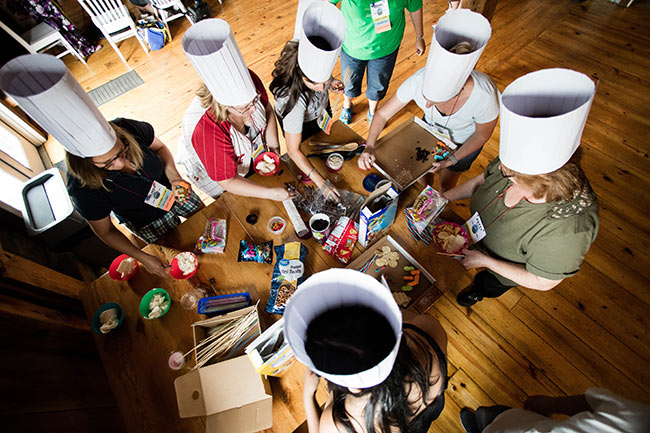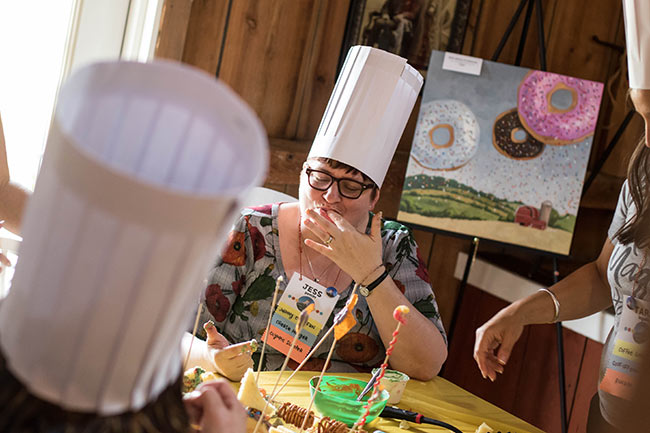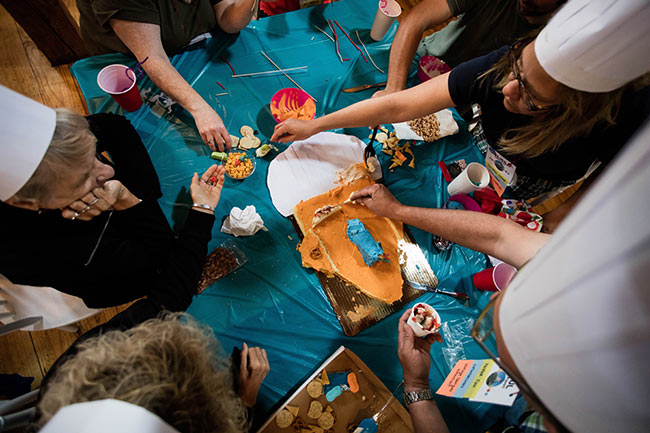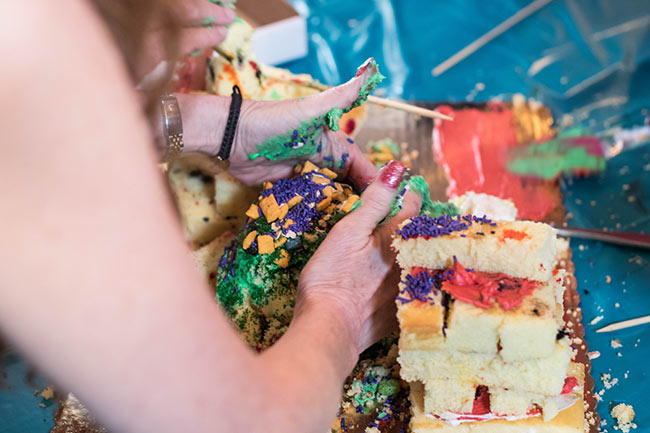 Throughout the allotted time frame, Jenna progressively added a few more twists: they could only use a large utensil to decorate, they had to incorporate a bag of chips, and finally, they had to figure out a way to incorporate Marty the Penguin into their cake's story.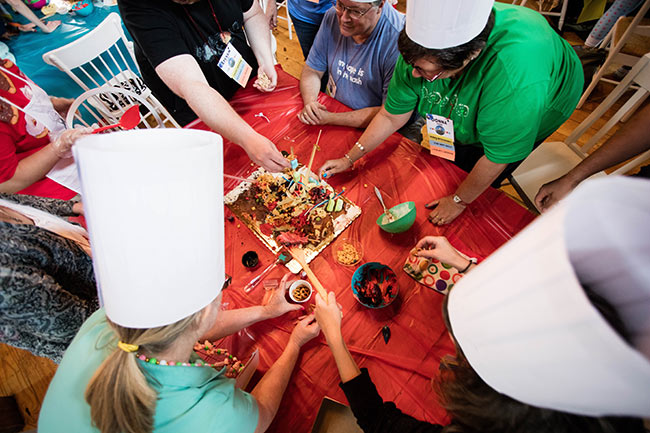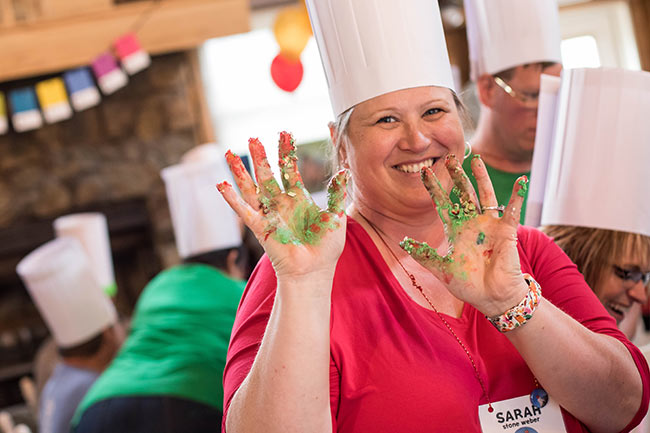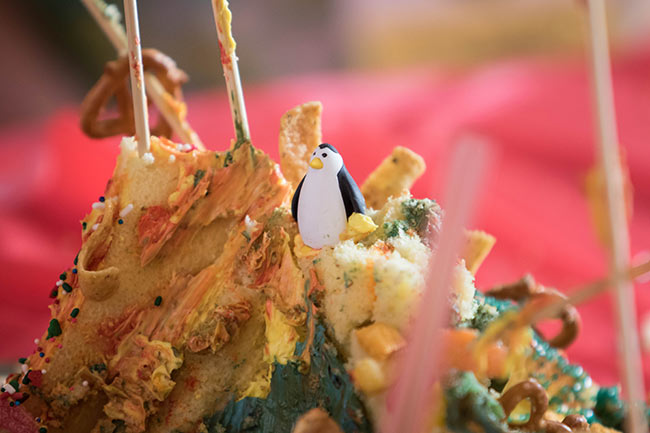 Each team came at the challenge from a different angle, and it was a blast to see them reveal the fruit of their (messy) labor. In the end, the cakes were deemed to be inedible, but they made for some interesting eye candy!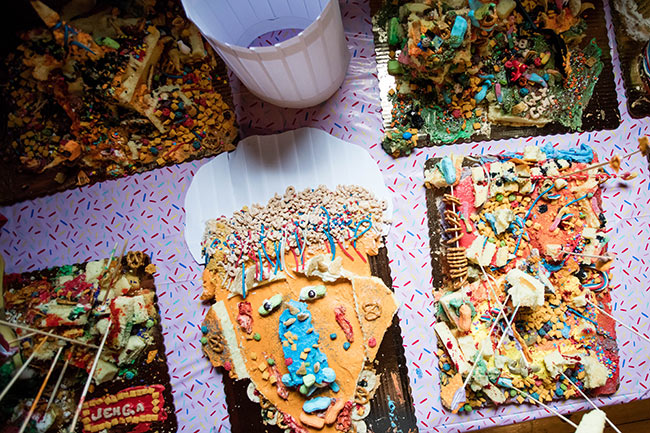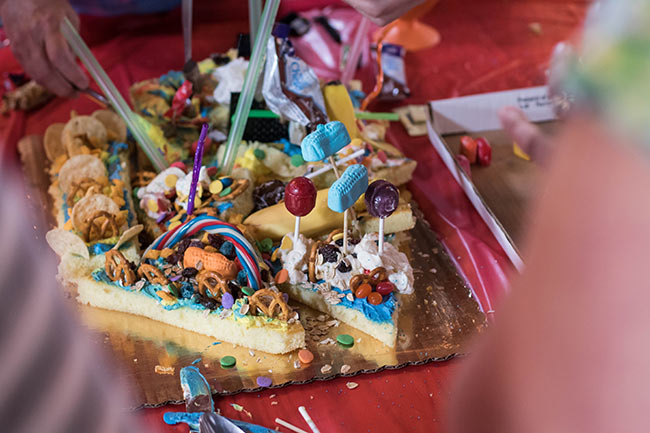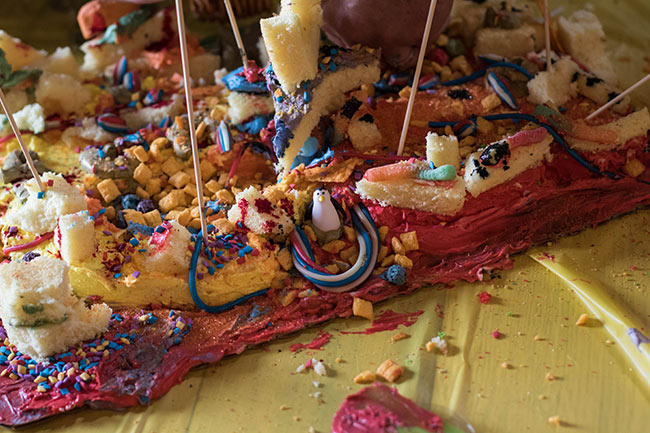 After cleaning up, I shared some tips on tinkering and learning how to be "just brave enough" to take advantage of the little opportunities to make every day into an adventure.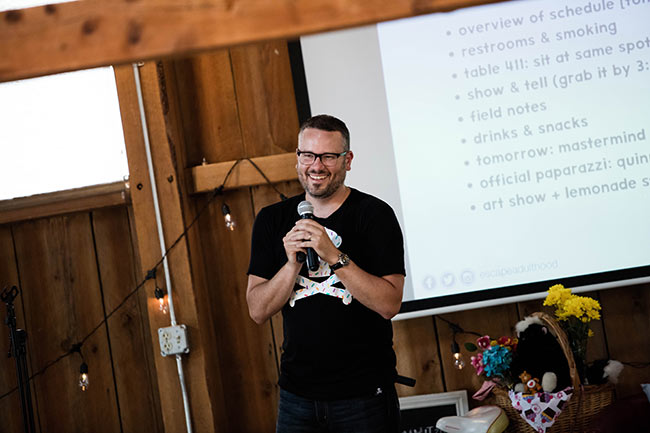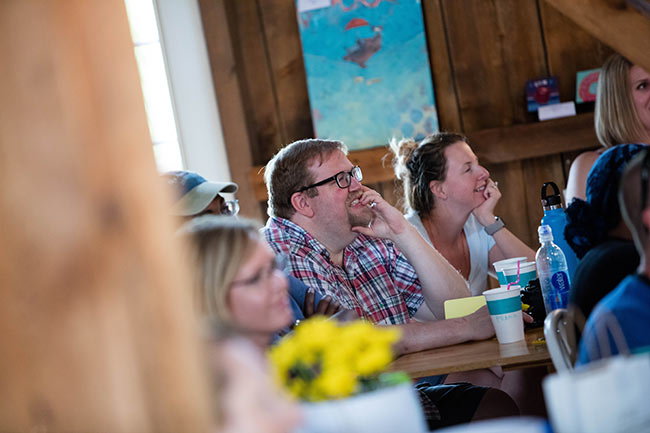 Later in the afternoon, we welcomed a Milwaukee improv group called Mojo Dojo to the Summit. They led groups in a workshop designed to give them skills for going with the flow, expanding their horizons, and embracing everyday adventures.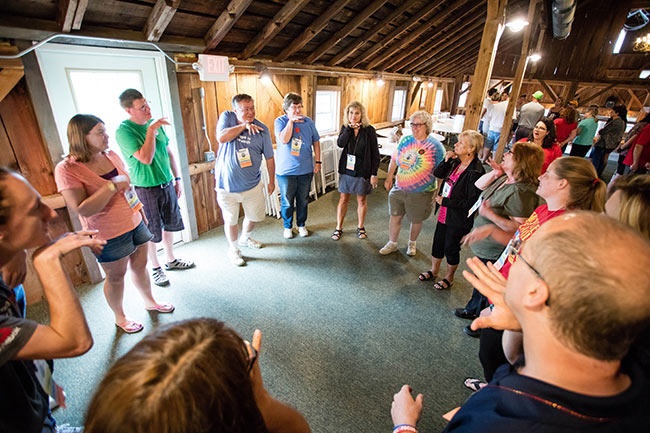 Each team leader did a great job of slowly leading participants out of their comfort zone and eliciting lots of laughter.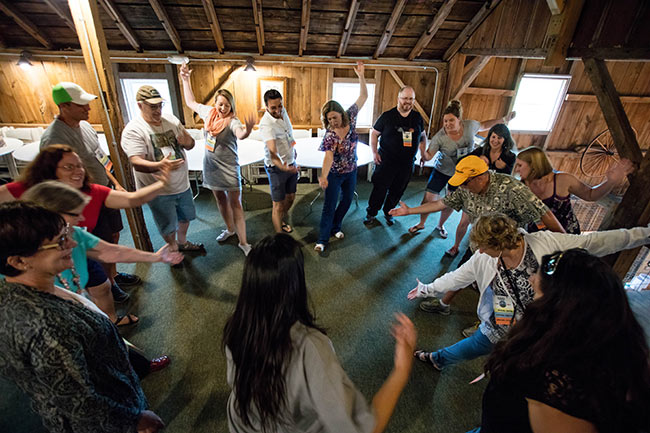 In the great tradition of breaking rules that don't exist, we served breakfast for dinner. The menu featured cheesy scrambled eggs, ham, homemade biscuits and gravy, deep fried strawberries, and even mini Rice Krispie treats made with Fruity Pebbles!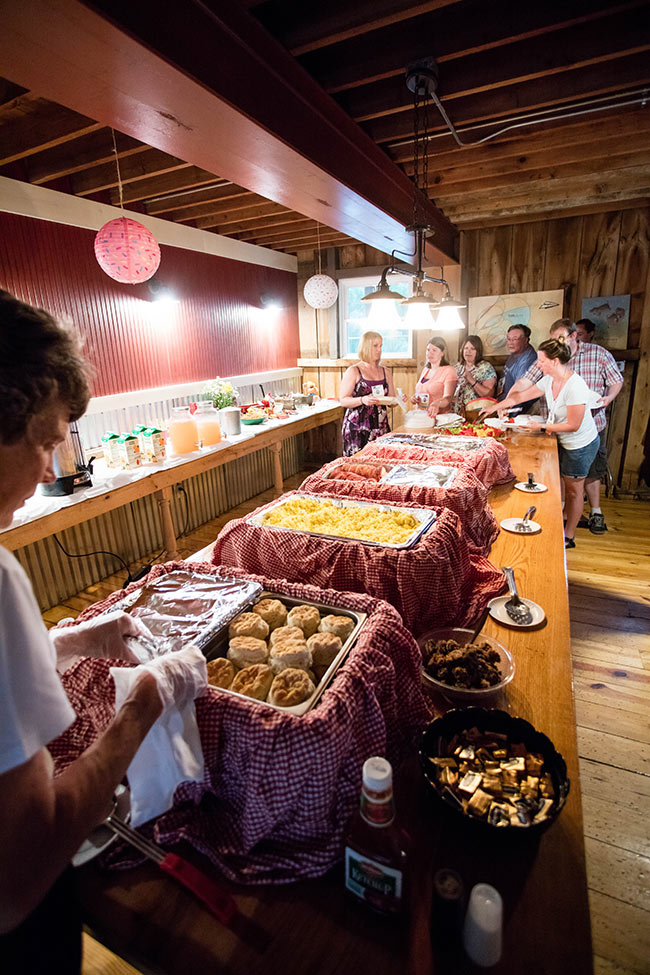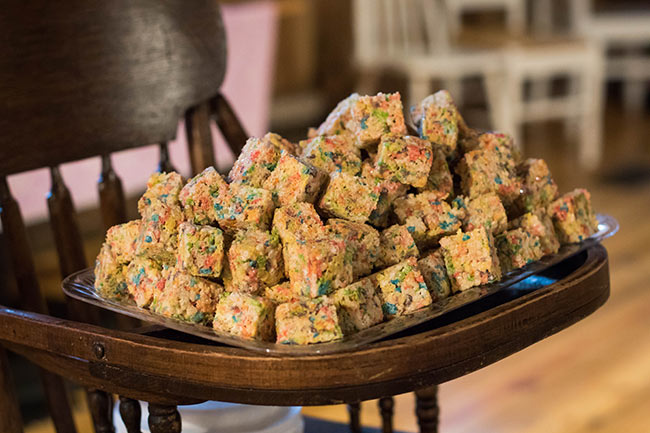 Everyone who attends a Summit is asked to bring something special for Show & Tell. They get to share their item at their table, after which one person from each group is chosen to share with everyone.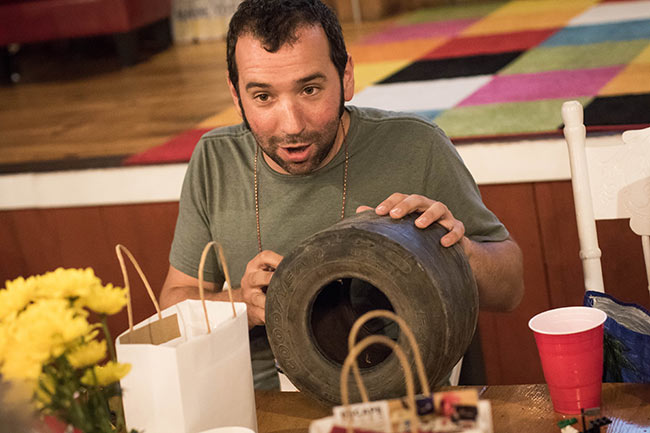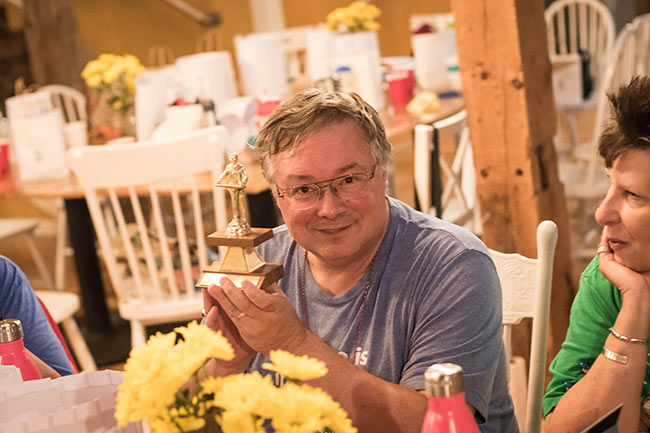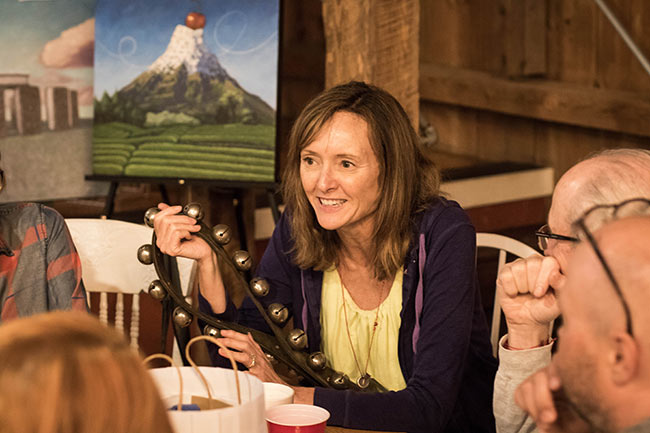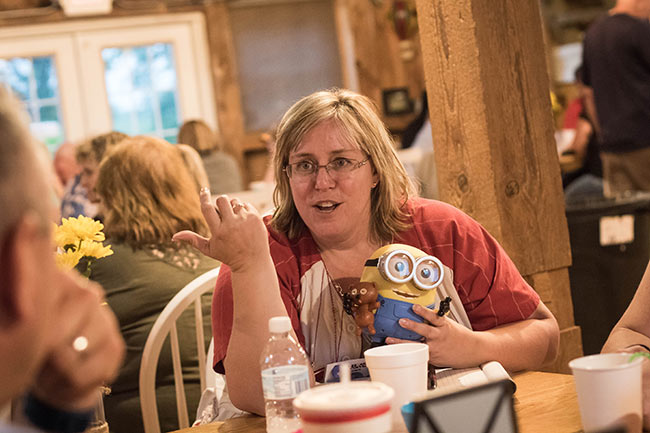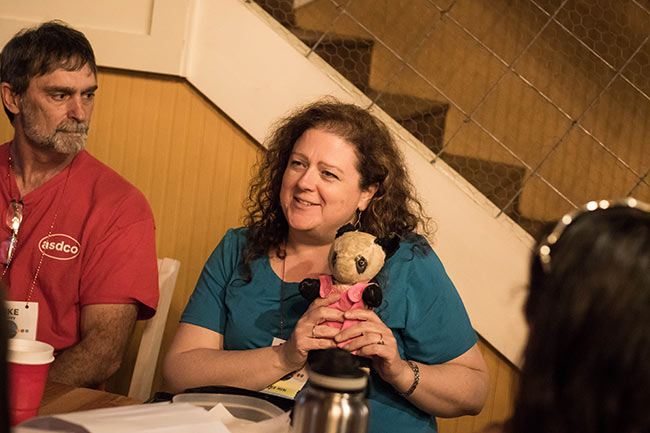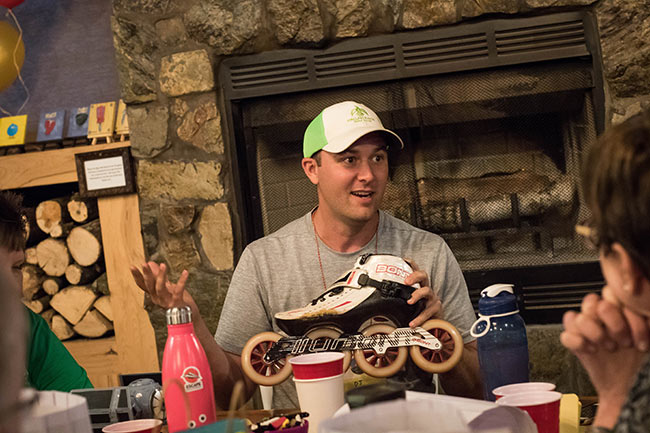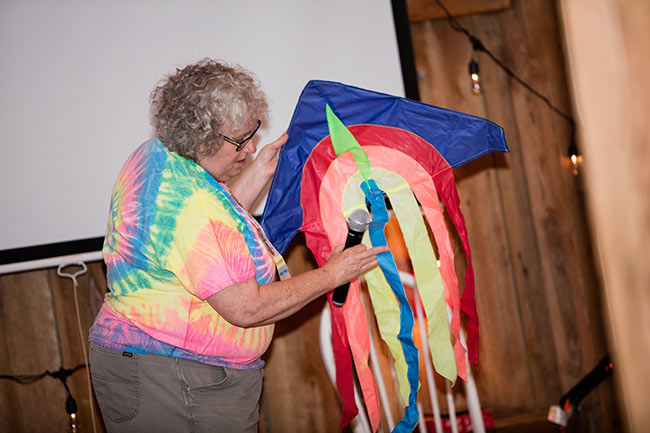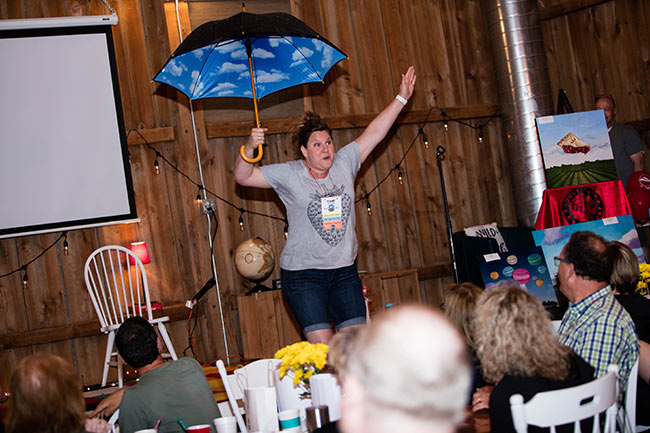 This is always a fun activity, and this year's group sharers provided some heartfelt and inspiring moments.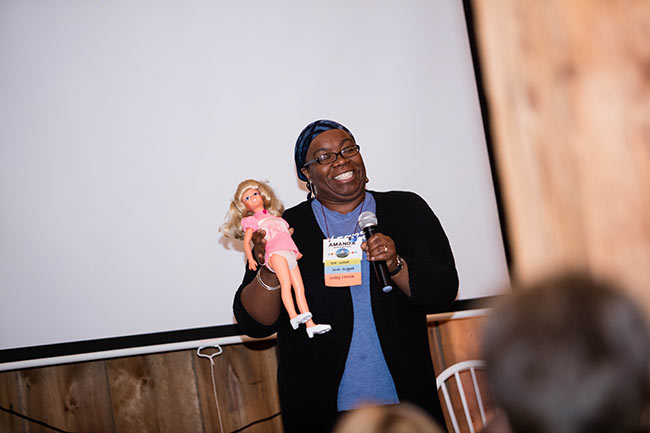 After Show & Tell, we got to sit back and enjoy an improv performance from the professionals, as Mojo Dojo treated us to a hilarious show brought to life with suggestions from the audience.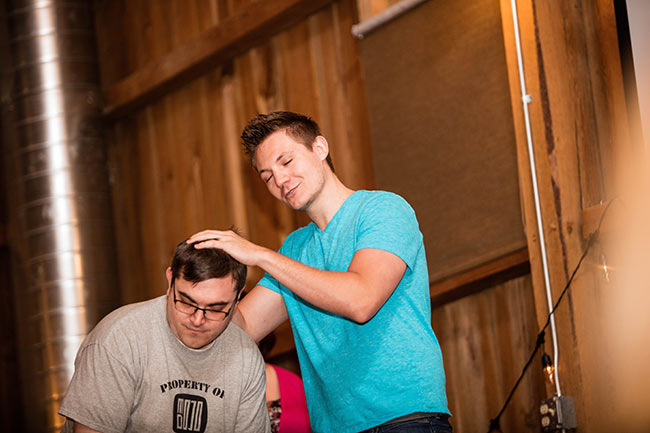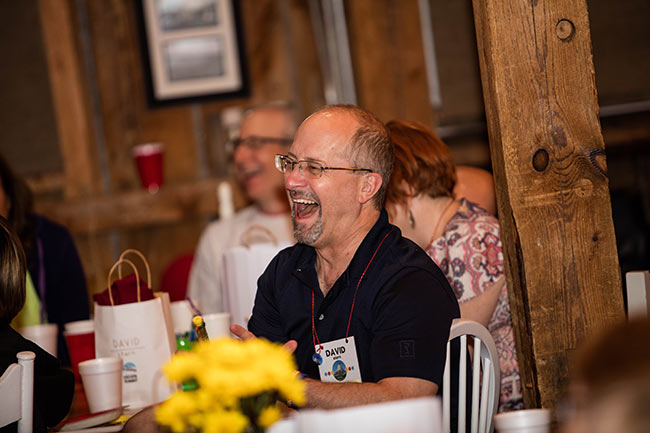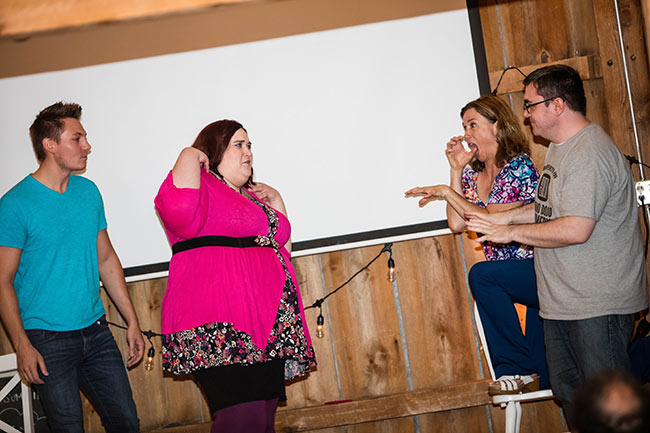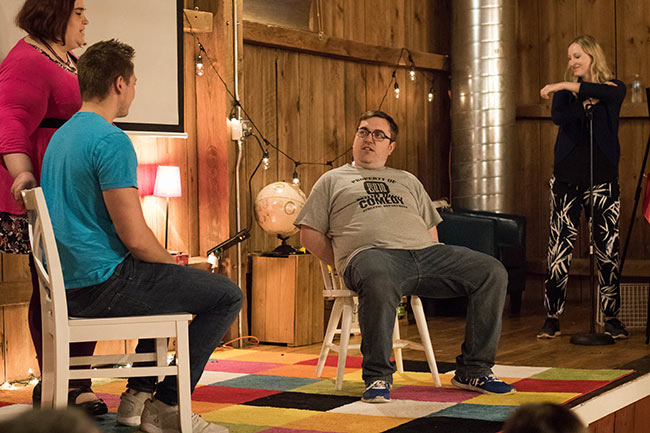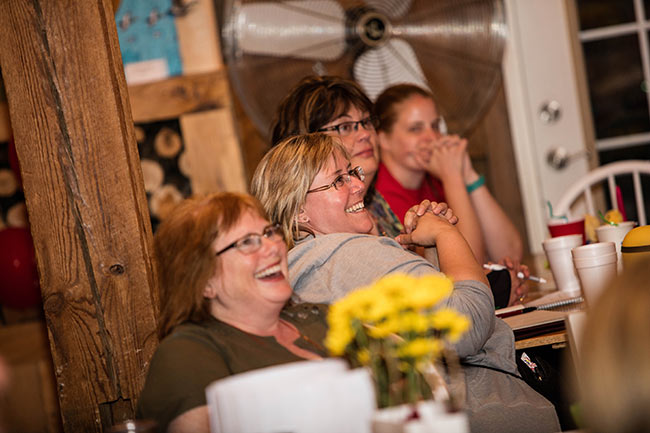 Once again, I was thrilled to exhibit a new crop of never-before-seen original paintings, which doubled as great stage decorations. Even more thrilling was selling five of them!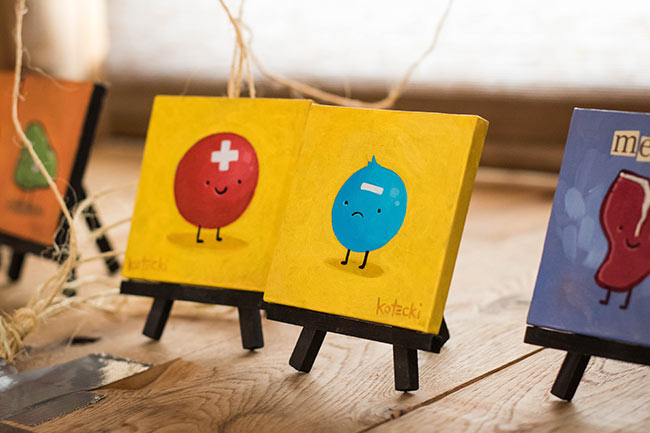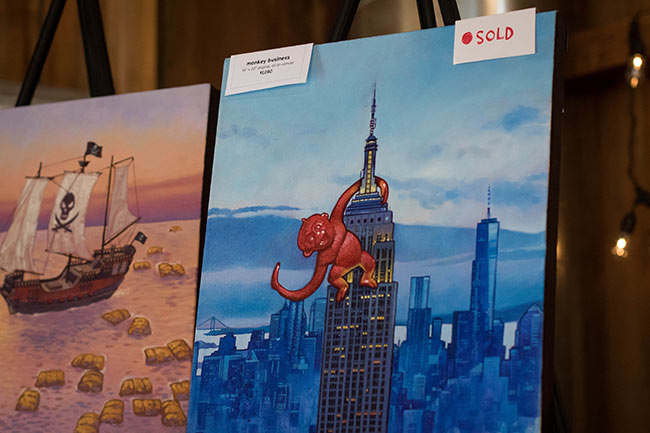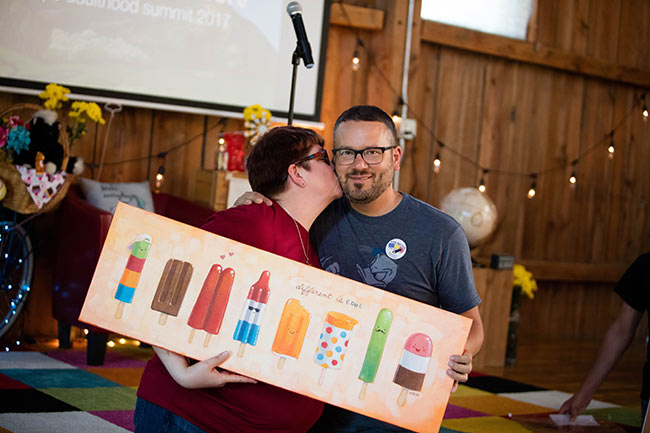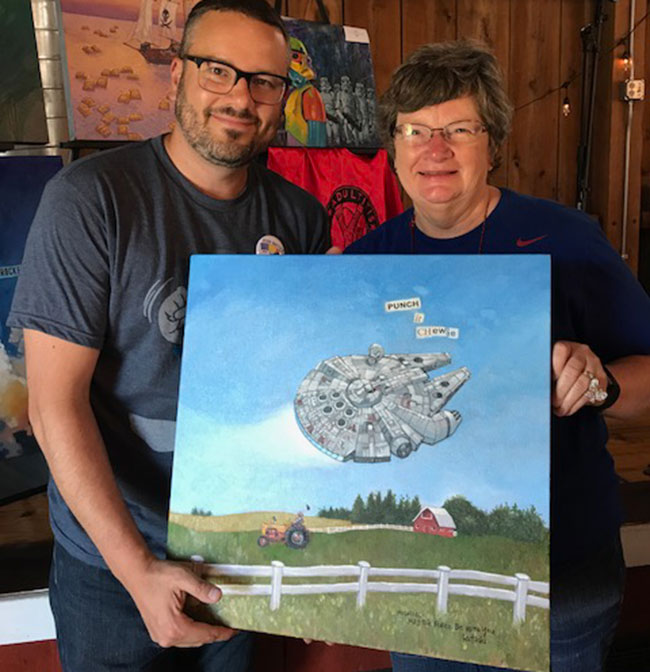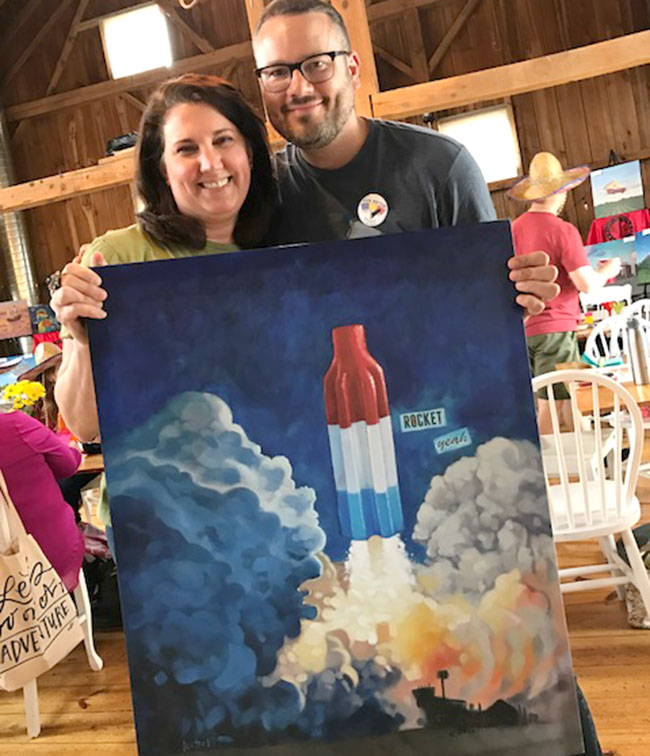 We often have a guest speaker or two at the Summit, and this year was no exception. It just happened to be Kim, who made her first public presentation and knocked it out of the park! She talked about how an adventurous life is like a melting ice cream cone (and why that's a good thing).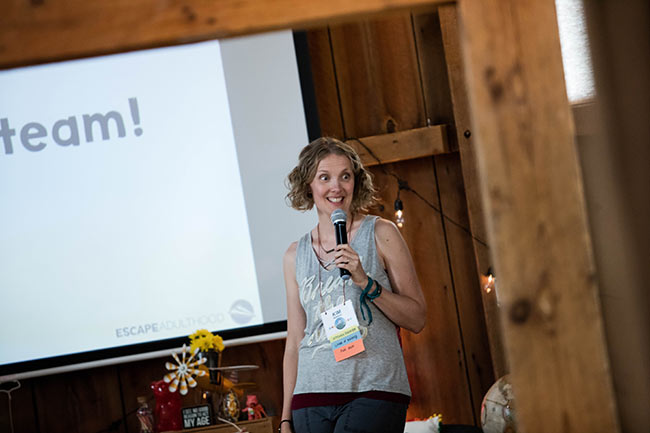 Kim delighted everyone with her funny anecdotes and inspiring examples of how to create adventure wherever you are.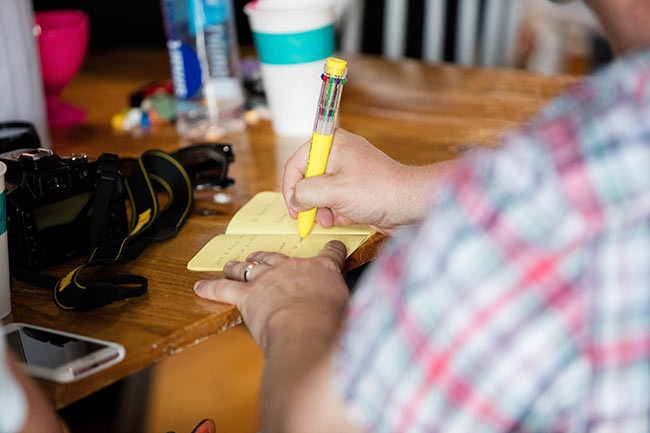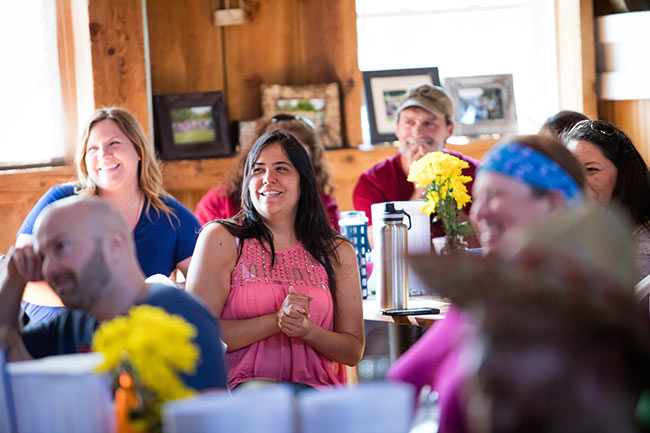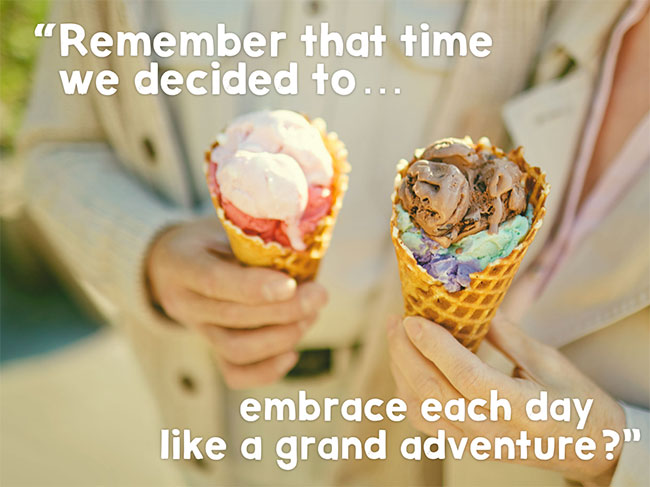 We always carve out some time to break into groups to discuss practical ways of dealing with Adultitis as it shows up in various seasons of life. Whether it's keeping the fun in your relationship, figuring out how to make the workplace less stressful, or fighting Adultitis when sh*t gets real and the going gets tough, these mastermind sessions tap into the collective wisdom of the whole group and lead to a lot of breakthroughs.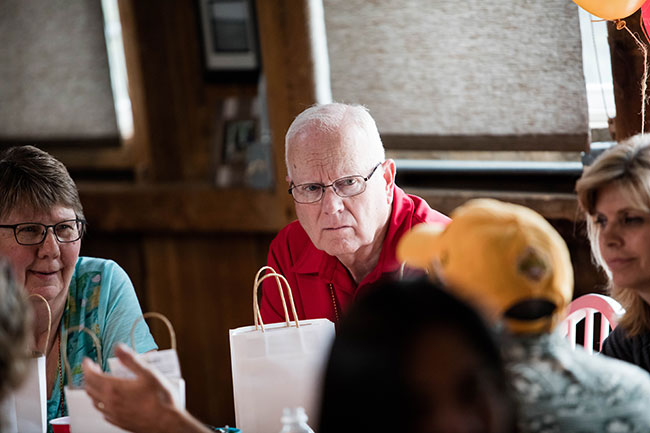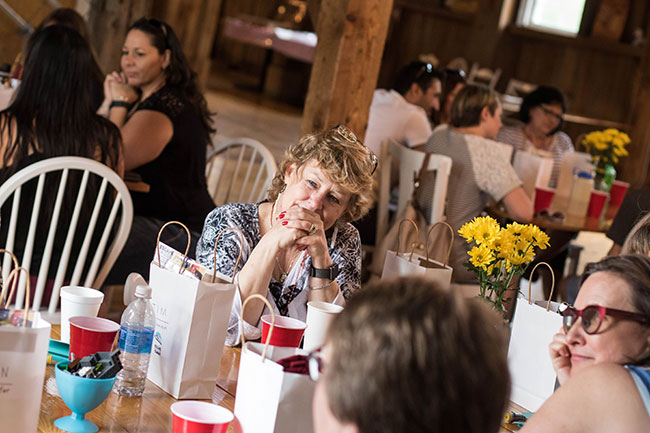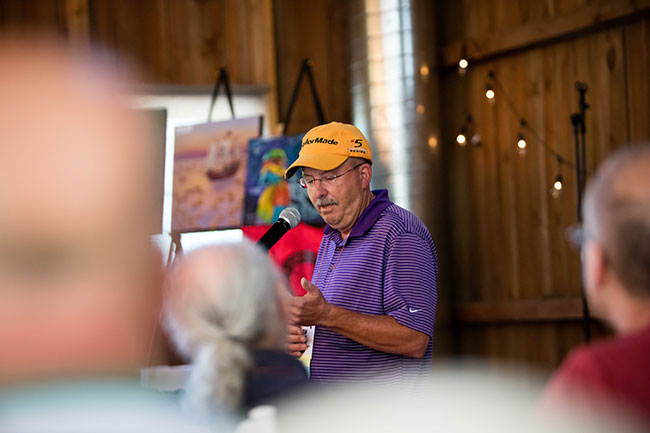 This year, we also invited five past and present attendees to spend a few minutes sharing something they do to initiate everyday adventures. Laurie Guest regaled us with her method for taking loved ones on mystery trips. Sara Gast told us about the famous tea parties she hosts for friends. Michael Leone shared what he learned from volunteering to organize an outside-the-box "Bring Your Kids to Work Day." Fr. Dave Timmerman talked about using the alphabet to help him in his quest to explore new towns in Wisconsin.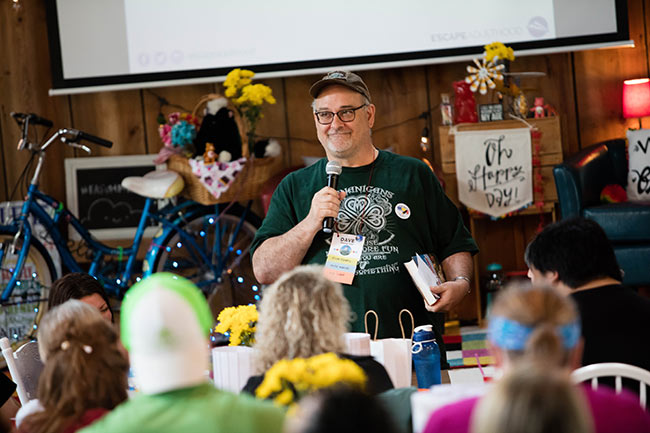 And Joan McGrath painted a picture of what her Escape Adulthood parties look like, and brought along blingtastic rings and retro Matchboox cars to share with everyone.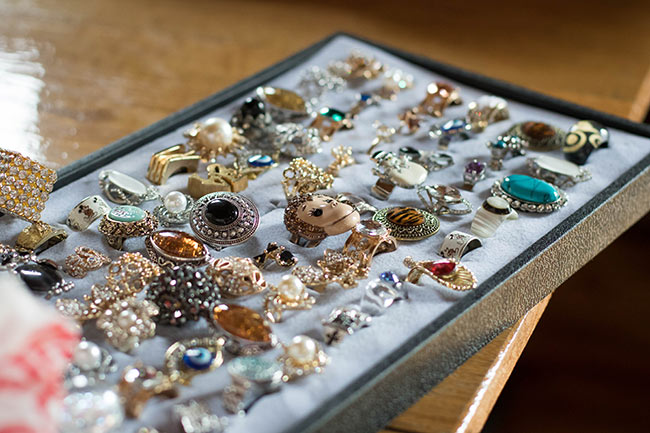 For lunch, it was dessert first (root beer floats and orange cows) and then we celebrated Taco Tuesday!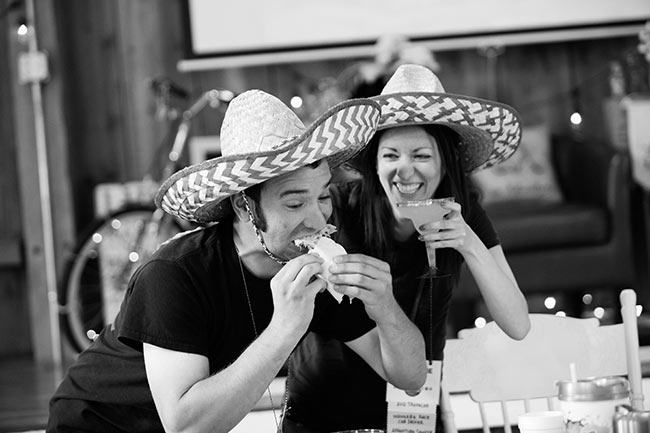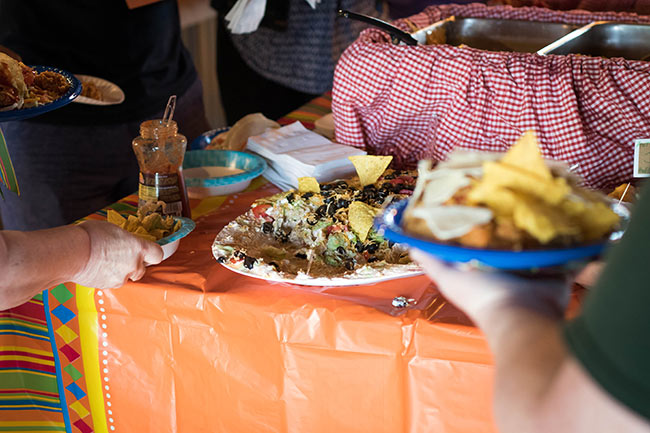 Of course there were tacos with all the fixings, but also nachos, 7-layer dip, pepper jack cheese curds (it is Wisconsin, after all), and margaritas!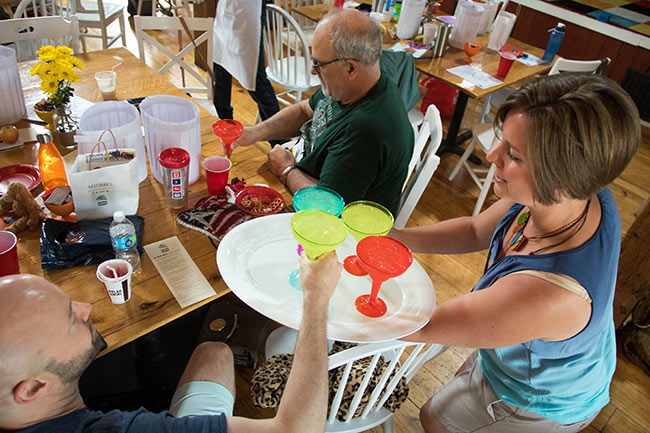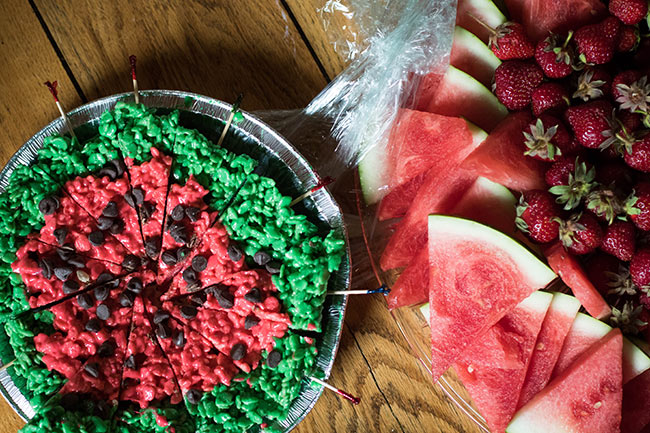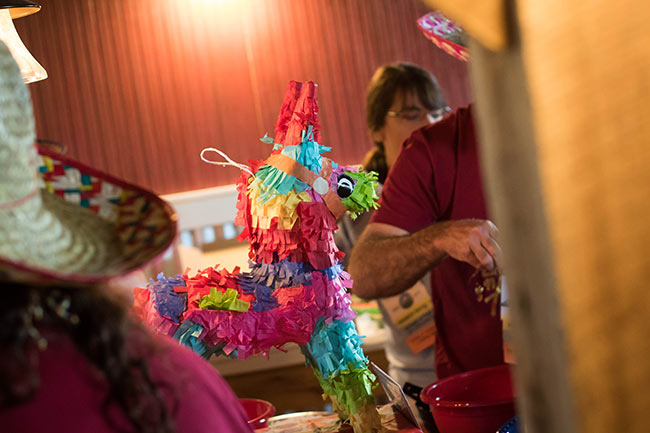 Recess is always a highlight, and even though we had some storms pass through during the time were at the Barn, the weather was perfect for recess! It was a great opportunity to fly a kite…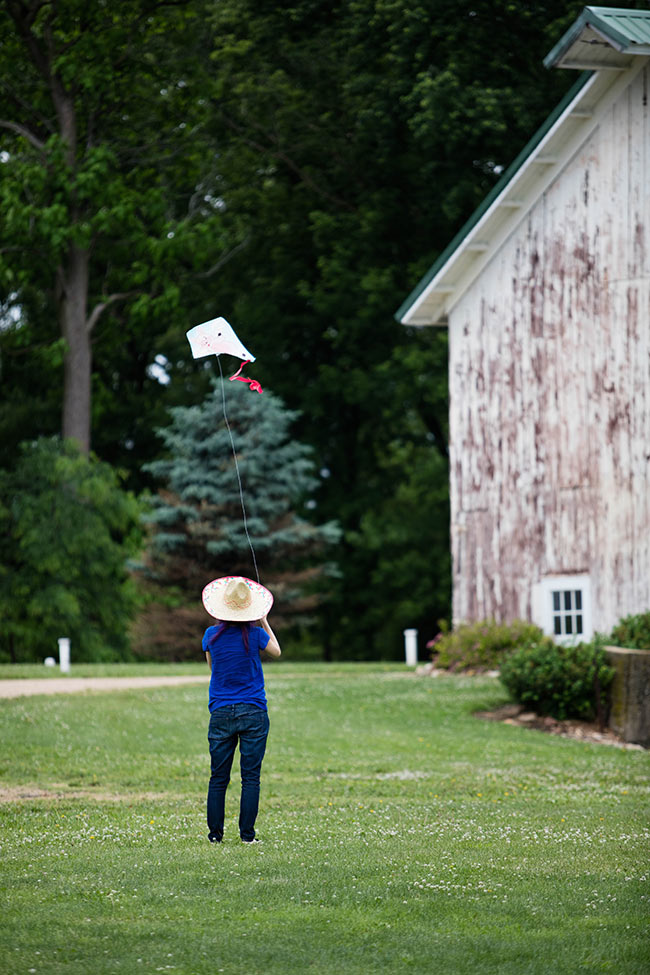 …blow bubbles…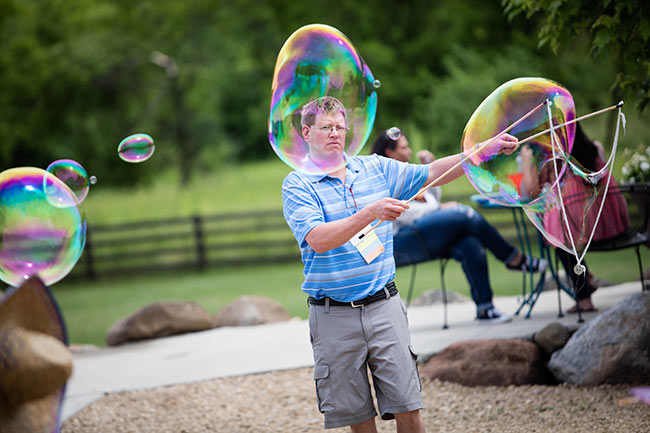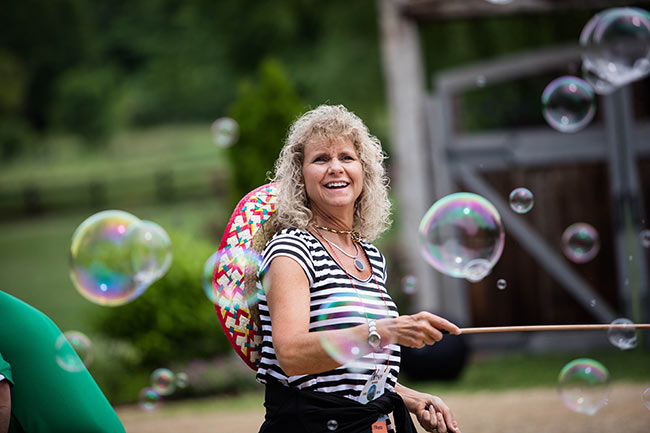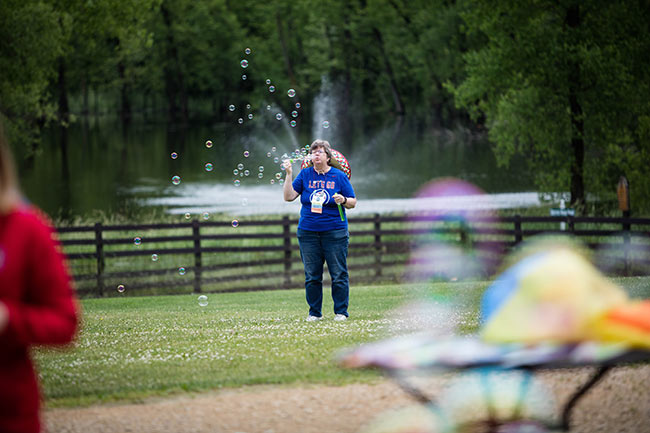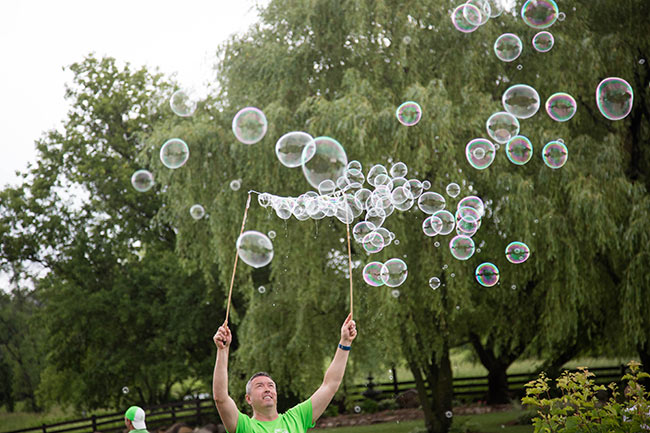 …play corn hole…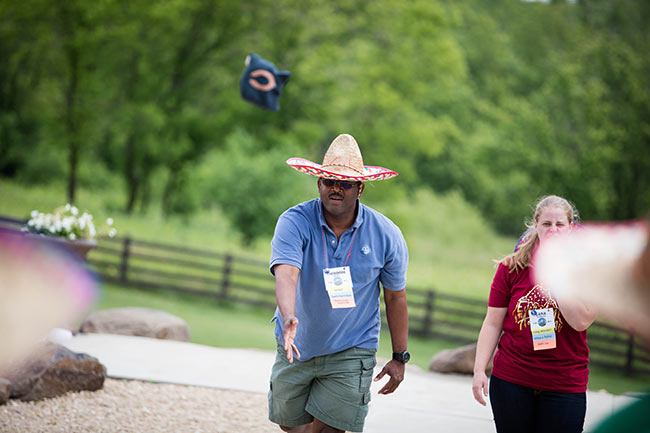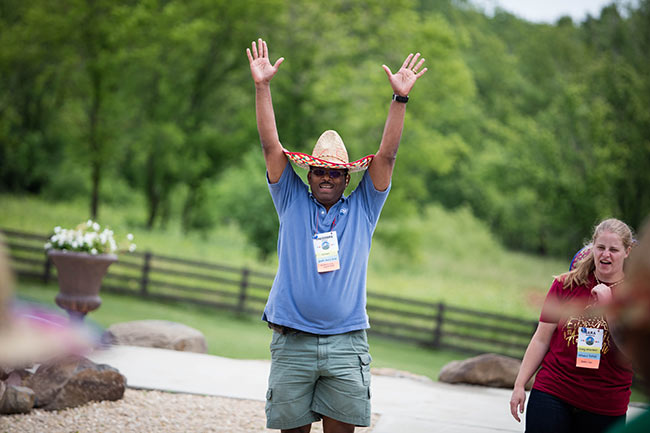 …toss a frisbee…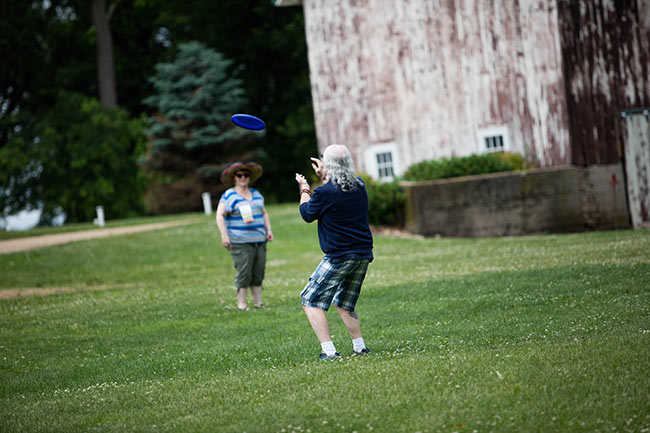 …play catch…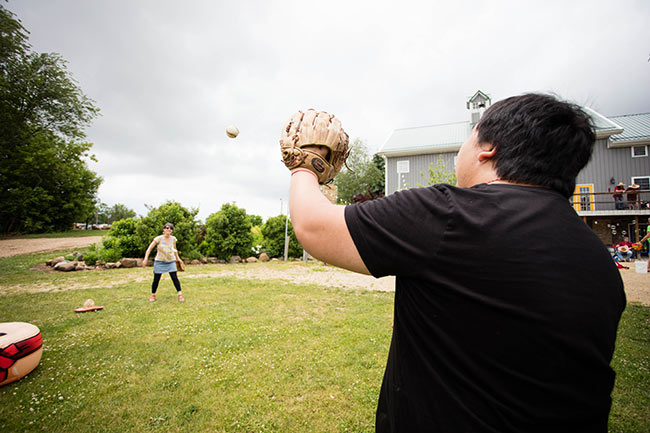 …goof around with a parachute…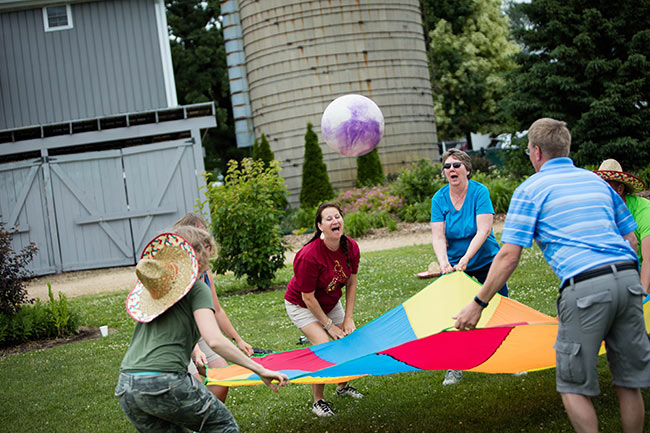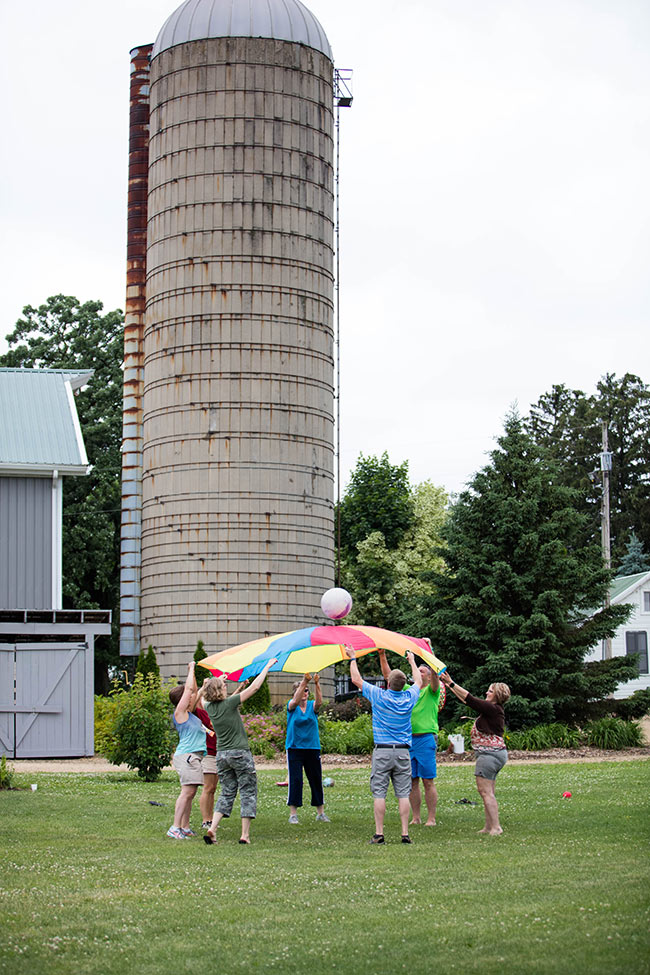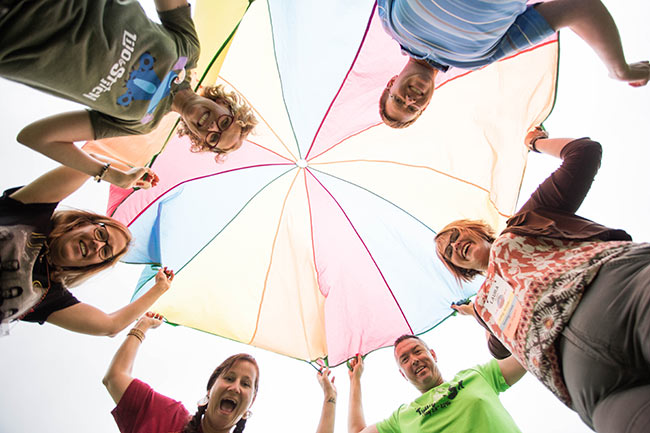 …or face off in an epic sumo contest!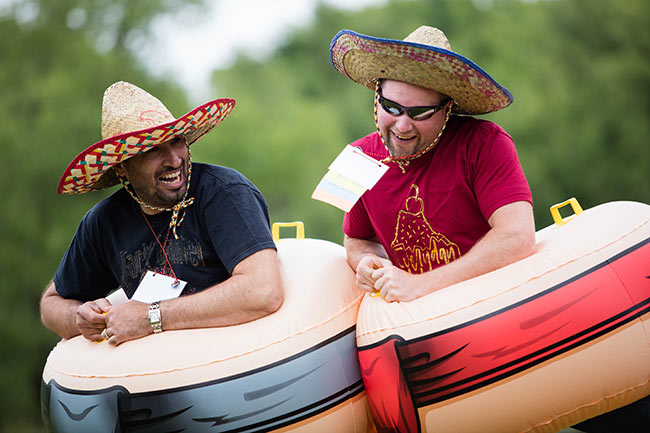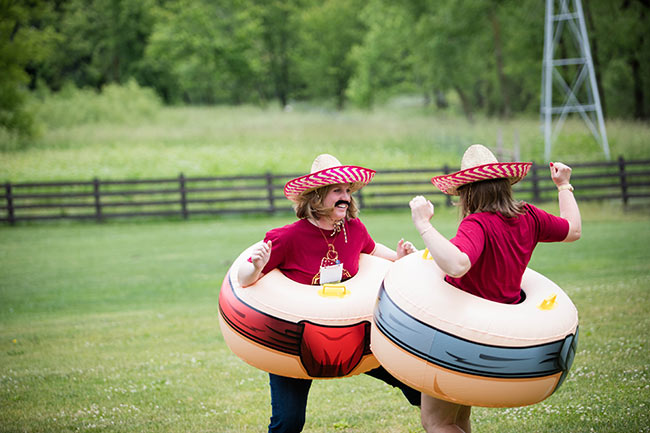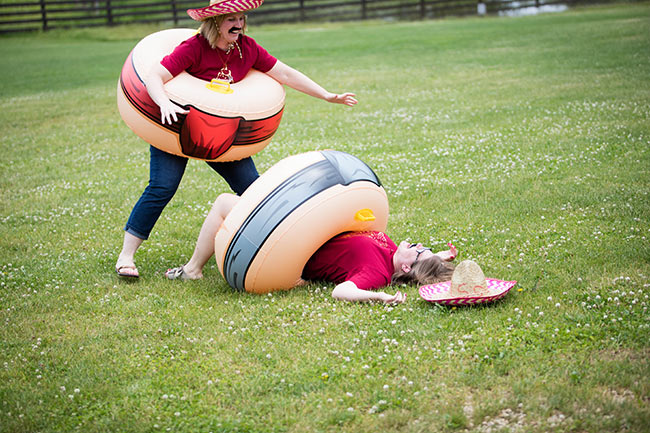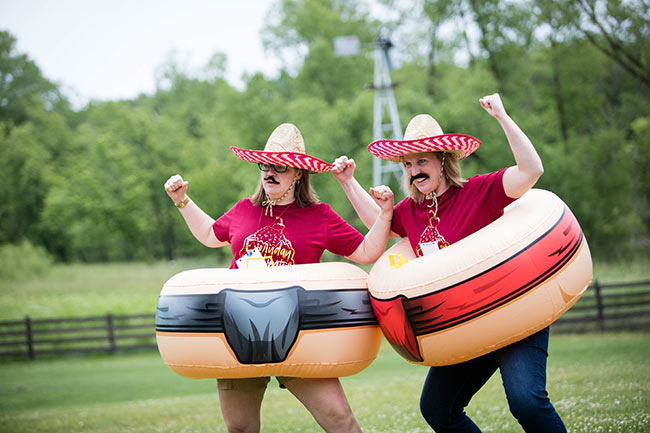 After recess it was time for another presentation by me, and a chance to really reflect on all of the things we learned over the course of an action-packed two days.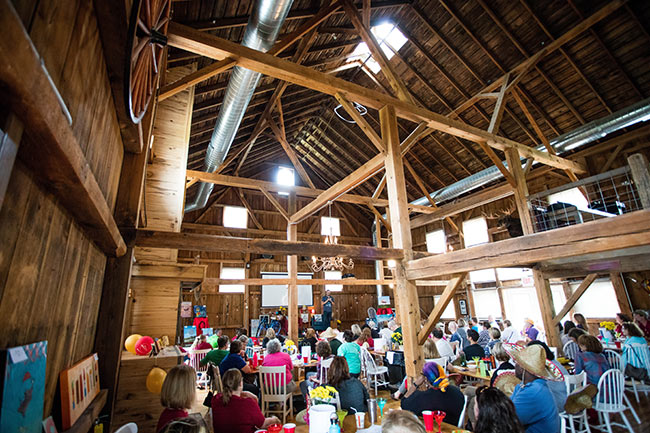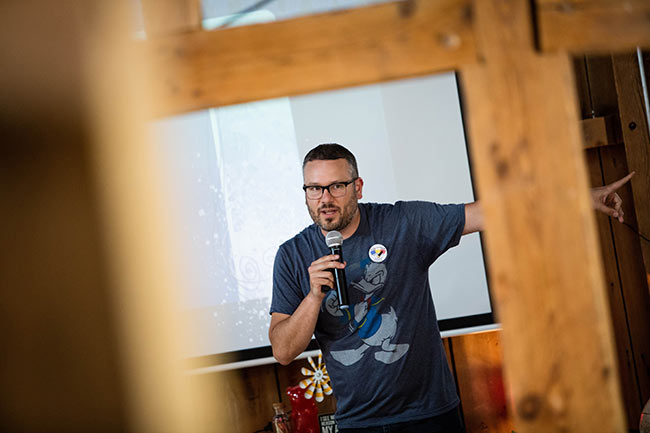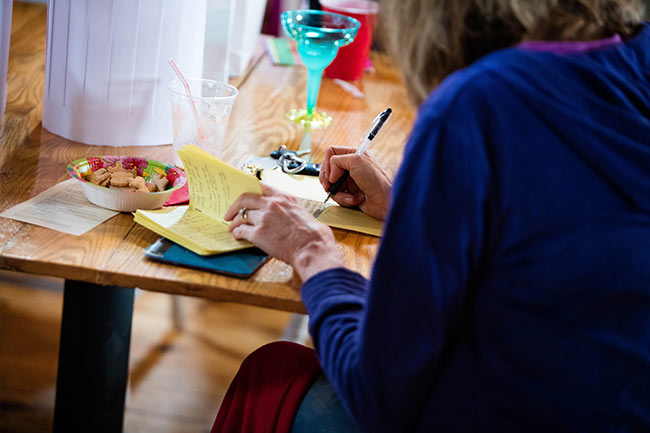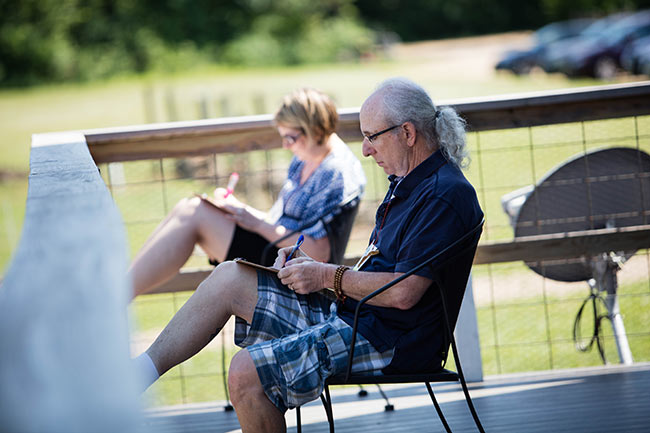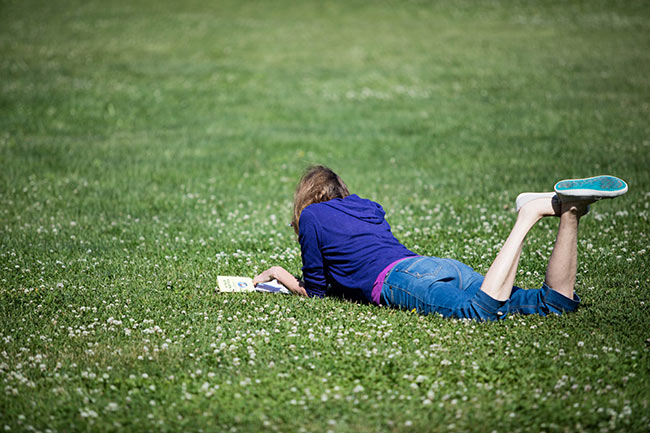 Last year we experimented with an art workshop that was very well-received, so we did it again. This time we brought in Kim Stanfill-McMillan, owner of Fired Up Pottery in Madison, to lead the show.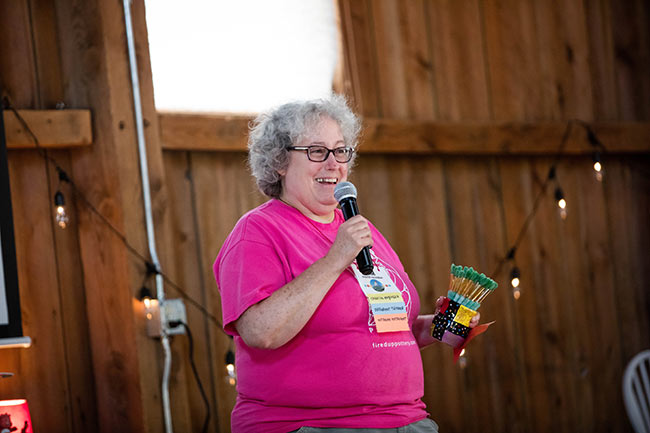 Everyone got to paint their own mug, but had to use unconventional materials, such as feathers…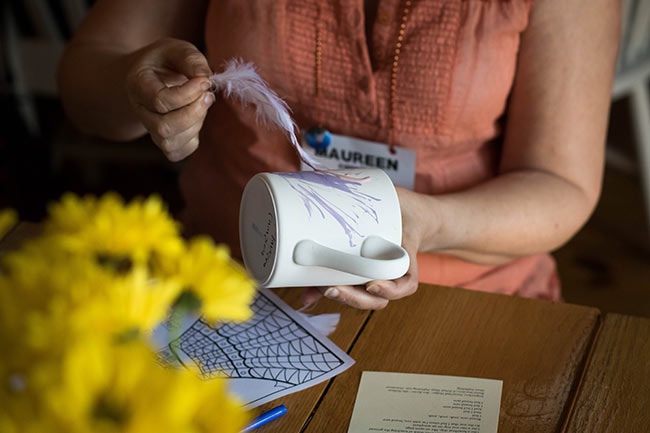 …bubble wrap…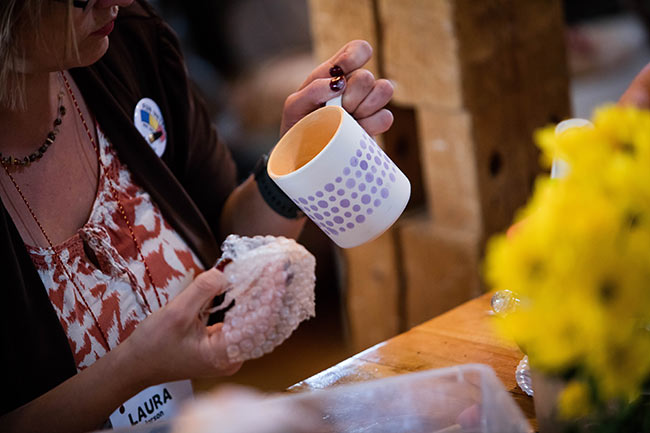 …mustaches…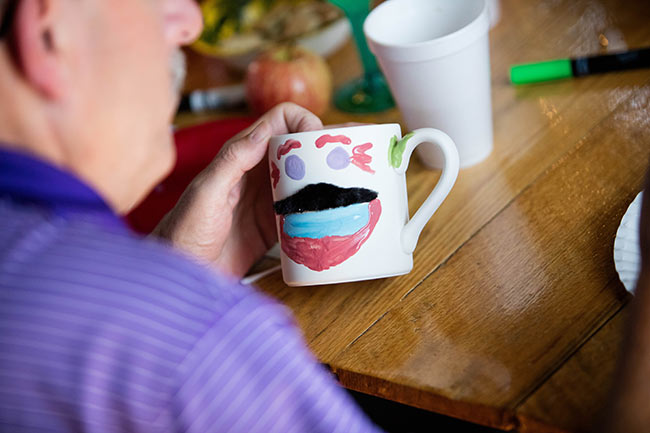 …and good old fashioned fingers.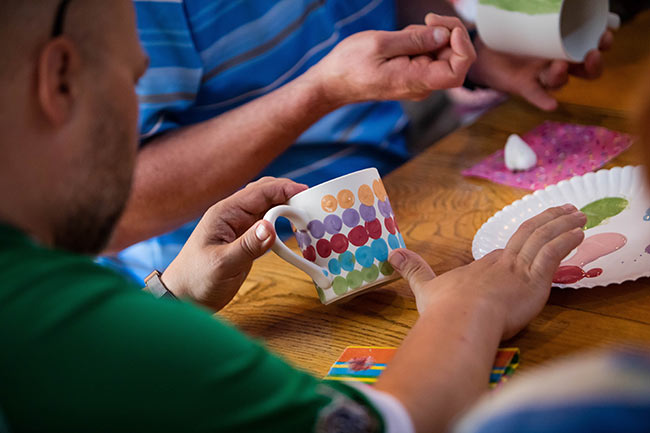 Kim and her son Terry even set up a station where folks could decorate their mugs with paint-filled water guns!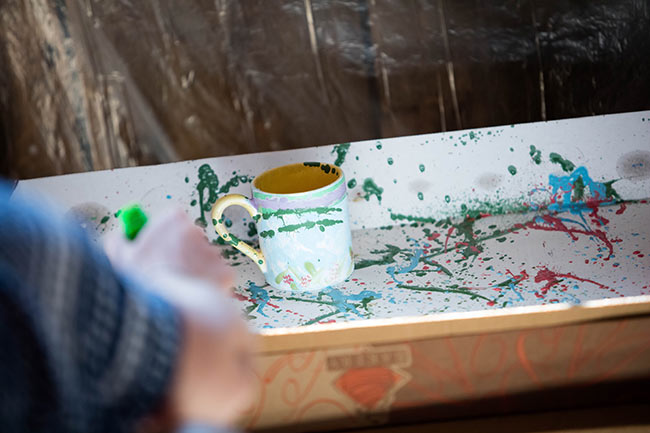 Brushes were allowed, but you had to do a little dance on stage in order to receive one. After the paintings were done, Kim took all the mugs back to her studio, where they were fired and sent to attendees a few weeks later; a neat reminder of the event.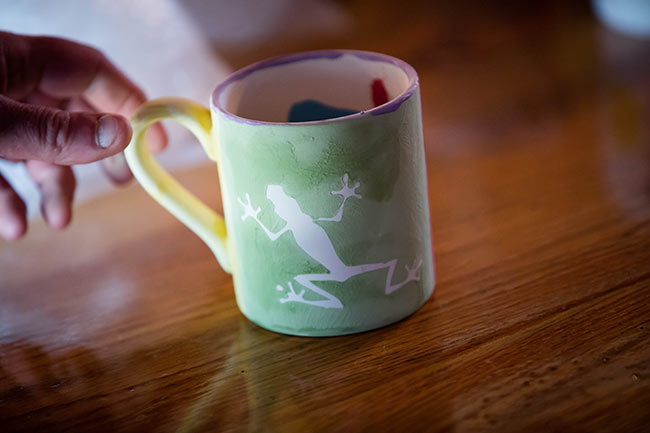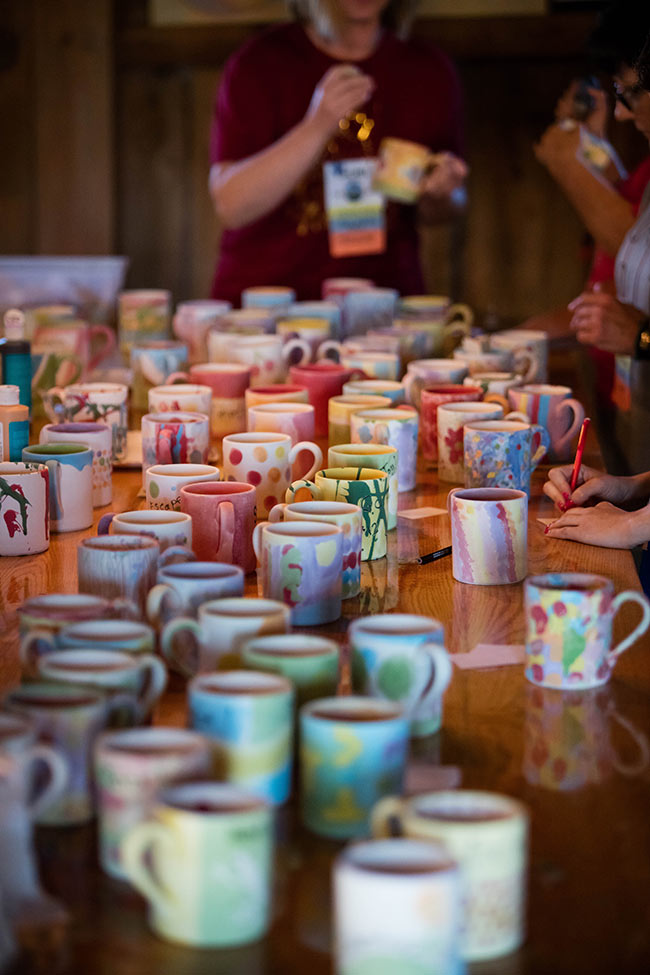 At the very end, I was excited to announce one more surprise. Every single person got to choose any matted print of their choice to take home as a souvenir!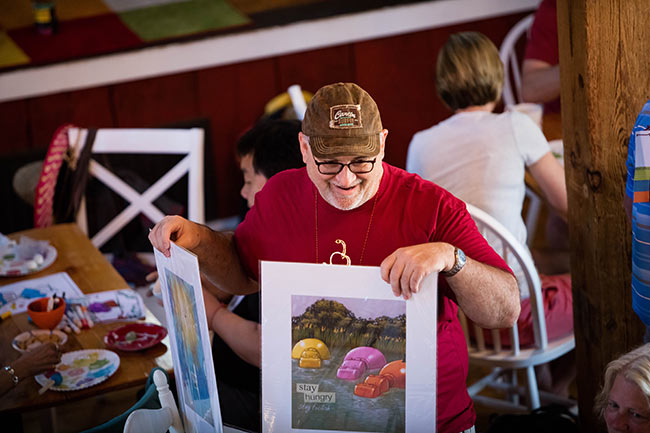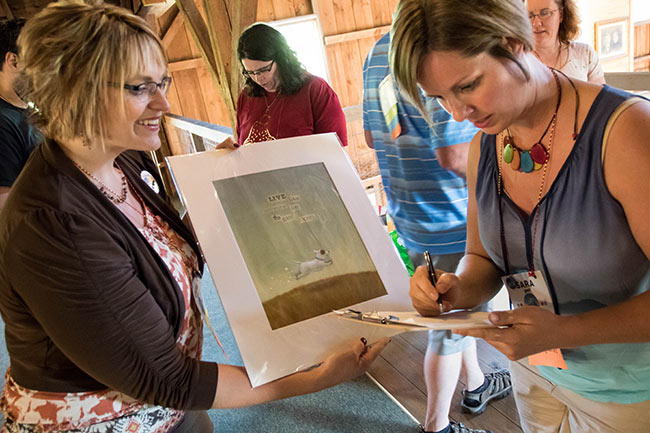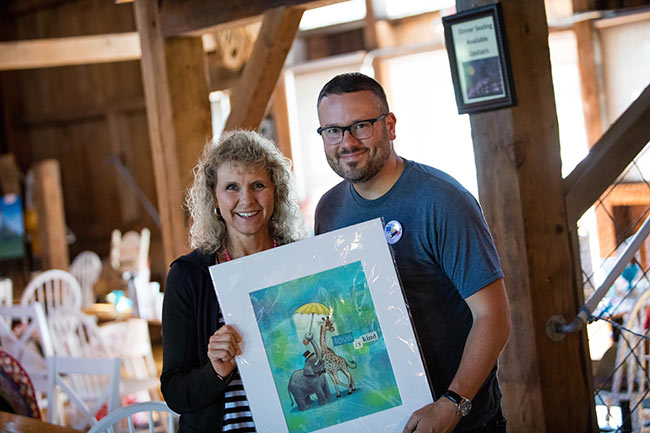 The best part of signing all the prints at the end was seeing which ones people picked and hearing the stories behind their choices.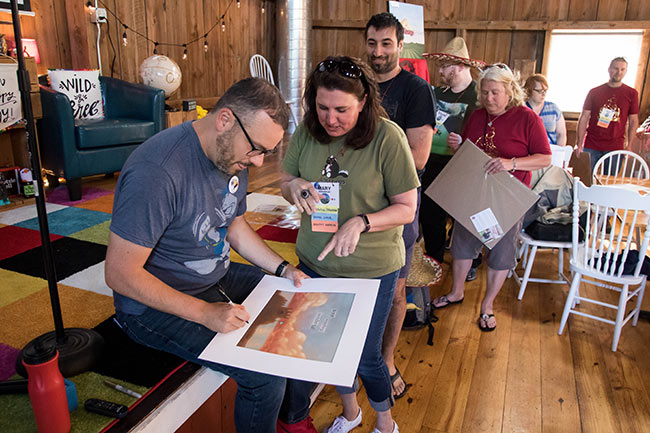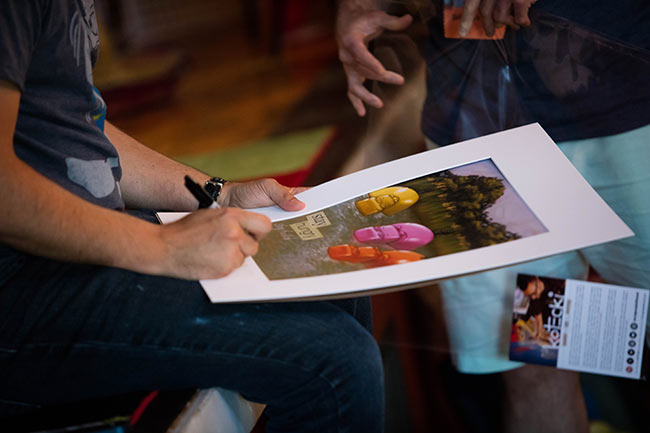 Once again, this Escape Adulthood Summit turned out to be a great success, mostly thanks to the trust, openness, and enthusiasm of the guests! Kim and I say it every year: we work hard to make sure the event is filed with magic, but it's the attendees who really bring it!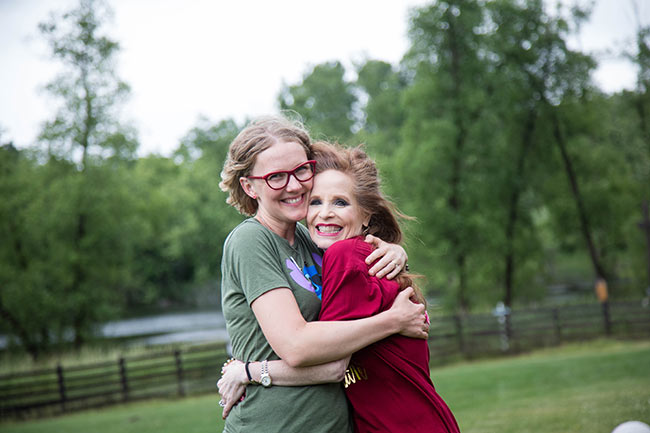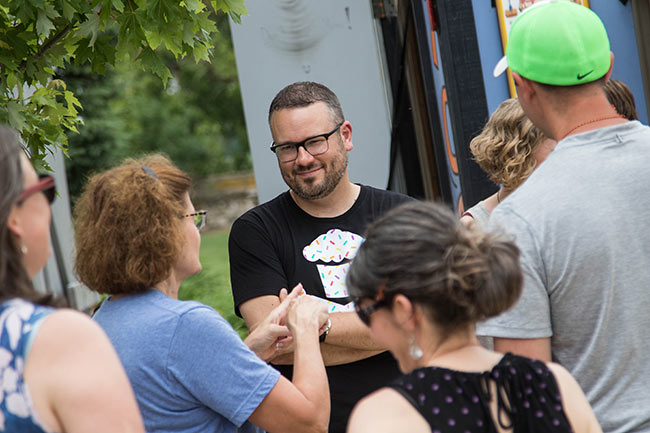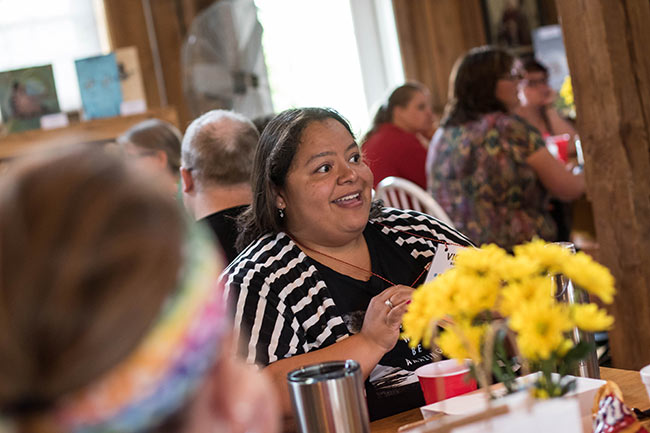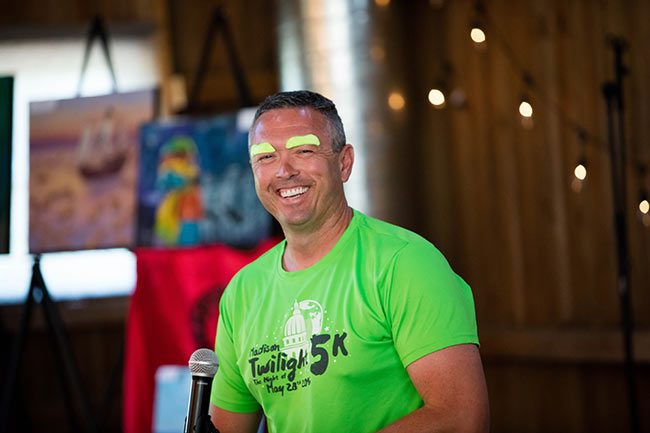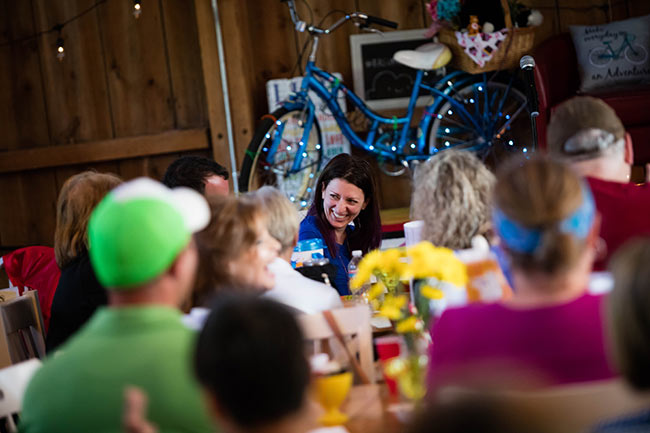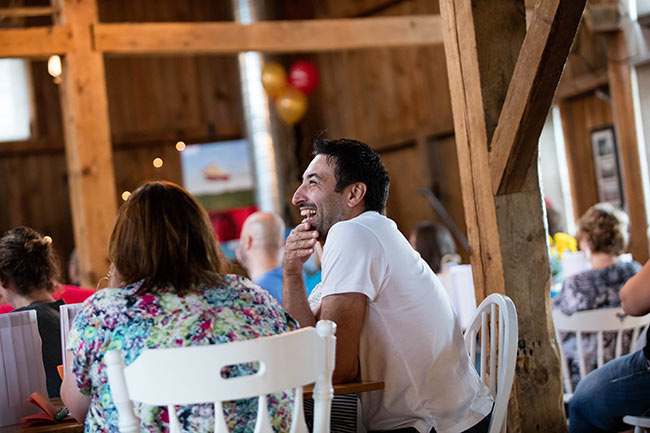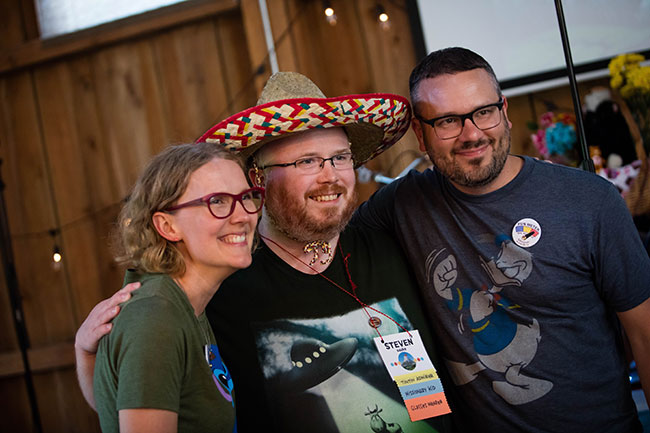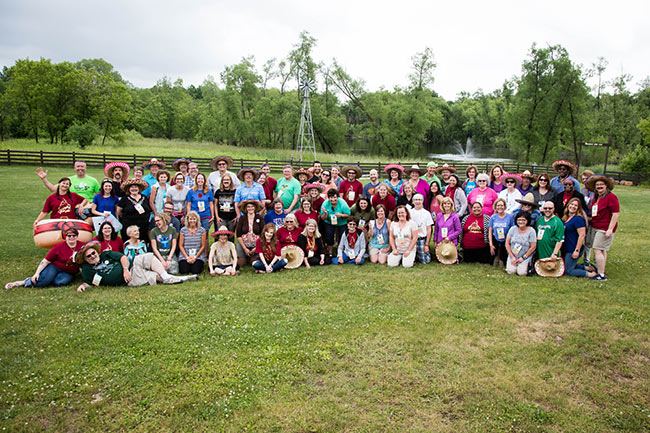 And of course, such an undertaking could not be possible without the small but mighty team that volunteers to make it all work. Jenna, Sara, Lynn, and Sue each lend their hands and hearts to do whatever is needed and accomplish a lot of behind-the-scenes work most people don't get to see. Thank you for your hard work and willingness to serve!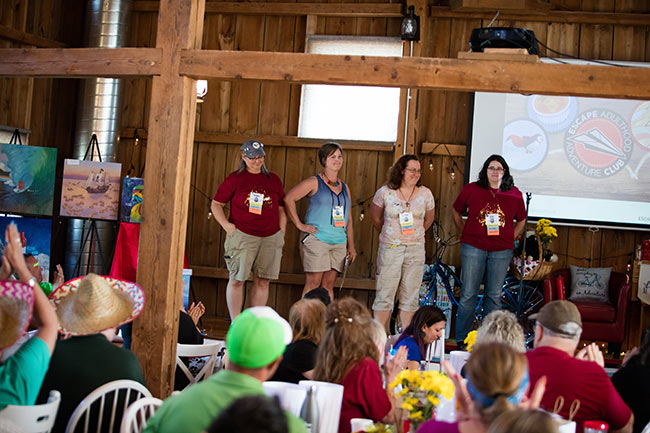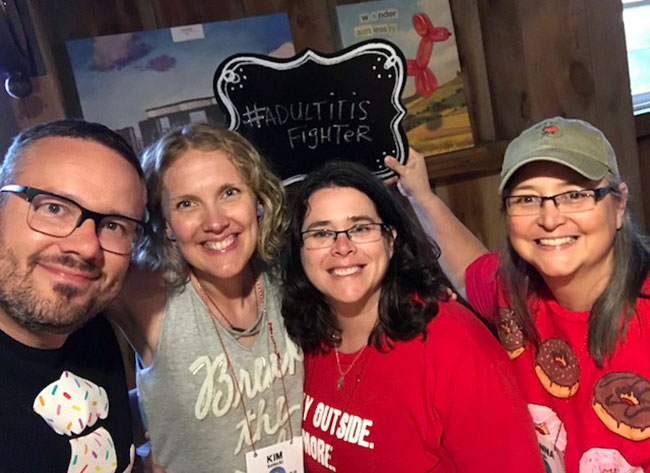 We've done five of these now, and it is beyond humbling to see the hearts that have been moved and the lives that have been changed. It's easily one of the greatest adventures Kim and I have ever been a part of.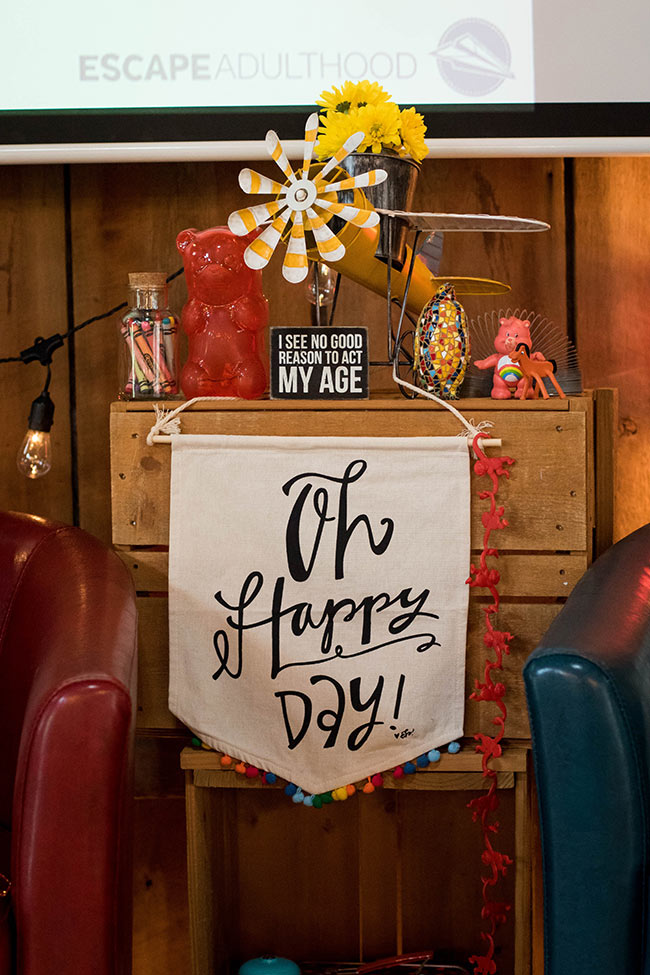 [ Not enough photos for you? Most of these were taken by the epically talented Quinn Paskus. There are hundreds more here! ]