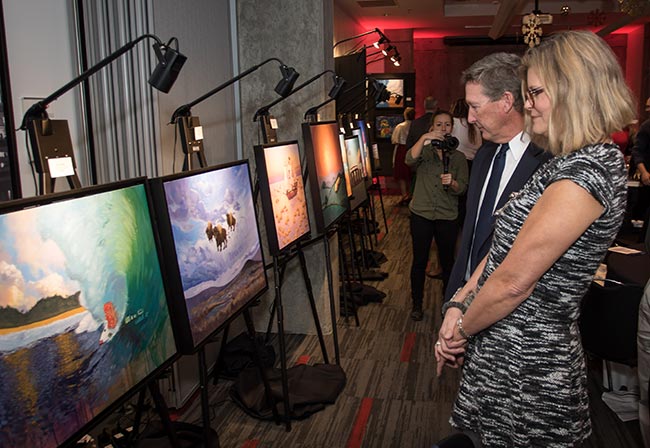 A few years ago, I had the chance to visit some art galleries in Scottsdale, Arizona. Although much of the art was truly impressive, I was taken aback by the extreme levels of Adultitis that permeated everything. Everyone was so serious and stuffy. Making art is a joyful experience for me – as I'm sure it is for many of the artists who had their work on display – but in those galleries, that joy was missing. Big time.
Kim and I have worked hard to marry my art into my speaking programs in a meaningful way. This past year, we spent hours and hours brainstorming the idea of creating some sort of "art show" for our tribe. We wanted something fun and different that incorporated my storytelling abilities, but was free of the Adultitis that dominates so many traditional galleries and art shows.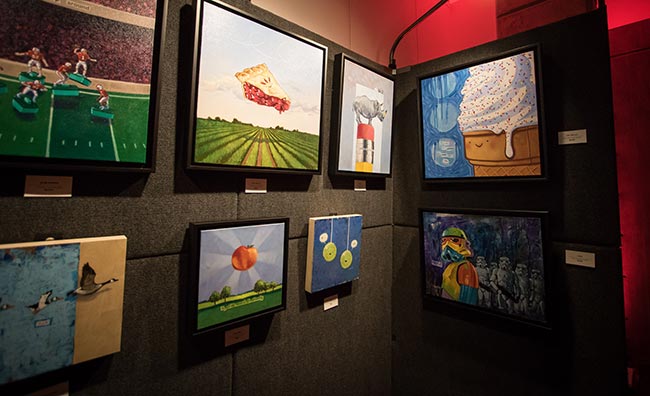 What finally emerged was Wondernite, a VIP art collecting event where I premiered never-before-seen originals. It was billed as inspiring evening of art, food, and storytelling.
One hundred people got all gussied up and joined us for a "fancy fun" evening at Hotel RED, Madison's top boutique hotel. It was an unforgettable evening that included a delightful plated dinner, wine and cocktails, and an extra helping of magic. I was excited to be able to share the stories and inspiration behind some of my newest work.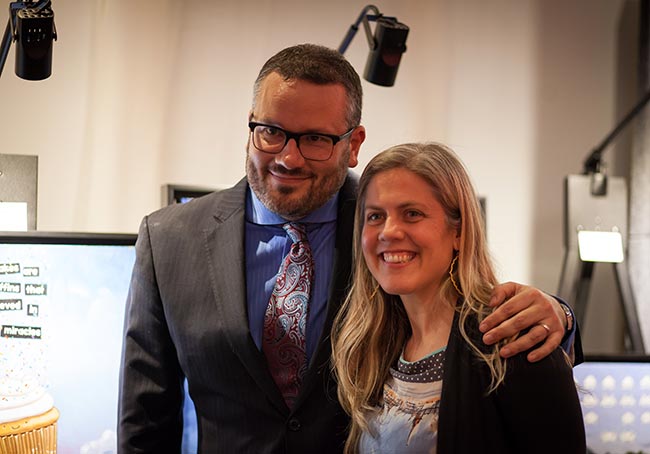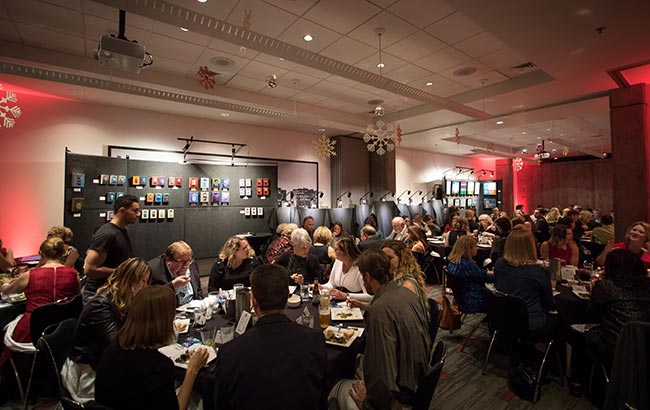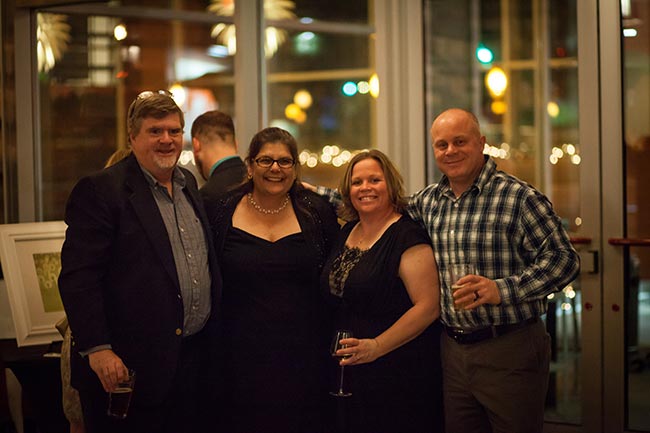 In a world dominated by headlines broadcasting a seemingly endless string of natural disasters and displays of humanity's worst side, Wondernite was designed to remind people that there is still light, hope, and joy in the world. Meanwhile, we wanted to make a space for people who have never considered themselves art collectors to be as comfortable as those who are always on the lookout for new pieces.
"Thank you for a lovely, grown-up (but not too adult) evening!" –Beth Putnam
Although it is fun to play dress-up once in a while and enjoy a nice meal, it doesn't have to be at the expense of laughter and levity. ;)
We also wanted to give people a fun Friday night escape, whether it was an excuse for a much-needed date night or a chance to connect with like-minded people.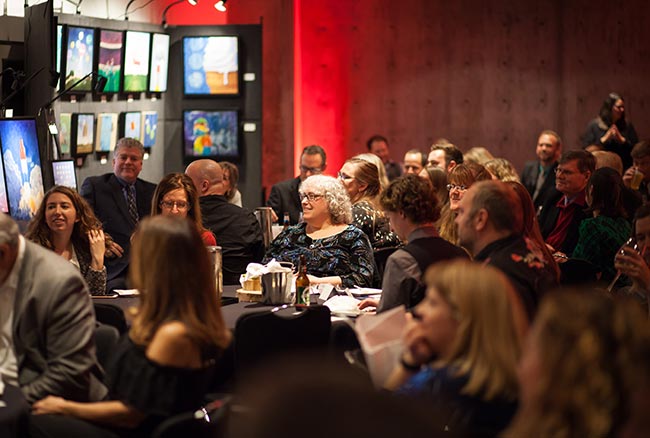 "I loved the 'feel' of the event. I felt cared for and very special." -Amy Payne
Since Hotel RED is across the street from Camp Randall, where the University of Wisconsin football team plays, we arranged for Bucky Badger to stop by.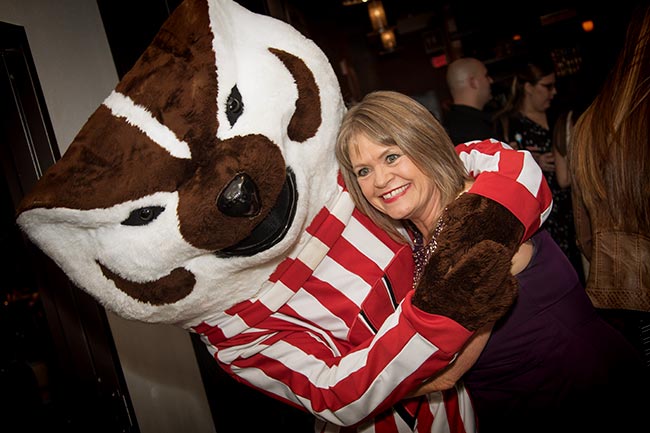 He brought a lot of excitement as guests arrived, and did a great job making them feel at home. He even bid $10,000,000 on one of the silent auction bids.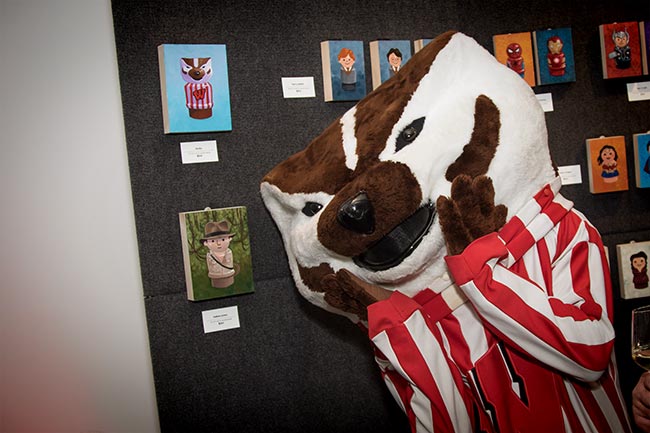 (Unfortunately, he apparently forgot his wallet at home.)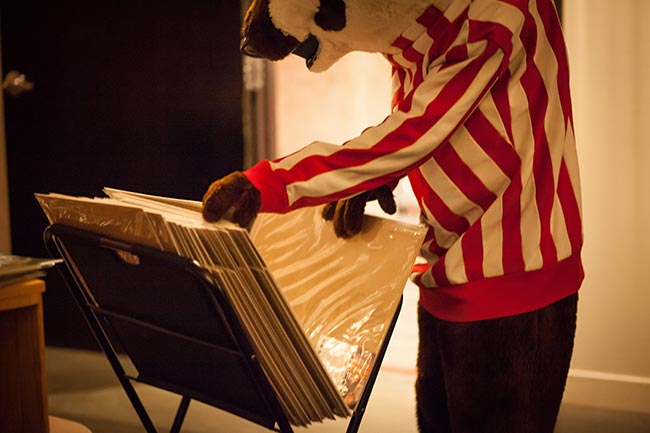 As it is on Kim's Bucket List to get her picture taken with 101 mascots, it turned out to be quite a coup for her!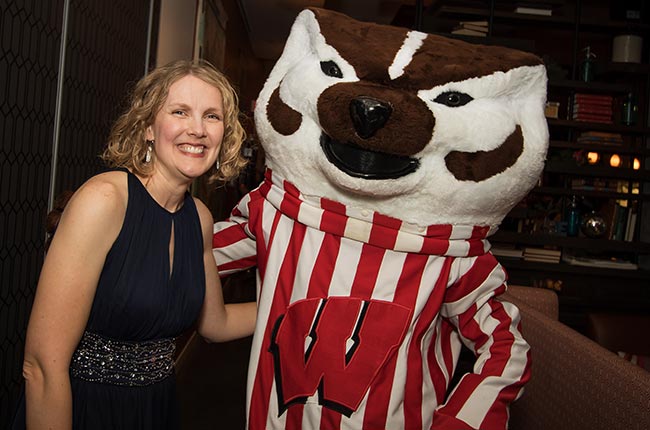 The dinner was absolutely delicious, with guests having the option between a delectable filet mignon or a perfectly seasoned pan-seared fish.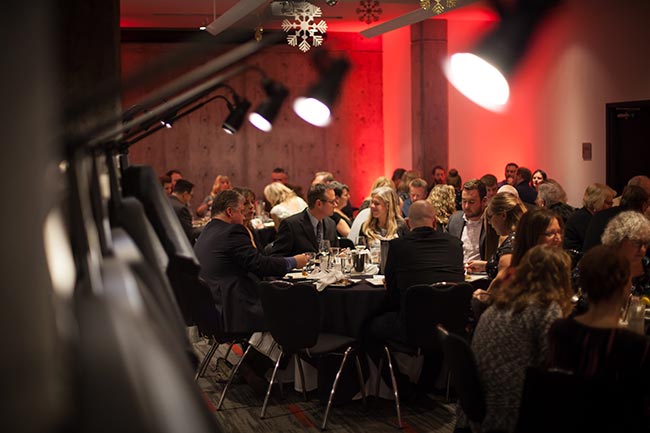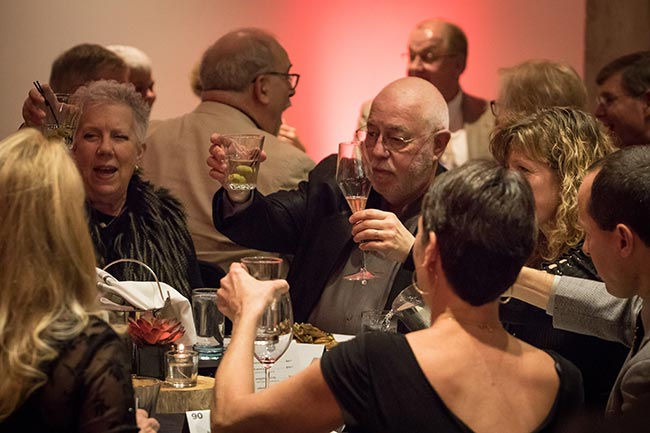 As amazing as the food was, the art was the star of the night, and the overwhelming feedback we received was just how much people enjoyed hearing me tell the stories behind my work.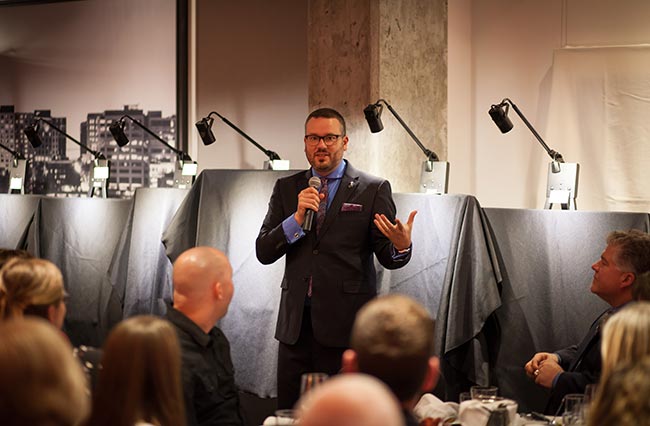 Ten of the newest paintings were covered from view. After dinner, I unveiled them all one by one, sharing my inspiration and a bit of my art story, from shy kid, to awkward teenager, to comic strip artist, to professional speaker, to the Tinker Project that lead me to oil painting (which was the media I used to create most of paintings featured.)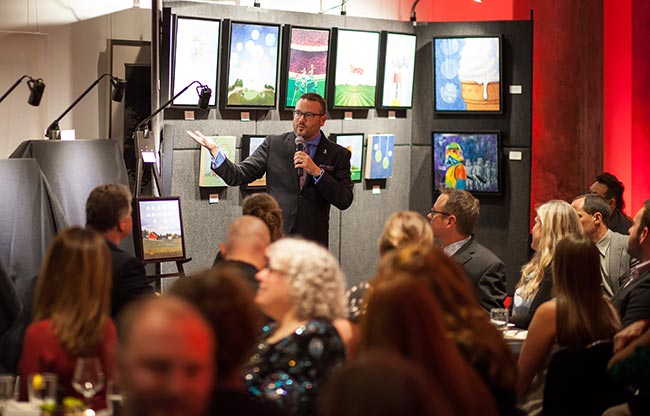 "My favorite part was hearing the inspiration behind all of the art. I have heard Jason speak a number of times (and I always love his storytelling) but this was so different." –Courtney Cantwell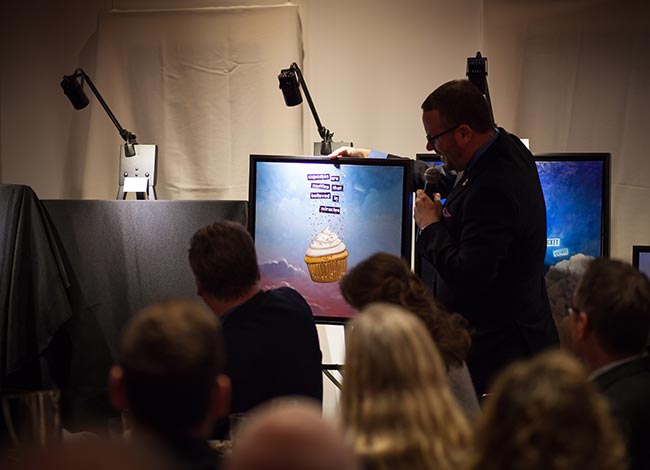 "All of Jason's pieces are just so lovely, imaginative, and fun. Hearing his take on each piece was really touching." –Rachel Arfstrom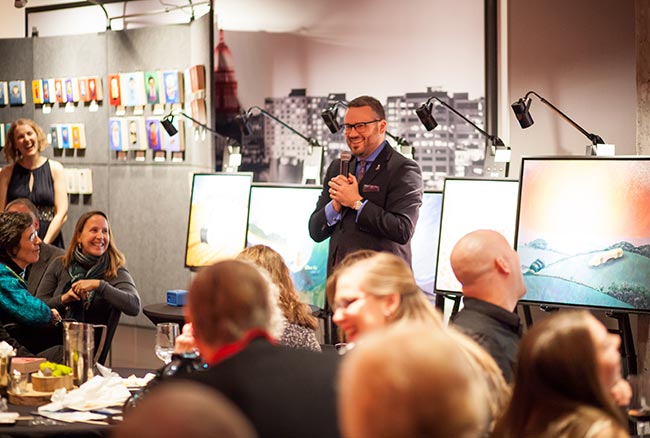 I had a variety of originals on hand, from larger canvases to a smaller assortment of paintings from a series called Pop Culture People. We also had our newest Celebrate Everything calendar and over 50 different prints available, which people snapped up as great Christmas gifts.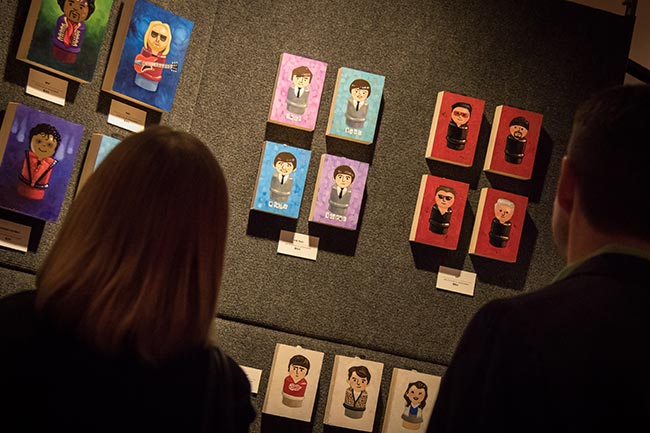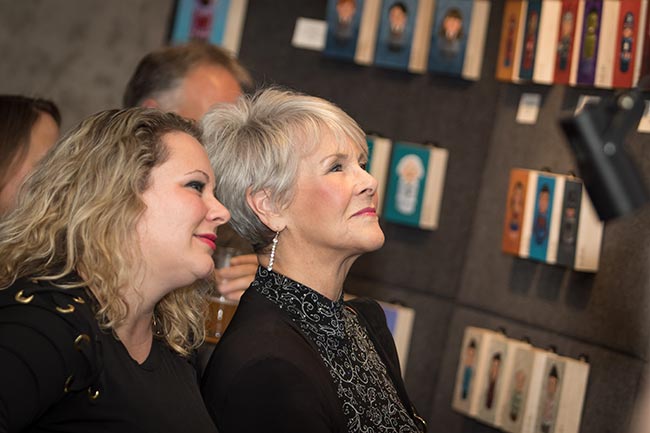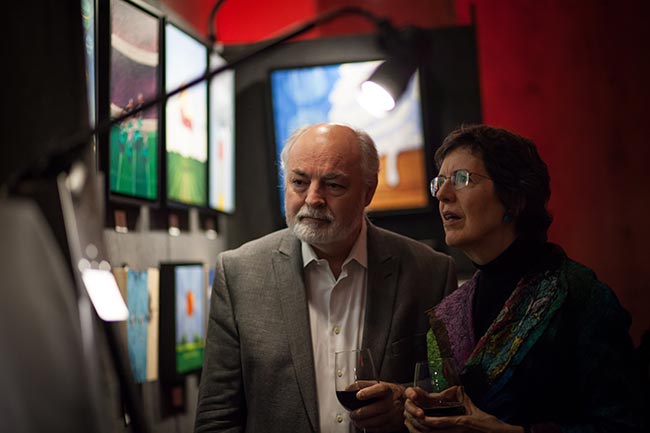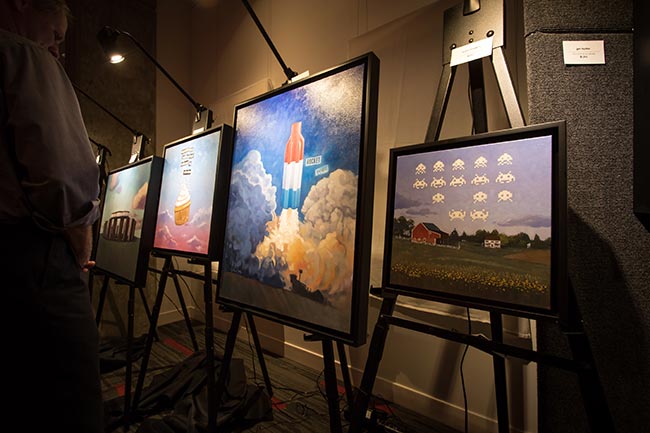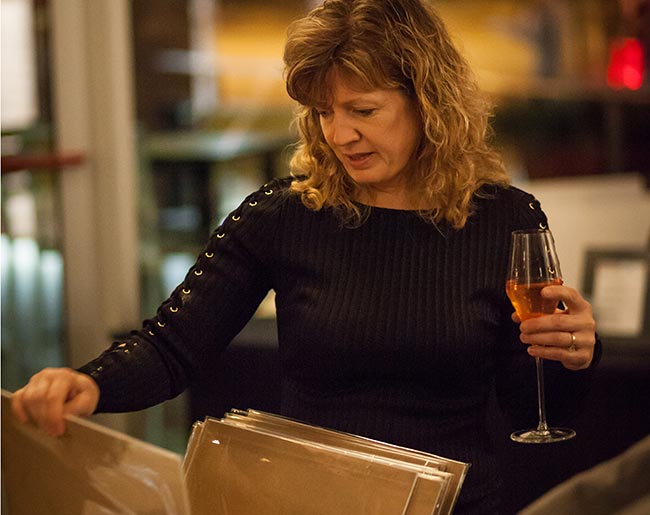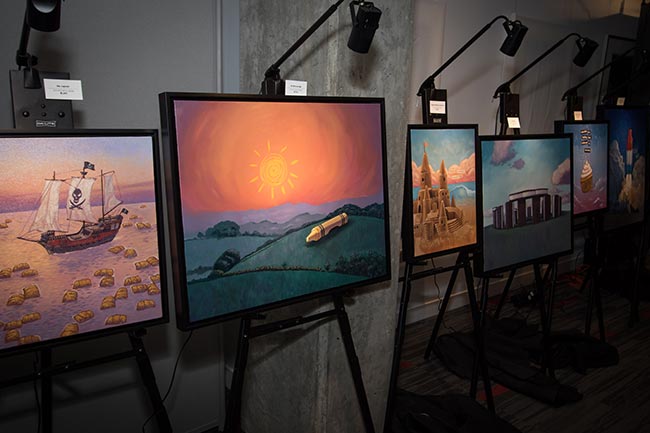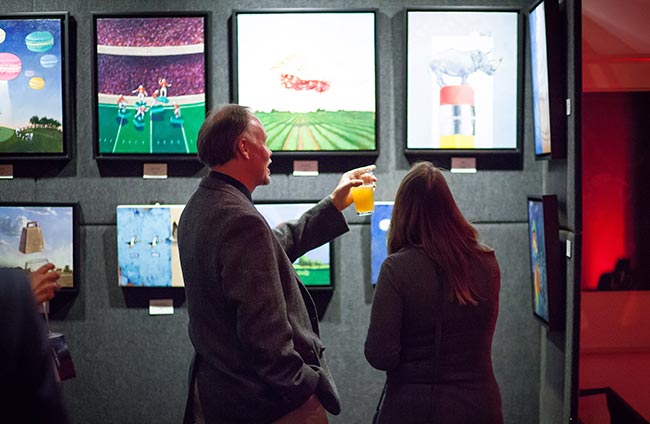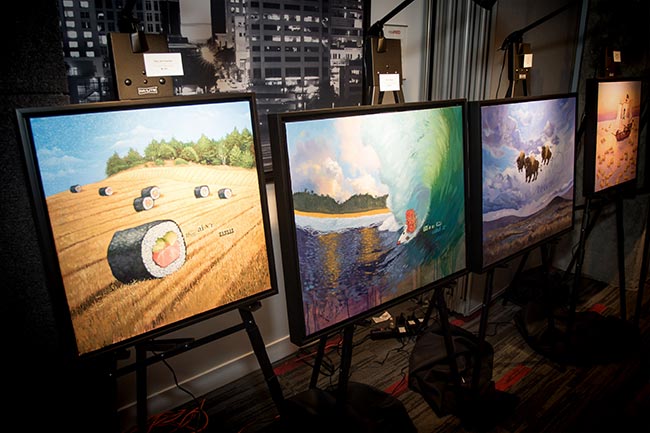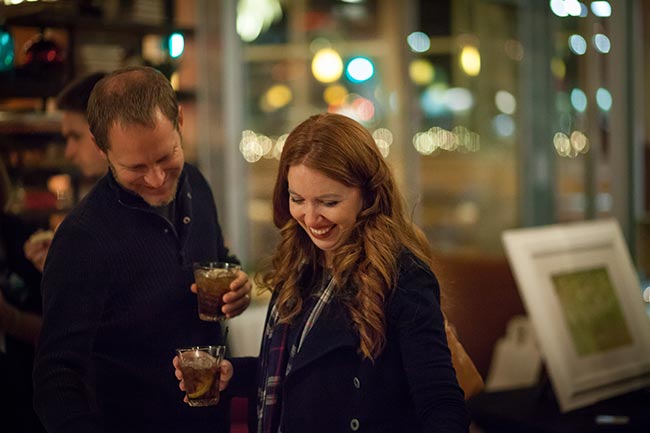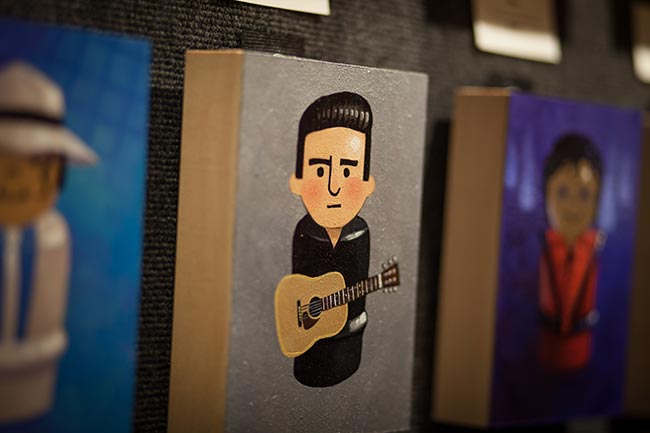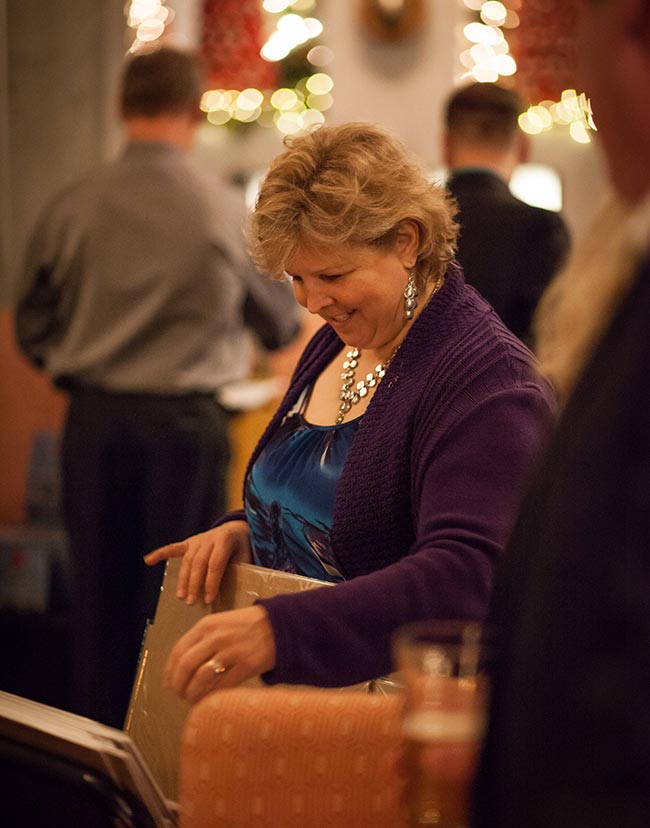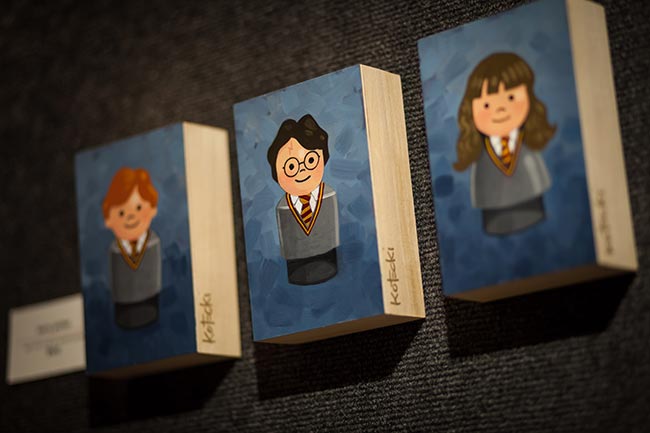 When it came to selling originals, we decided to do a mix of silent and live auction. But for the latter, instead of a traditional, potentially stuffy auctioneer that talks like the dude from the old Micro Machines commercials, we tapped my youngest brother Doug for the job.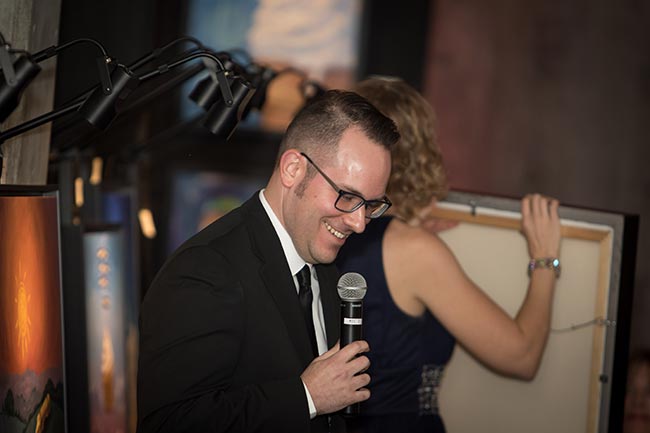 His background in improv and comedy transformed it into a entertaining show that became one of the highlights of the evening.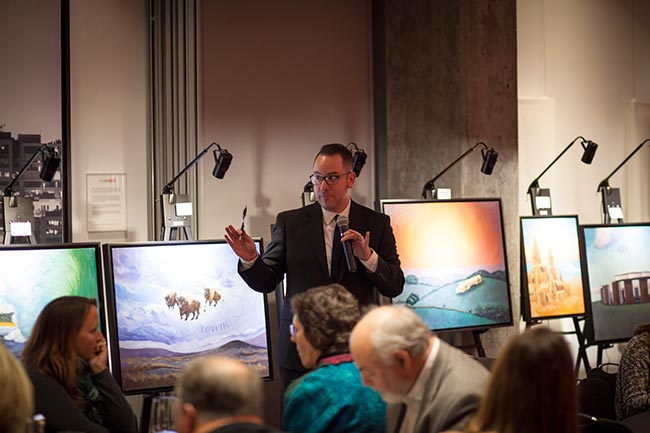 "Doug was a hoot! Totally hilarious and really fun." -Rachel Arfstrom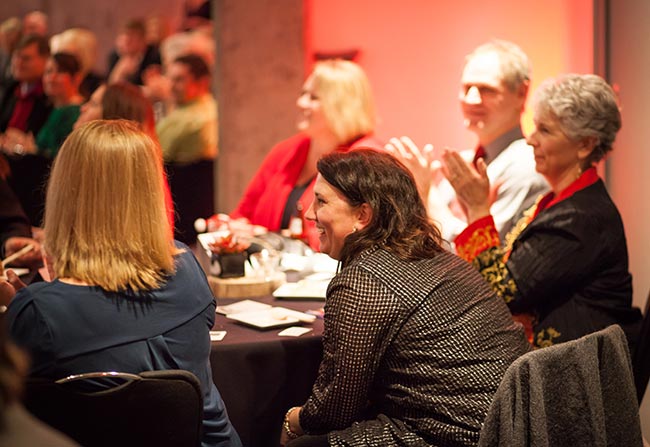 Meanwhile, Kim unveiled her inner Vanna White, taking each auction item off the wall to give people a closer look.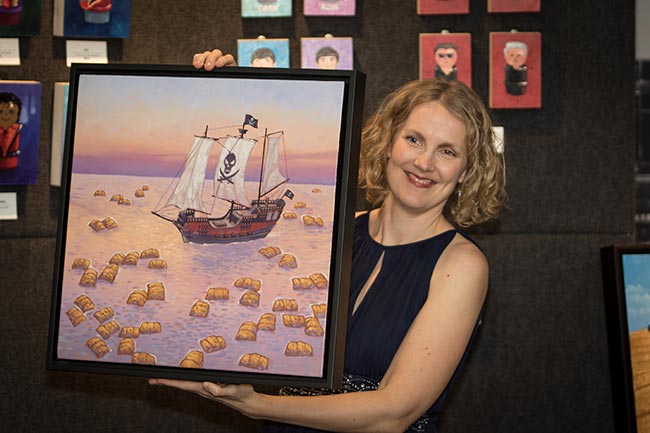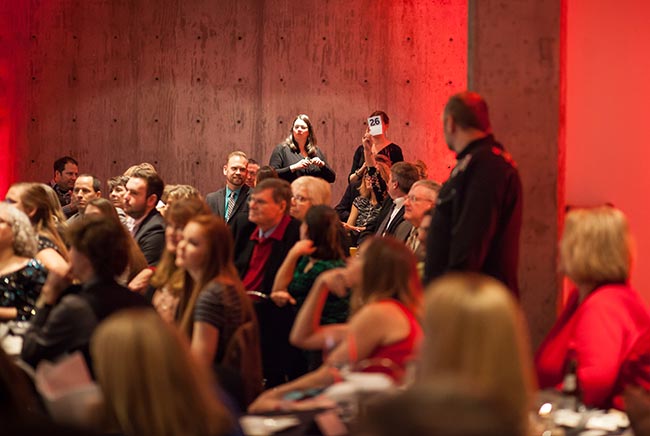 One of my favorite parts of the evening was being able to talk about the impact my high school art teacher had on my life and career…and then being able to announce to everyone that she was actually in attendance! It was a neat surprise and cool to see her get a round of applause she so richly deserves.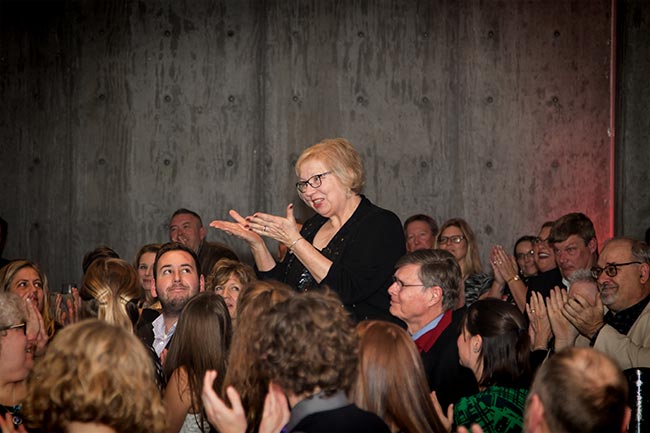 "The entire event was so upbeat — in a genuine way. The auctioneering and Vanna-ing added fun to the evening, as did meeting some new people. I loved that Jason's art teacher was included and introduced — how moving it was for us to meet her, and for her to see what Jason has done with his art." – Katherine Puckett
It was also a blessing to have my parents there, who are both cancer survivors.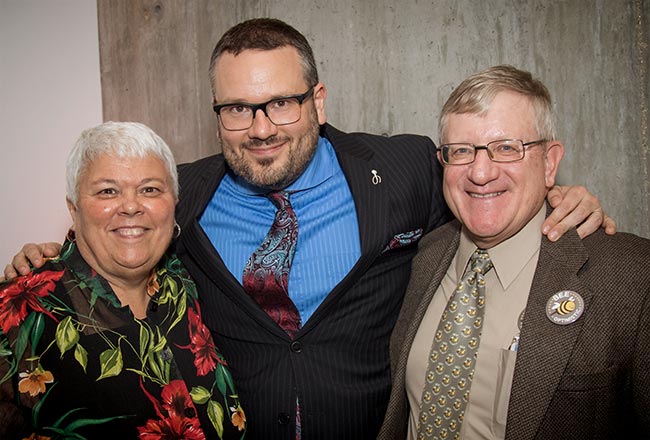 You may recognize that Bee pin on my Dad, who is the inspiration for the story I tell often in my speaking programs.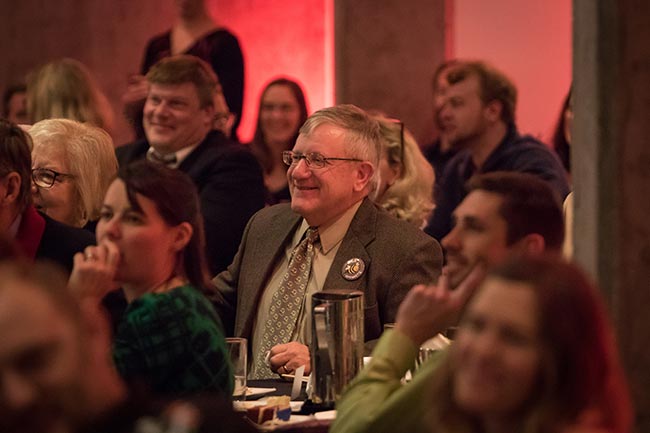 It was fun to be able to sign and personalize things for people, and hear stories about why they picked the pieces they did.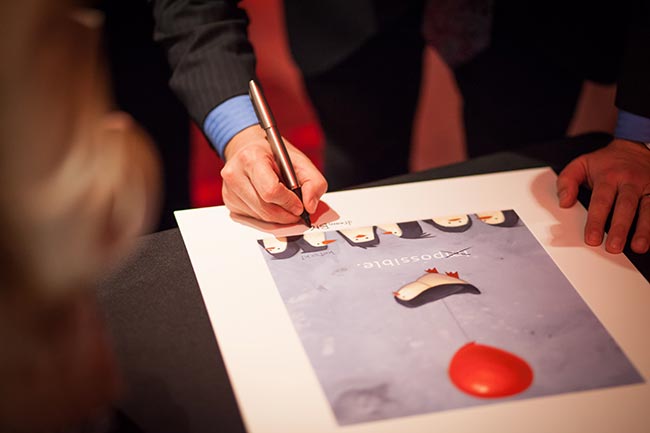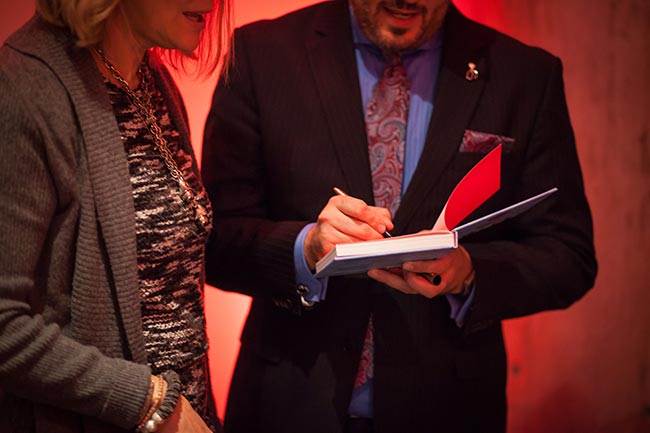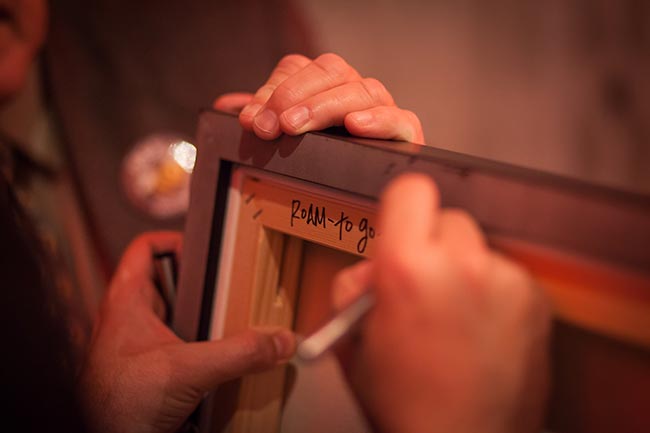 "I enjoyed hearing the inspiration and stories behind the paintings. As I heard the stories for some of them it made me like them even more. You guys really know how to throw an event. The food was delicious, the welcome was great, the laughter shared was much needed. Your events always leave me feeling energized." –Lea Rosenberg
Frankly, Kim and I didn't know what to expect with this event. It was a big leap of faith. When all was said and done, we sold a ton of art, and a majority of the originals went to new homes (there are still some available here).
Here are some photos of a few of our newest collectors…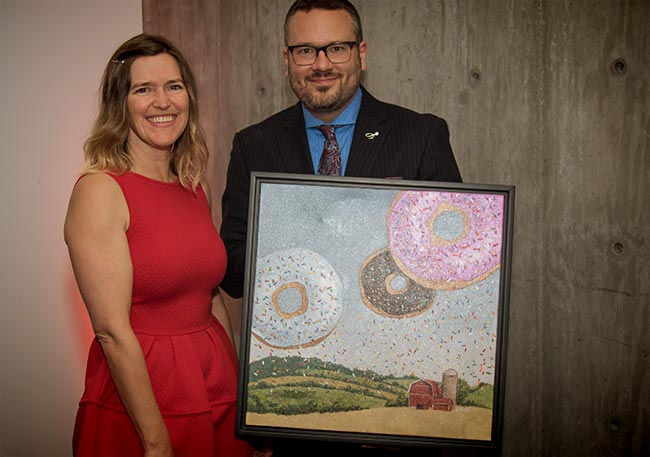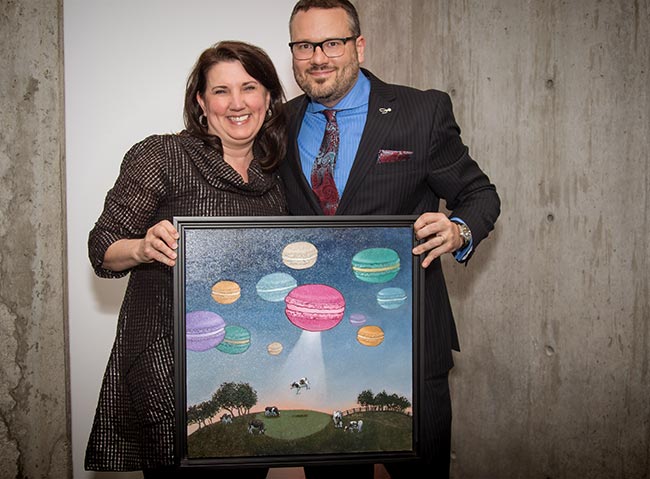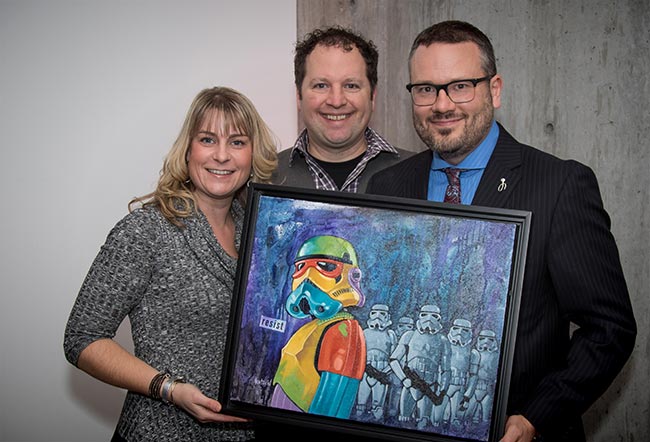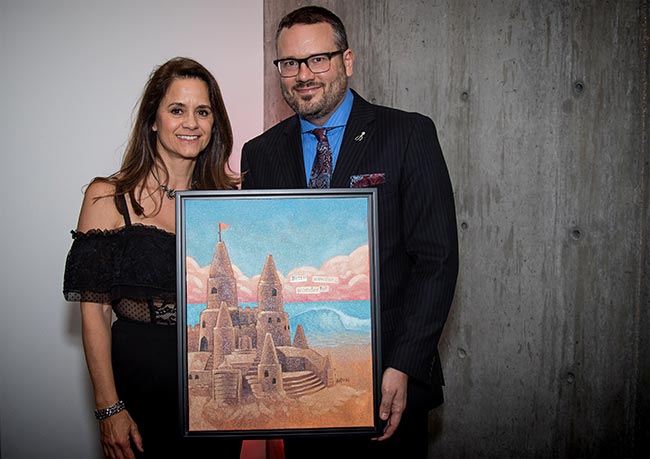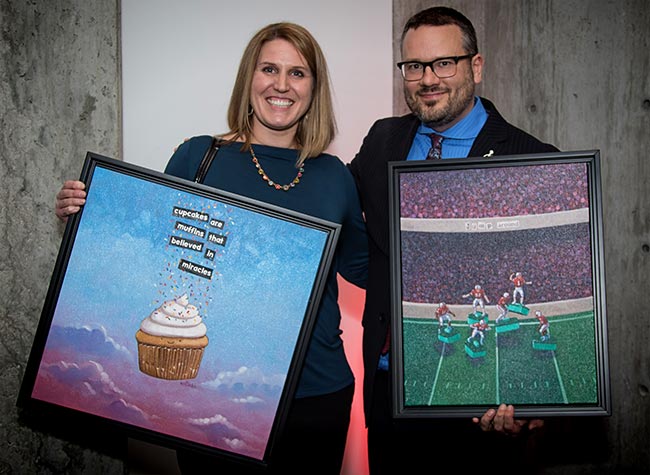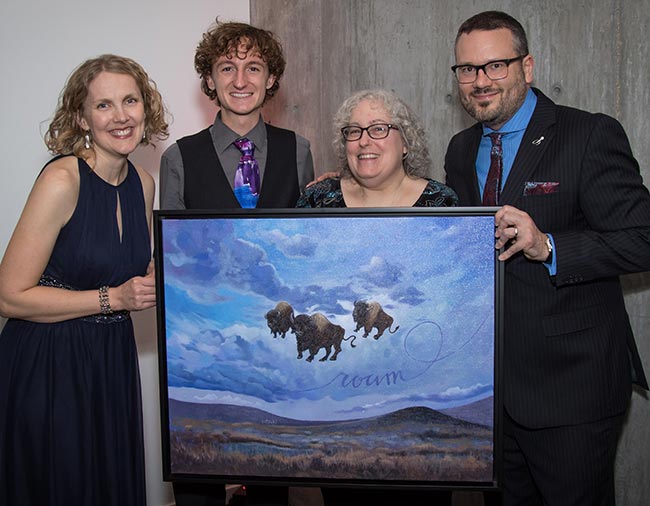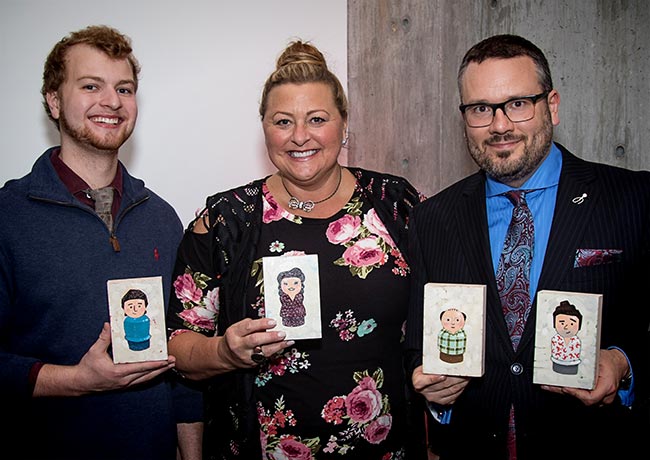 By all accounts, Wondernite was a great success. It required help from our all-star team (thanks to Jenna, Sue, Doug, Katie, and my Dad, who helped wrap up the originals that got sold!), and of course we needed people who believe in the power of hope, optimism, and wonder. Thank you so much for your support and encouragement!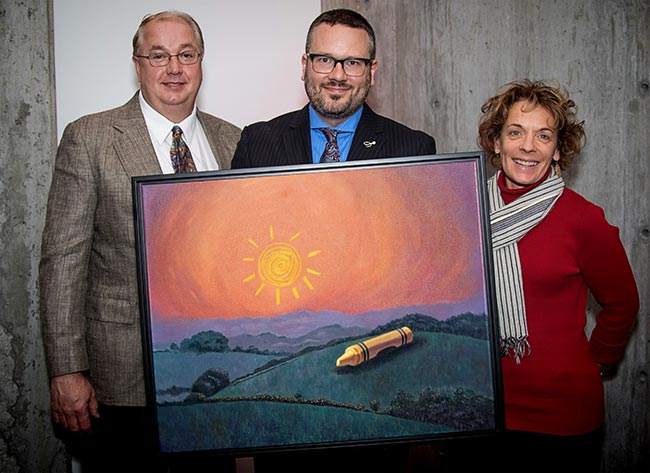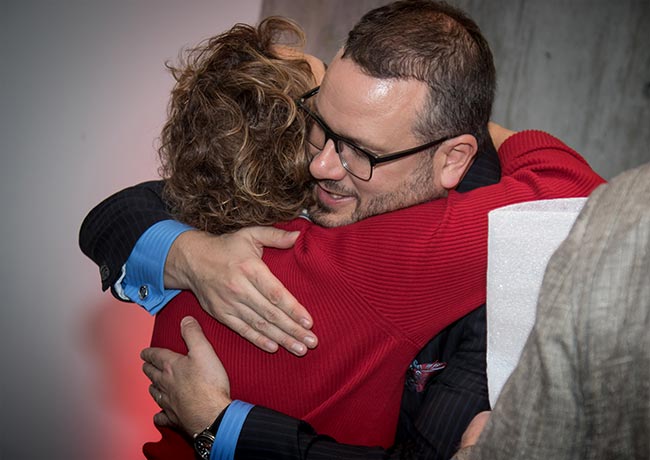 "This was a lovely event! You guys always do amazing things. So glad to have been a part of Wondernite!" –Lindsey Maier
Want to be the first to hear when we announce the next Wondernite? Sign up to become an Insider!
P.S. All the photos were taken by the talented Quinn Paskus. You can check out all the photos from the evening right here.