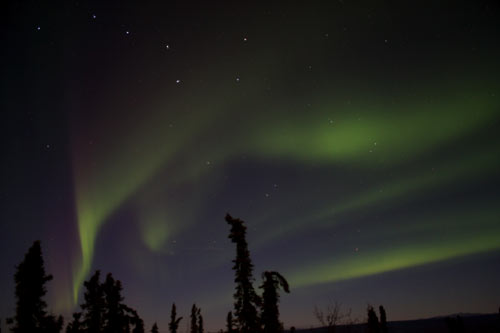 When we booked our first speaking gig in Alaska, neither Kim nor I had ever heard of a babymoon.
According to the hip kids these days, a babymoon is like a honeymoon. Except in reverse. On an honeymoon, you relax and enjoy downtime together AFTER the big day. With a babymoon, mom and dad get away for a little R&R time BEFORE the baby comes (at which point sleep and coherent conversations become rare).
Seeing the Northern Lights in person had been on my bucket list for a while, so I was curious as to what our chances were of seeing them while in Fairbanks, which is where the conference I was speaking at was being held.
A quick Google search confirmed that one of the best times and places to see the Aurora was the beginning of October in…Fairbanks, Alaska.
Destiny!
So we arranged for Lucy to stay with her cousins and booked a neat little cabin for three nights in the middle of nowhere. The Aurora Borealis Lodge is about 100 miles from the Arctic Circle and a million miles from more typical babymoon destinations. It's a rustic hideaway with modern amenities, built by two guys a few years ago. Perched on a summit, there were only four guest rooms, but each one featured huge glass windows facing the north and a comfy couch for taking in the show. One of the selling points was a walkie-talkie in the room, which was used to inform the guests of an Aurora sighting, regardless of the time of night. We were told that if we stayed for three nights, we had an 80% chance of seeing it.
No guarantee, but pretty good odds.
I had my fingers crossed that we'd see the Aurora at least once, and in the back of my head, I secretly wondered if I might be able to photograph it. My interest in photography had intensified since buying my Canon DSLR about a year ago, and something like this would be quite a feather in my amateur cap. But still, it seemed like a pretty lofty goal. I assumed that photographing such a phenomenon would probably require expensive lenses, fancy equipment and years of experience I didn't have. But I packed my tripod in the suitcase and hoped for the best.
I had saved a handful of how-to articles from the web, as I knew we wouldn't have wi-fi access once we got to the cabin. I didn't have much time to study them beforehand. When we got to the cabin, I started cramming like a teenager prepping for a chemistry final. I was trying to keep notes straight about ideal F-stops and ISO settings and noise reduction techniques, when a voice crackled from the Walkie Talkie: "The aurora is out!"
"Already?!"
I sprang to the window and Kim and I saw the soft but growing green hue diffusing into the darkening sky. Then a subtle arc slowly seeped across the horizon. It was not as busy as I'd heard the Aurora can get, but reminded me of a cosmic cat slowly waking after a long nap. Eventually, vertical shafts of light began to appear, like the spires of emerald green castle in the air.
I grabbed my camera, tripod, and cable release and entered the cold night to try my hand at capturing these magical whispers of light. Here's some of what I got: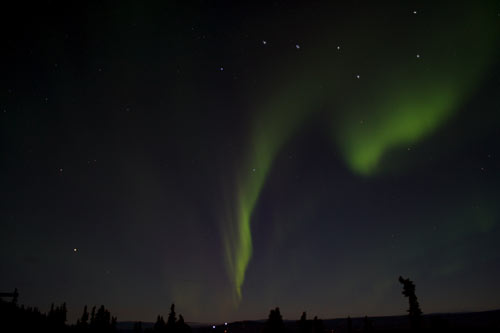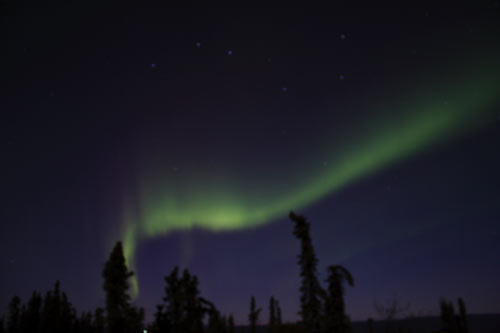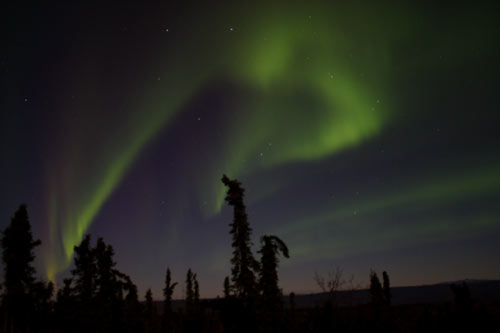 Looking back, I realized that I'd just updated my bucket list right before we booked the gig in Fairbanks, so the items were fresh in my mind. Had I not just done that, it may not have crossed my mind to look into the odds of seeing the Northern Lights while in Alaska. I could have missed one of the great moments of my life and not even known it.
When it comes to dream-getting, there is real power in simply deciding what you want in life. Just writing things down is a huge step, if for nothing else than to awaken your subconscious to opportunities to accomplish things on your bucket list that you may have otherwise missed.
Your head may be swirling with bold dreams and crazy wishes and wild hairs about things you'd "like to do someday." But are they written down somewhere? Grab a scratch piece of paper right now and start with a simple Top 10 list. Yes, those dreams may require time or money you don't have, and appear impractical, unlikely, or even impossible. It doesn't matter. Physically write them down and stash the list in a drawer, your planner, or your bible.
Henry David Thoreau once said, "If you have built castles in the air, your work need not be lost; that is where they should be. Now put the foundations under them."
Yes, accomplishing dreams does take work and effort and sacrifice and sometimes money. That's the practical stuff. That's the foundation.
But foundation building is impossible if you don't know what it is you're actually building.
It all needs to start with the castles in the air.
(They may or may not be green.)