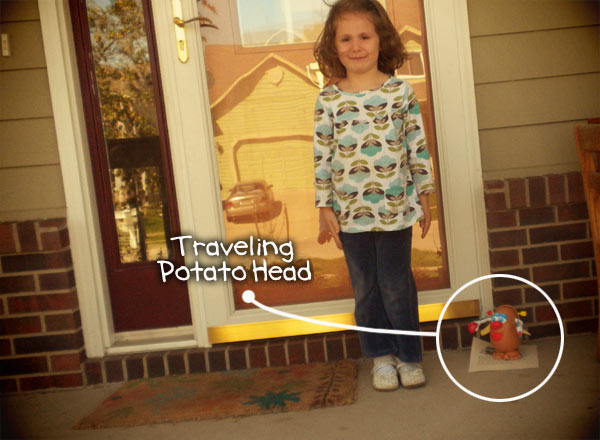 Humans love surprises. Well, not the "thank you for your 30 years of service, but we have to let you go" or "Luke, I am your father" kinds of surprises, but the fun, magical kinds that make your soul smile.
The cracker jack prizes of life.
Some of my best scenes in my life have been surprises, from the surprise birthday party when I turned 30 to surprise tickets to a Switchfoot concert a few weeks ago. (Thanks, Kim!) We actually devote a lot of space on this site to creating surprises. See Hide Pokey, Leave George, Shamwow Your Neighbor, Pajama Run, and belated May baskets, to name a few.
Here's another, shared with us by Betsy McCleary of Iowa:
I have attached a picture of my daughter, placing Mr. Potato Head at the door of a friend's home, indicating that he was a "traveling Potato" for them to enjoy as long as they like and to keep or pass on if they wish. (It is sort of like "Hide Pokey" but on a grand scale. Our Pokey hid so well no one has found him in several weeks :)
Love it.
What fun totem from childhood could you turn into traveling anti-Adultitis ambassador and share with your neighbor?
How would your neighborhood change if you did?