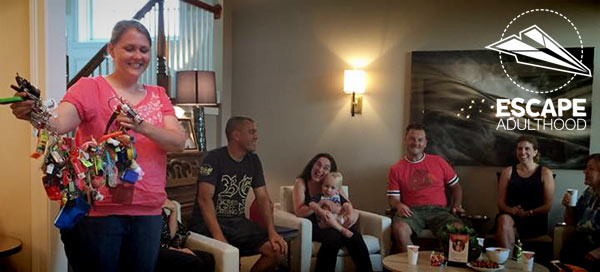 The #Notarule Tour has taken us to some interesting locations. A bookstore, of course, but also some zoos, ice cream parlors, and an old bank. It's been a fun chance to experiment, and one of the most "experimental" stops was St. Charles, Illinois.
That's where we had our first ever house party.
It all came about after all of the locations we had in mind for the Chicagoland area fell through (mostly due to store owners with Adultitis). After one with a full-blown case treated my wife rudely, I took to Facebook to vent. And Beth, who had attended an Escape Adulthood Summit with her husband Chad, offered to host us. At her house.
After confirming she was serious, Kim and I mulled it over. We decided that "Book tour stops shalt not take place in people's homes" was definitely #notarule. We have long been fans of house concerts, in which traveling songwriters perform for a few dozen people in someone's living room. Kim and I have been to a few in Madison, and the cozy, intimate setting is super cool. Intrigued by the idea of putting our own twist on it (no one would want to hear me sing, that's for sure), we decided to give it a shot.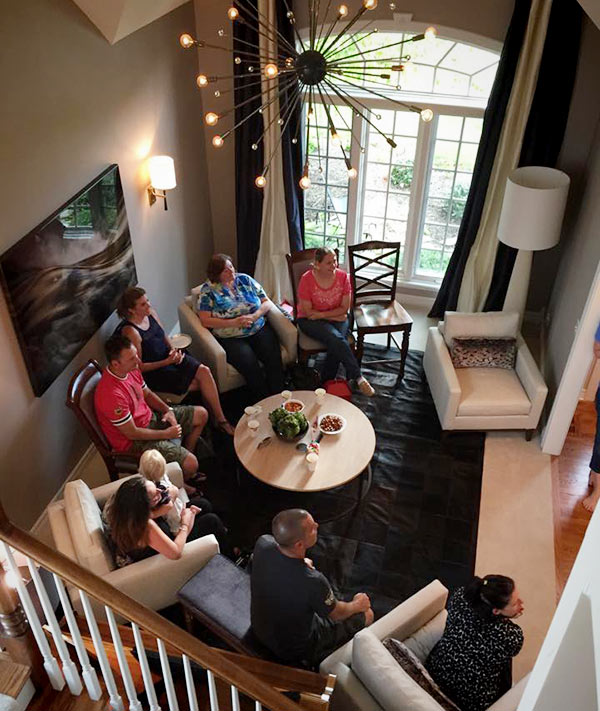 We ended up with about 15 adults, and some children as well, who entertained themselves outside and downstairs. The group was split between the living room and the dining room, and I spoke from the foyer, which joined the two rooms.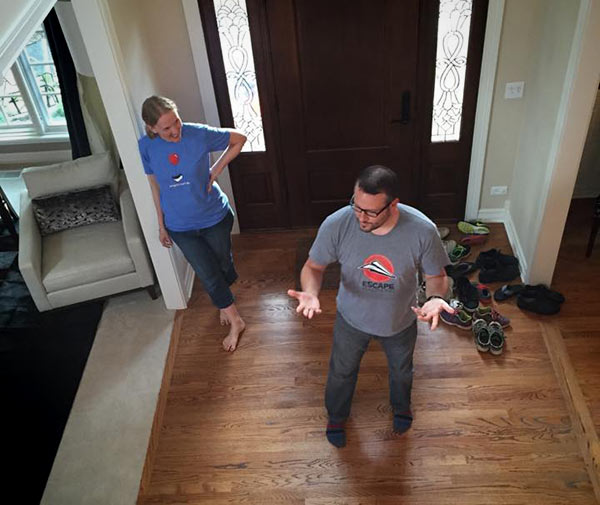 I was able to tell some stories from and about Penguins Can't Fly, and answered questions about the creative process. We also gave everyone the chance to bring something for "Show & Tell," which was my favorite part. Here a woman named Lauren shares her epic toy keychain collection!
Everyone who wanted to got a chance to take center stage and share their thing. Then we got into a fun discussion about rules…like which ones people were most fond of breaking, and which ones gave them the biggest challenge.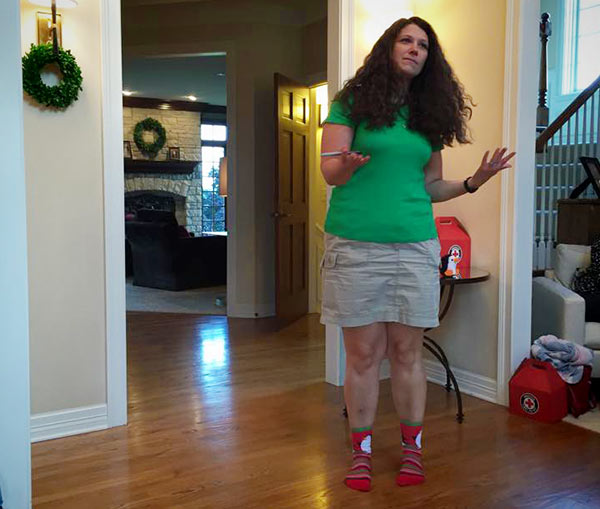 We gave everyone a "goodie bag" in the form of a custom Adultitis First Aid Kit, filled with fun stuff for escaping adulthood.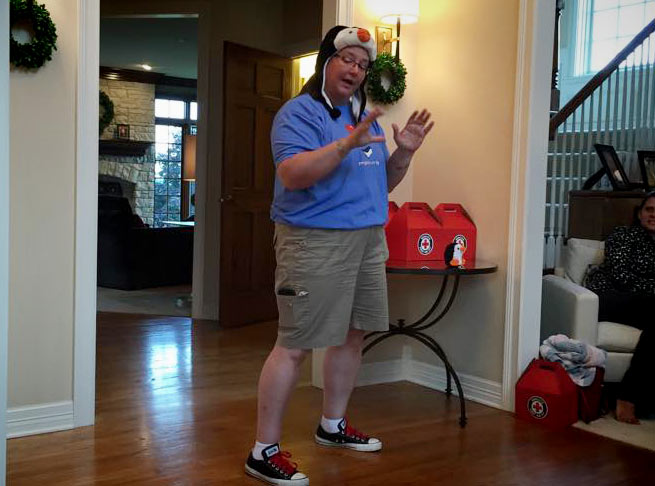 We had a little table set up with books and artwork for people who wanted to bring a souvenir home…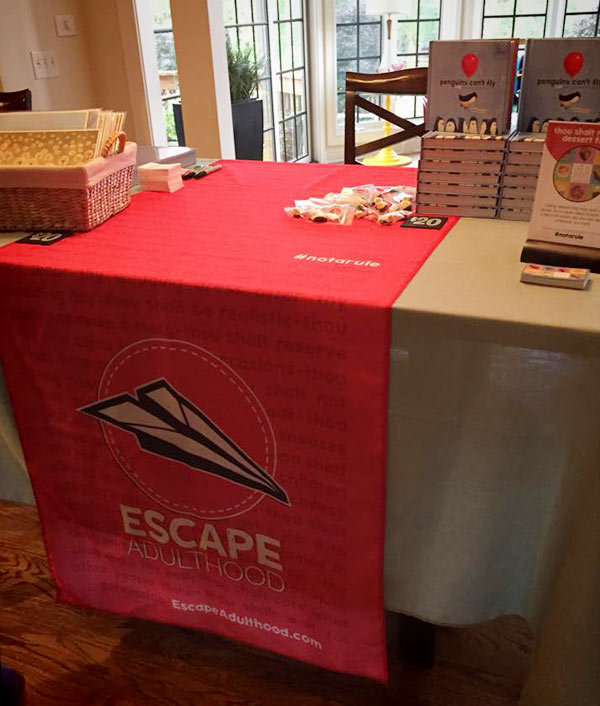 …or have their book defaced. :)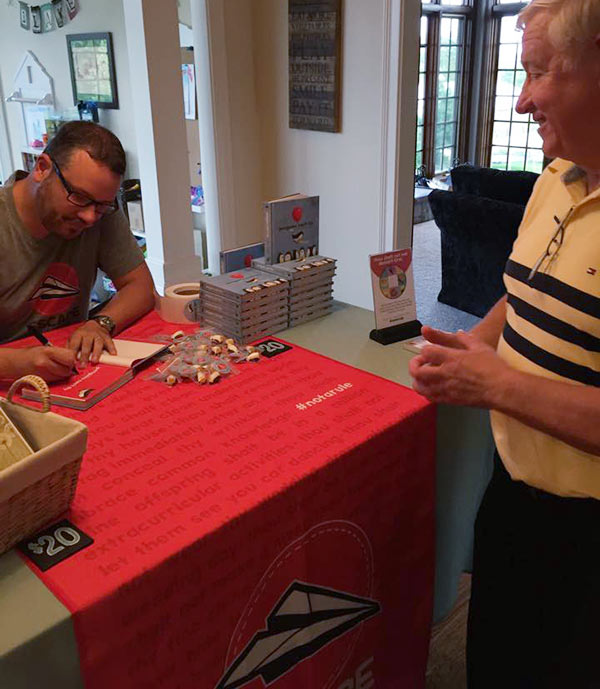 Of course, many of the activities from our standard tour stops were also incorporated, including the "Thou Shalt Act Thine Age" photo booth…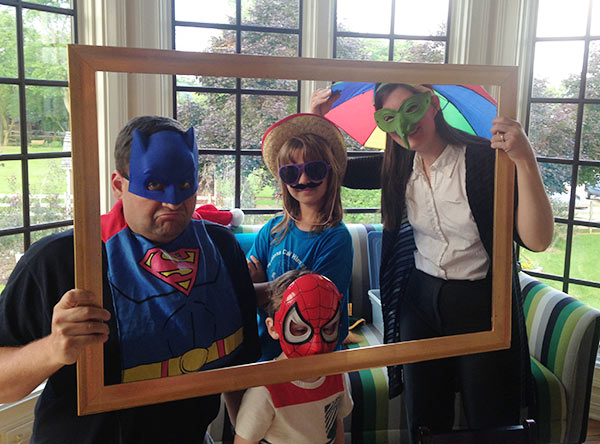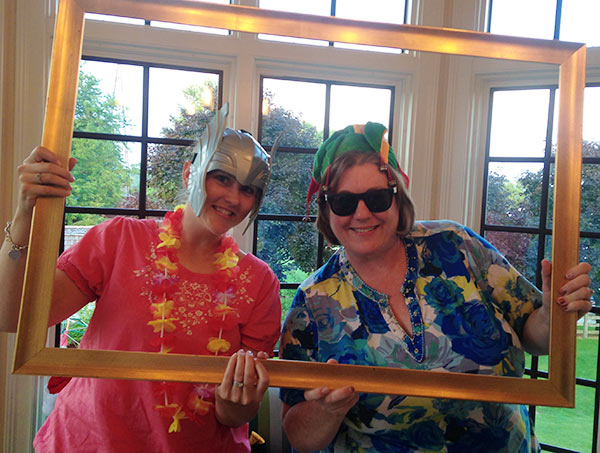 …and the chance to decorate ugly cookies (and wear fake mustaches).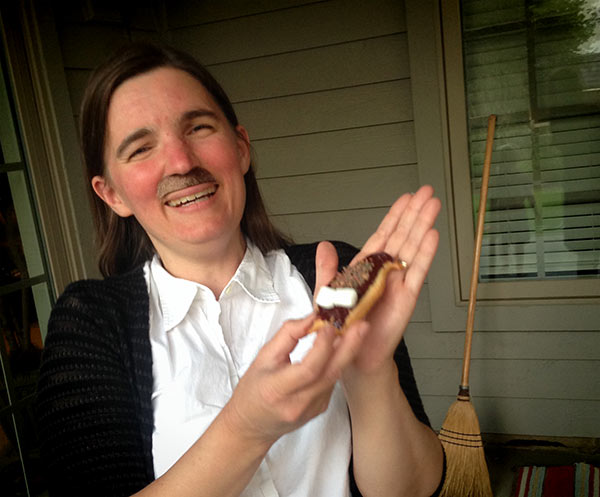 Regrettably, we never got a picture with our gracious hosts, Beth and Chad, even though we really enjoyed chatting with them after the party about life, family, and big dreams. Here's one from the archives of the duo having fun at the 2013 Escape Adulthood Summit.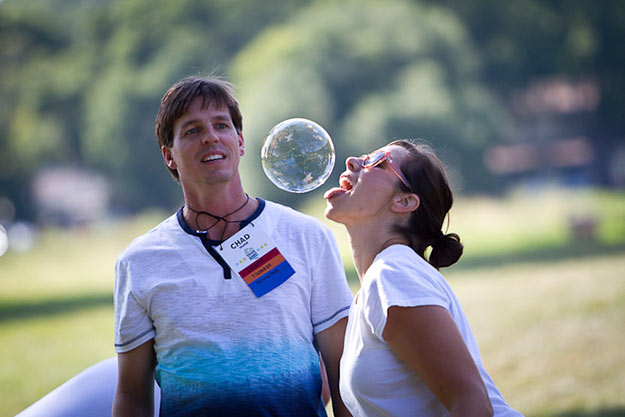 We had a lot of fun and learned some things too, which is a good thing because we'd like to do more of these in the future. In fact, here's something to think about: If you think it might be fun to host one of these, you totally can! We put together a free guide that gives you everything you need to know. It's not very hard and it's a ton of fun.
If you'd like US to be a part of it, feel free to invite us! Although we can't make any promises, who knows? We may already be traveling to your neck of the woods and perhaps we can arrange to sync our schedules. At the very least, Kim and I are open to creating a custom welcome video that you can share with your guests. If you have any ideas, we are open to hearing them! Email us!