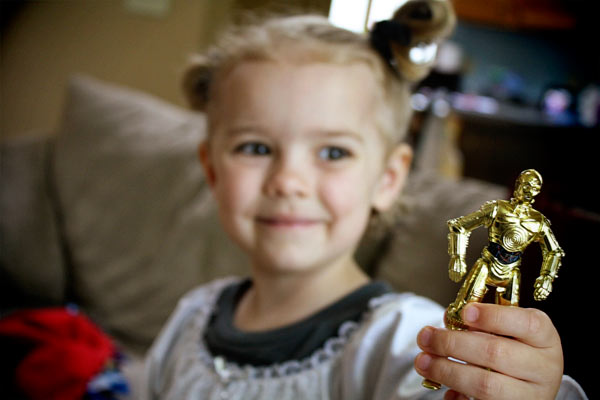 My greatest day as a dad recently eclipsed my previous greatest day as a dad.
The first one was about a month ago. I was wearing a Stormtrooper t-shirt I had gotten for Christmas. Lucy was sitting across from me at the table, and said, "I like your shirt, Dad."
I thanked her, thinking she liked the artsy design and bright colors.
Then she asked, "That's from Star Wars, isn't it?"
My ears perked up, because I hadn't talked that much to her about my favorite movies in the history of the universe. Yet.
"Why yes, it is," I responded.
The thing she said next solidified that day as my greatest as a Dad.
"I can't wait to watch that movie. Can you tell me about it?"
She immediately had my undivided attention and I spent the next ten minutes regaling her with stories about a princess (the perfect in!), a bad guy named Darth Vader, and a hero who just so happened to have the same name as her brother (Ben).
Up until that point, I'd had an ongoing internal debate about the proper time to introduce my firstborn to Star Wars. Of course I'd start at Episode 4, but my sense was that I'd probably have to wait until she was four or five. But this unexpected early interest changed everything.
Kim suggested we start her off on some Star Wars children's books, and wouldn't you know it, the Easter Bunny just so happened to include a few used ones that he'd found online in her Easter basket. Lucy took to them like a Jawa to a junkyard. She even seemed to understand the overarching plot line, which is not always easy to follow. (Try explaining a "tractor beam" to a three-year-old sometime).
Then came the moment of truth. Kim thought she might be ready for the movie, and I agreed. Last weekend, after dinner, we all switched into our pajamas in settled into the living room for the first installment of Star Wars. (We divided the viewing into two nights.) I tried my best to keep Lucy abreast on what was happening, but she was already with me. Kim humorously observed that I was (allegedly) so enthralled with the movie myself that I didn't even notice a few questions Lucy was asking me.
Lucy was hooked. In the days that have followed, she's been playing Star Wars non-stop, running around looking for Ben and muttering about "using the Force." She's transformed into Luke Skywalker, Kim is Princess Leia, I am Han Solo (huzzah!) and her little brother morphs between R2-D2 and Chewie.
It was official. The day we watched Star Wars together for the first time became my new greatest day as a Dad.
And today may eclipse even that.
For today, my friend, is Star Wars Day (May the 4th be with you!). And this evening, I will be surprising Lucy by pulling out some of my old Star Wars toys for her to play with.
I predict that her mind will be blown.
And that I may have a new greatest day as a Dad.
P.S. I realized that Star Wars has been a pretty regular topic in the 10 years we've been doing this blog. Here are a few for your enjoyment: