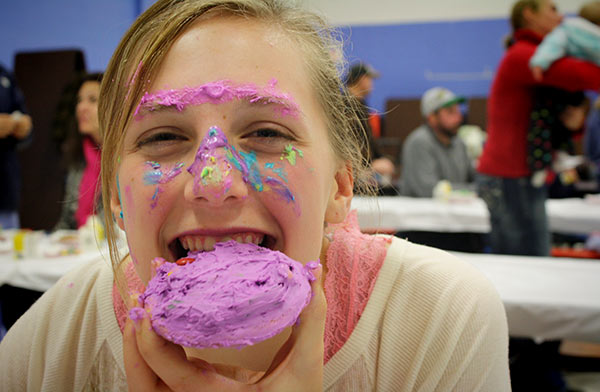 A few years ago, I spoke at a school in Wisconsin, giving presentations for the staff and the parents. I shared the Ugly Cookie story, just like I (almost) always do. Lots of people have heard that story over the years.
But Pete Hirt, the principal of the school, took it and ran with it.
Not long after my talk, a parent of one of the students was diagnosed with cancer. Pete and the community sprang into action to help raise money for the family. Pete suggested they do an "Ugly Cake Auction," in which people would be invited to decorate cakes in the ugliest manner possible. About 1,000 people descended upon the gym to bid on dozens of deliciously ugly cakes.
They raised $15,000.
Last night, I was invited back to be a part of an evening designed to Celebrate Family. I would again be speaking to the staff and parents, but also added to the agenda was a Barbarian Spaghetti dinner and an Ugly Cookie decorating contest. The goal was to give parents tips and ideas for stressing less and having more fun, while providing an opportunity for families to make memories together.
As you'll see in the photos below…mission accomplished. [Read more...]